Abid Ali, the prime suspect in the motorway gang-rape case was arrested on Monday from Faisalabad. His arrest came after a month of the incident that had shocked the country. His father claims that Motorway culprit Abid has surrendered as the police were asleep.
The arrest of Abid Ali was made possible after the police tapped phone calls of him and his wife. The police laid a trap for him and given his wife a SIM which she used to call him.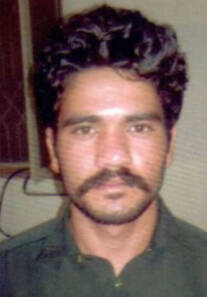 As per sources, he escaped arrest on multiple occasions during police teams' raids in Kasur, Sheikhhupura, Nankana Sahib, and other areas of the province. An Anti-Terrorism Court (ATC) in Lahore sent Ali, the prime suspect in the motorway gang rape case, to jail on 14-judicial remand.
A new revelation has now occurred in the incident. On Tuesday, Akbar Ali, the father of Ali, said that his son turned himself in to bring to an end to the harassment of the women in his family.
Ali's father provided the details in a video interview. He said, "My son called me after a month at 3:30am. I pleaded with him to turn himself in as the entire family was in police custody. Moreover our women were also being harassed".
Akbar added that his son came to his place and talked to him. He consoled him that everything will be okay.
According to Express Tribune, at the time, his father said that police were asleep on a roof nearby, he later woke them up and handed him over to them and made Motorway suspect Abid surrender.
IGP Inam Ghani denies Abid Ali's father claims
However, the claims made by the motorway rapist's father Akbar Ali have been denied by IGP Inam Ghani.
The police officer also added that few family members of Ali that were initially arrested have now been released as bait to catch Ali.
"We have been doing everything we can to arrest him," The Express Tribune quoted him as saying.
The police officer shared that certain family members were released as bait to catch Abid.
Both suspects are in judicial remand
The other suspect involved in the motorway incident named Shafqat is already in jail on judicial remand. Hence, both involved in the heinous crime are now in the custody of law enforcement authorities.
During interrogation, Shafqat told the police that Ali had first raped the woman. Then asked him to commit the offense while threatening him that he would shoot him (Shafqat) for not committing the crime or showing sympathy for the victim.
What do you think of this story? Let us know in the comments section below!