Sarah Khan said yes!
Since Wednesday night Pakistanis social media spaces are flooded with happy and fun-filled images of actress Sarah Khan and her fiancé singer Falak Sabbir. The Sabaat actress surprised her fans last evening when she announced her engagement while flaunting her diamond ring. She made the happy announcement on Instagram without even naming her beau.
But, soon the magic was out of the box and the rest is history. We have to admit, we haven't seen such colorful and happy images recently. Sarah looks satisfied and happy sitting next to Falak in those images which have now become a center of attention for Pakistanis on social media.
The couple's wedding is anytime today.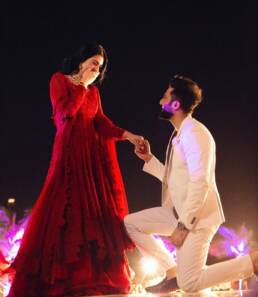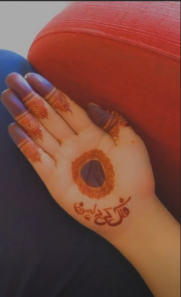 Sarah's break up with Aagha
Not very long ago Sarah was dating actor Aagha Ali. The duo was featured in many dramas together due to on and off screens chemistry. They were everyone's favorite. But things got bitter and the couple broke up. What went wrong? No one knew. Both just cleared their Instagram feeds where they had put up pictures with each other.
Ali once said in an interview, "It has been the toughest for me to be honest and I could not work for months. I was isolated, I could not deal with it but then, life has to go on".
But soon, he was out of the sadness and moved on with another actress Hina Altaf. Fans of Sarah and Aagha are now teasing the latter and asking for his creations on Sarah's engagement now.
If Bad qasmati had a face 😂#sarahkhan #FalakShabbir pic.twitter.com/OxYOJGBX4c

— 𝙑𝙄𝙆𝙄 🍻 (@viki__00) July 15, 2020
What we plans for us; what Allah Plans for us; Indeed Allah is the best Planner♥️#sarahkhan #FalakShabbir pic.twitter.com/SF9TIQ5oNN

— Hammad Malick (@HammadMalick8) July 15, 2020
Indeed…
Okay…I gotta admit this now ''JORAY ASMANO PE BNTAY HAIN''#sarahkhan #FalakShabbir pic.twitter.com/eqrPfTN7uu

— Adnan Liaqat (@DaniOye_) July 16, 2020
Let's be fair! Sarah's fans should be happy for her that the actress is finally ready to get settled in her life happily. It is below the belt to bash Aagha when he is also married now. Let's just spare him guys and everyone around us from too much criticism. It's just not healthy and ruins lives.
Enjoy Sarah's wedding people and stay happy!
What do you think about the story? Tell us in the comment section below.