In Pakistan, everyone is crazy about its cricket team right now, including women. Although they were already celebrities, the T20 World Cup and their brilliant performance made them superstars in the eyes of the internet and made them instant crush material. Some people, however, seem to be offended by this countrywide adoration.
With their talent and looks, the team seems to have captivated the hearts of many women across the country during the tournament both on and off the cricket pitch.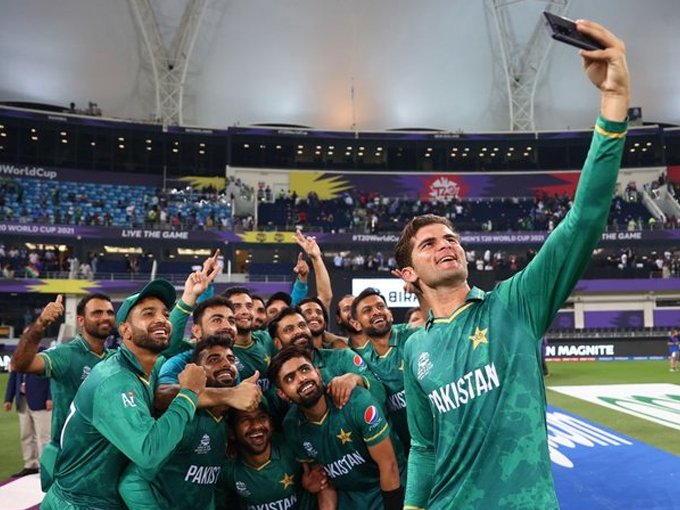 In the past weeks, social media has seen an increase in the number of stan accounts devoted to videos of Babar Azam, Shahdab Khan, and Haris Rauf jumping in the air in slow motion, surrounded by heart emojis.
Take these funny, but at times very serious, tweets for example:
This one was a real hoot.
We assume you get the point. Though many social media users are quite amused by the internet's sudden obsession with the Men in Green, not everyone is pleased. The thirsting happening on social media has irked some users, such as this gentleman.
Female fans were not amused by this tweet at all, and rightfully so — a fact they made clear through humor-filled responses.
Some fairly pointed out that our premier is a former cricketer who witnessed a fair amount of thirst during his own time playing the game.
Women wondered why cricket and cricket players are perceived as a man's domain only. There are some male fans who want to gatekeep the sport and keep women out for some reason.
It was pointed out that women are not just seasonal fans. There are some who have followed the game and held admiration for certain players for a long time.
Can you really blame someone for thirsting over their favorites when they look this good?
Throughout history, people have made fun of what women like. If they like TV shows or video games that men also like, it is suddenly viewed as girly or weird. More so, women who like games that men also like are viewed as posers, trying to impress men. When it comes to sports, you can see how they are not allowed to enjoy it on the internet.
Women have developed a fondness for this cricket team because of the hard work and immaculate sportsmanship they have displayed so far in the tournament. The team has shared cake and hugs with their opponents and shown generosity to their young fans — like Babar Azam writing back to his 8-year-old fan. They are a team worthy of admiration.
There is nothing wrong with people on the internet expressing their admiration for their favorite cricketers through funny tweets and cute videos with sweet captions.
What do you think of this story? Let us know in the comments section below.