Disclaimer*: The articles shared under 'Your Voice' section are sent to us by contributors and we neither confirm nor deny the authenticity of any facts stated below. Parhlo will not be liable for any false, inaccurate, inappropriate or incomplete information presented on the website. Read our disclaimer.
Fiery and feisty award-winning Egyptian- American journalist-activist and writer Mona Eltahawy is someone who has been living on the bleeding edge of history since 2005, a prominent voice in the movement that led to the dramatic Arab Spring uprising, climaxing with the 2011 fall of the Egyptian leader Hosni Mubarak. Mona who is a Feminist is known for her bold analysis of the situation of women in the Middle East and other parts of the Muslim World.
Mona wrote a book titled "Headscarves and Hymens: Why the Middle East Needs a Sexual Revolution" in 2015 which brought her the backlash from conservative Arabs and Muslims because the book was based on a controversial piece she wrote about misogyny in Arab society in 2012 for Foreign Policy.  She is someone who has often been very vocal about the issue of female genital mutilation and about violation of Women rights in predominantly Muslim Arab societies.
In 2016 which is exactly 2 years back from now, Mona came into spotlight in relation with our country Pakistan when her article titled "Sex talk for Muslim women" for International New York Times faced censorship in Pakistan due to its so-called "controversial nature" as said by some senior person in Express Tribune since Express Tribune publishes articles from New York Times in its opinion section and when it came to Mona's above-mentioned article they censored it.
Because of this unnecessary censorship, Mona criticized Pakistan by saying that the ban exposed the extent of the country's discrimination against women.  But that doesn't mean that Mona doesn't like Pakistan and Pakistanis. Recently Mona had a small Twitter chat with Pakistani blogger Sarmad Iqbal in which Mona sent a beautiful message to our boy.
So the chat between the two started when Blogger Sarmad Iqbal commented on one of her Tweets to tell her about his admiration for her work. Sarmad's comment goes like this "You truly are an inspiration to many young writers like me who want to carve out a unique identity in the world of writing for themselves. Your writing has enabled me to see Egypt now from different lenses and not just a conventional one rampant across West".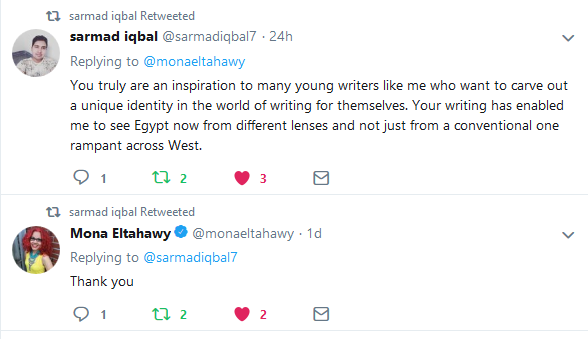 Sarmad clearly put his ambition in front of us too which is to "carve out a unique identity in the world of writing". Sarmad praised Mona because it is Mona's work that has enabled him to see her country Egypt now differently and not like how he used to see that country before.
After seeing this comment of our blogger Sarmad, Mona within few minutes retorted with a "Thank You" but the chat didn't end there as Mona had more to say to Sarmad.  Mona's retort to Sarmad's tweet goes like this "Thank you, Sarmad. That's very kind of you. I wish you all the best with your writing and on your journey". Coupled with this beautiful message, Mona also sent two heart emojis colored red and purple along with a hand of support emoji to Sarmad.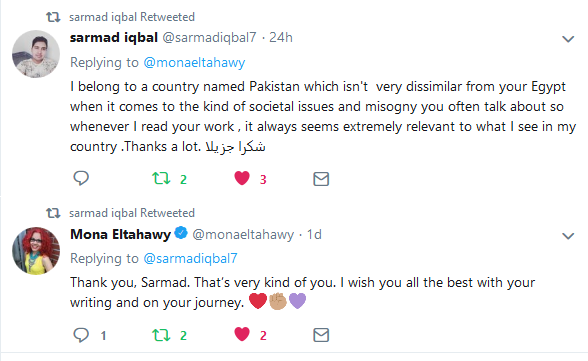 Sarmad soon responded to Mona's lovely message to her by saying "I belong to a country named Pakistan which isn't very dissimilar from your (Mona's) Egypt when it comes to the kind of societal issues and misogyny you often talk about so whenever I read your work, it always seems extremely relevant to what I see in my country. Thanks a lot. شكرا جزيلا ".
Sarmad here drew parallels between our Pakistan and Mona's Egypt and also talked slightly about the misogyny prevalent in both societies. And the cherry on top, Sarmad not just thanked Mona in English for her beautiful message to him but also said the same in Egyptian Arabic by using the phrase "شكرا جزيلا" ( Shukran Jazeelan). Mona just like she liked Sarmad's previous tweets also liked this one.
This lovely small Twitter chat between Egyptian writer Mona Eltahawy and Pakistani Blogger and columnist Sarmad Iqbal has shown to us that Mona doesn't have anything against Pakistan and indeed she is there to wish our young writers success in their field. At least I and a bunch of my friends can now proudly love Mona just like we do admire and adore feminist writers from other parts of the world.
Just like Mona, Sarmad is a game changer in his own right as he is someone who has for the first time through his articles on international media outlets talked about bringing countries like Pakistan and Armenia, Pakistan and Israel and Pakistan and India together through finding the commonalities that they share in the form of common words in languages and even also the common food dishes.
Sarmad's writing has always stood out for the greater good be it his famed conversation in the Marathi language with famous Indian writer Shobhaa De at Lahore Literary Fest this year or it's his social activism to highlight the narrative of Pakistan's empowered transgenders in front of the rest of the world. I can only wish this young blogger best in his life and career!
Read Also: This Pakistani Blogger Had An Exciting Conversation With British Writer Thomas Roueche About His First Visit To Lahore
Read Also: Foreign Food Bloggers In Lahore: Desi Dishes, Foreign Appetite, International Recognition