Everyone is waiting for the new season of Pakistan Super League, Pakistan's #1 Club-Cricket competition. With fans waiting for their favorite stars to return, some have already seen a little glimpse of it.
Even though very famous in the West, not many are well versed in animated shows. Many of you might be aware of Simpsons, but not with the Family Guy or Rick & Morty.
Well, apart from Simpsons, others too have become international brands, showcasing real life scenarios in their episodes. In the Season 19, Episode 1 of the Family Guy, Pakistan was showcased in a brilliantly hilarious manner.
Yes, this is the interlink between Family Guy and PSL – a crossover nobody expected. In the episode, the scene opens to a pub where most Americans come to watch sports.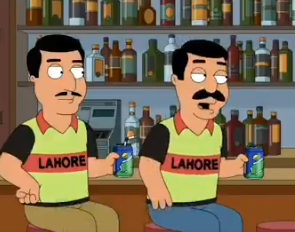 We're already aware of how crazy Pakistanis are for cricket, so, it was only right to showcase it. Two Pakistani men (with fake accents), yes, Family Guy could've done much better with it, support their favourite PSL teams.
Famous Family Guy character Glenn Quagmire, while in the pub, seems frustrated. He points out at how foreign sports fans storm the pub and support their teams.
He calls Pakistani cricket fans as 'hooligans', only for them to prove it. Yes, on a very lighter note, it is an animated comedy show.
The two Lahore Qalandars fan, drinking soft-drinks, say: "If you are not rooting for Lahore, please you may leave, I can tell you."
The other one says: "Lahore cricketers are the best and the others are not the best."
Joe Swanson, another Family Guy, character who is wearing a Karachi Kings jersey, says: "One for Karachi, but I don't have a death wish about it!" – he goes on to wear his hoodie, covering the jersey.
This scene has shocked many Pakistanis, but they are loving it as well. This PSL crossover with Family Guy will be one to remember.
What do you think about this story? Let us know in the comments below.