Remember when a few weeks ago a young lad scored a century against one of the best sides in Cricket and made history? Yes, we are talking about none other than Fakhar Zaman and his emphatic century in the ICC Champions Trophy final in England. What an enthralling match it was and Fakhar especially proved what he is capable of.
Only the 4th international game of his career, Fakhar played like he was a seasoned and prolific player, benefitting from years of experience. His signature century and partnership with Azhar Ali was a monumental contribution in notching the victory over India. A tenacious score as 338 became a difficult target to chase and it could not have been achieved should Fakhar Zaman had not stood up and blasted his bat. Now that our team has returned to the country, there have been showers of praises, honors, medals and cash prizes.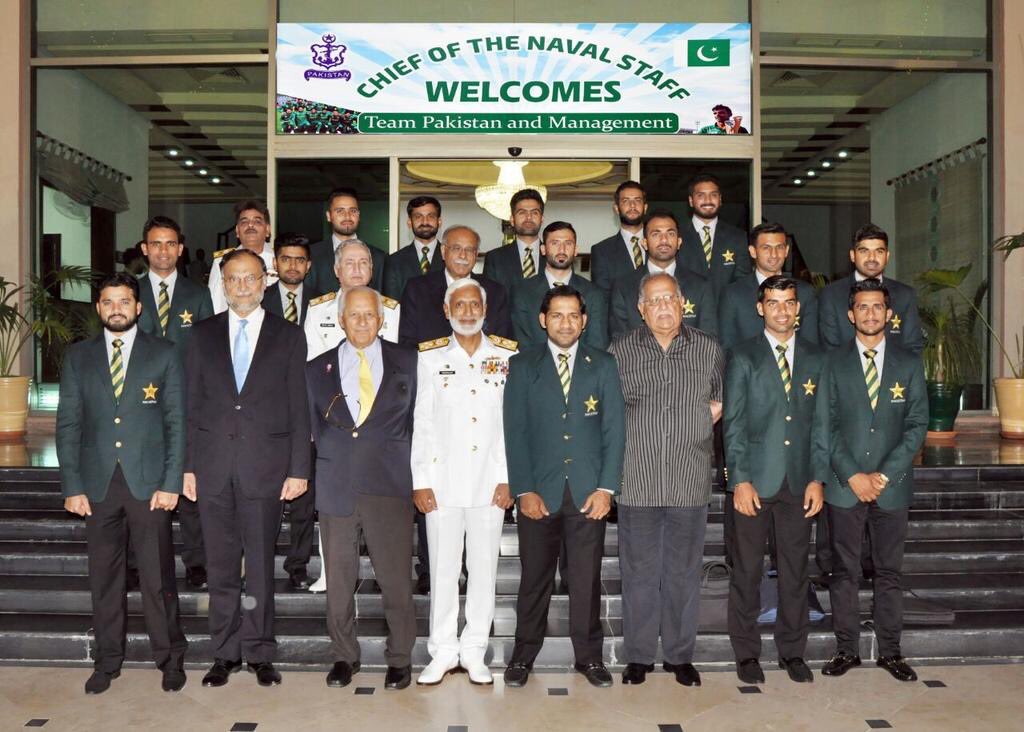 The victory of Champions has been nationally acknowledged. People still cannot get over it because it remains a hot topic even today. Just a night ago, a video featuring Fakhar Zaman and Chief of Naval Staff Admiral Zakaullah, where Fakhar pays him a powerful salute.
Watch the video of Fakhar Zaman's captivating salute to Navy Chief
Pakistani batsman Fakhar Zaman salutes the Nay chief Admiral Zakaullah — Zaman was in the navy for 7 years and played for its cricket team pic.twitter.com/NY5d09NApt

— omar r quraishi (@omar_quraishi) July 6, 2017
As we all know, Fakhar is a former Navy sailor. He used to play for the cricket team there as well. Just notice the mark of respect he has for his very senior. He knows his roots, he just portrayed the core discipline he housed all those years in the Navy. Immense respect for him for his remarkable gesture.
People seemly adore the gesture!
This made my day ?????

— Hบ๓α_Kнαท (@humaK_Rasheed26) July 6, 2017
That salute ??
Navy ka jawaan fakhar zaman https://t.co/w2IrUplwZk

— Iqraa (@azadimubarak73) July 7, 2017
https://twitter.com/ivianoo/status/883043679837016066
a soldier is always a soldier

— KALEEM 95 (@95Kaleem) July 6, 2017
Hero pic.twitter.com/vvLakqjBMQ

— @_G ?_006 (@DrHIUS_006) July 7, 2017
https://twitter.com/Dudeitsme_SaSa/status/883042404693037056
Fakhar Zaman's Salute!?
That fauji style ?#LastRetweet

— Ayesha. (@Aysh_01) July 7, 2017
Tell me how many times did you replay that? Simply cannot get over the moment he raises his hand up to his forehead. Notice the Navy Chief was not expecting it because he was the one to draw his hand across for a hand-shake, but first Fakhar paid him a salute and then shook hands with him. Class!