If you will ask a majority of Pakistanis that was Fakhar Zaman 'cheated' by Quinton DeKock? Many of them will surely say, YES! However, Zaman thinks otherwise. He took responsibility for his run-out in the second ODI in Johannesburg on Sunday, saying it was "my own fault".
The Pakistan opener's brilliant innings ended on 193, off the first ball of the final over of the match. A direct hit from Aiden Markram from long-off caught him short of the crease at the striker's end.
However, there was a question mark surrounding the legality of the dismissal. Why? As de Kock was moving his arms about, possibly indicating that the throw from Markram might be going to the non-striker's end. He might, equally possibly, have been trying to communicate something to his team-mates. In the event, Zaman slowed down considerably, even turned around to look at the non-striker's end, and was caught short.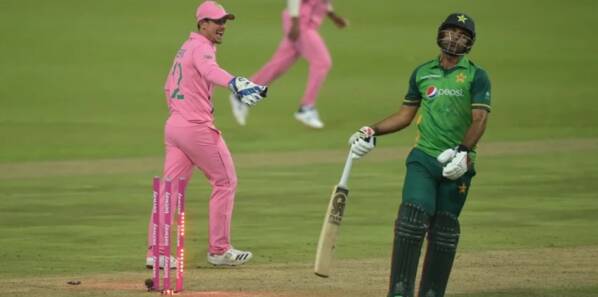 Cheating Fakhar Zaman of five runs?
Zaman's controversial run-out during a match with South Africa has sparked a debate about cricket rules.
"You've always got to look for ways especially when things are not going your way, got to find ways to turn the momentum around. Quinny did that," said Temba Bavuma, the South Africa captain, after the game. "I don't think he broke the rules in any kind of way. It was a clever piece of cricket.
"Maybe some people might criticise it for maybe not being in the spirit of the game. But it was an important wicket for us. Zaman was getting close to our target. Yeah it was clever from Quinny."
If de Kock's gesture was a deliberate misdirection – as Bavuma might have suggested there – it was in contravention of the laws of the game, because Law 41.5.1 states, "It is unfair for any fielder wilfully to attempt, by word or action, to distract, deceive or obstruct either batsman after the striker has received the ball".
Before that ball, Pakistan needed an unlikely 31 from six balls. They went on to lose by 17 runs, but if de Kock's act had been deemed illegal, Pakistan would have been allowed the two runs they attempted as well as five penalty runs, and the ball would have to be re-bowled, leaving them with 24 to get from six balls, said ESPN report.
Zaman chose not to blame de Kock
"The fault was mine as I was too busy looking out for Haris Rauf at the other end as I felt he'd started off a little late from his crease, so I thought he was in trouble," he said. "The rest is up to the match referee, but I don't think it's Quinton's fault."
However, Pakistanis and Twitter are not convinced by both Zaman's explanation and Bavuma's clarification.
It's surely difficult to swallow defeat when Pakistan's Zaman was playing so well. Pakistan lost the game by 17 runs, and with an additional 11 runs. We are all hurt, but with Zaman owning part of his mistake, and the series drew at 1-1, we have much to look forward to.
Zaman is an ex-Pakistan Navy serviceman. Last year, Pakistan Navy made his honorary lieutenant. Having joined the navy in 2007 as a sailor in the Operations Branch, Zaman's excellent cricket talent was spotted during his early years in service, and he went on to represent the Pakistan Navy in many tournaments. 
Story Credits: ESPN Cricinfo
What do you think of this story? Let us know in the comments section below.