Indian reports that Pakistani lawmakers chanted slogans favoring Narendra Modi were shared on social media. The claim was widely amplified by prominent Indian politicians and other media outlets. However, the claim is false.
Pakistani lawmakers were in fact chanting calls for a vote during a debate in Pakistan's national assembly. A one-minute and 45-seconds news clip was published on Facebook.
The post's caption says, "Modi Modi slogans in Pakistan's parliament."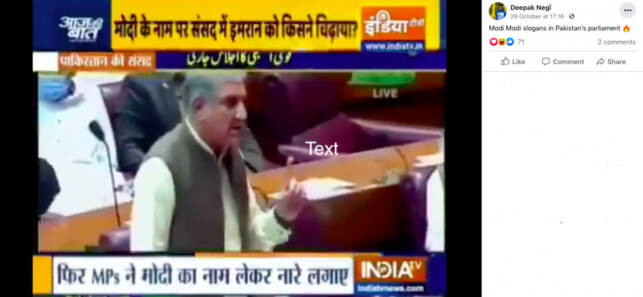 The clip shared in the Facebook post is a segment from India TV. It shows footage from a debate in Pakistan's National Assembly from October 26, 2020.
India TV's Twitter account published a segment on October 28, 2020. "Exclusive: Why some MPs in Pakistan parliament shouted 'Modi, Modi'," the tweet reads.
India TV's chyron reads, "Again MPs raised the slogans of Modi" and "'Modi-Modi' slogans chanted in front of Pakistan foreign minister."
The claim was amplified by politicians from Modi's Bharatiya Janata Party on social media. However, the claim is false.
Indian media & politicians made fake claims again
An analysis of the parliamentary proceedings show the lawmakers are chanting in Urdu "voting, voting" — not "Modi, Modi", said AFP.
The chanting was coming from opposition politicians. They were demanding a vote on a resolution that would call on Muslim countries to boycott French goods following the cartoon controversy.
While Pakistani Foreign Minister Shah Mehmood Qureshi was speaking, the "voting, voting" chants happened.
Dawn, a major English newspaper in Pakistan, reported on the "voting, voting" chants on October 27, 2020.
At 18:25 mark of the Public TV video, Qureshi taunts an opposition lawmaker, saying "it appears that the spirit of Indian Prime Minister Narendra Modi's has been transferred into him".
The quip was followed by chants of "whoever is a friend of Modi is a traitor."
Several news outlets reported the negative comments about Modi. BBC, Boomlive, and Alt News also exposed the false claim that Pakistani lawmakers chanted "Modi, Modi".
Indian media has a history of ruining facts and spreading fake news. Earlier, Science and Technology Minister Fawad Chaudhry also slammed Indian Media for twisting his words. Recently, India was abuzz with rumors of a 'civil-war' in Karachi, and Pakistanis were laughing at this stupidity.
What do you think of this story? Let us know in the comments section below.