International Faiz Festival 2023 is all set to return and this time one of the most prominent Indian writers Javed Akhtar is also ready to attend the festival.
This week, the International Faiz Festival will commence. It will be a three-day event and will host foreign delegates from countries including the UK, Canada, USA, and India for its various literary, music, and art activities.
It will be a wholesome intellectual event consisting of over 60 events comprising discussions, lectures, theatre, dance performances, and qawwali will be held at the Alhamra Arts Council.
International Faiz Festival 2023 – Javed Akhtar & Much More
One of the senior officials said, "This is why most performances of the Faiz Festival will be open to the public, free of cost, as the last installment of the event didn't get the response we were expecting. The attendees were not happy with the pricing of some performances."
"At the moment, the public in Punjab is spoiled for choices considering the PSL is in full swing as well. However, we will try our best to win back the audience that has been disappointed by the past events."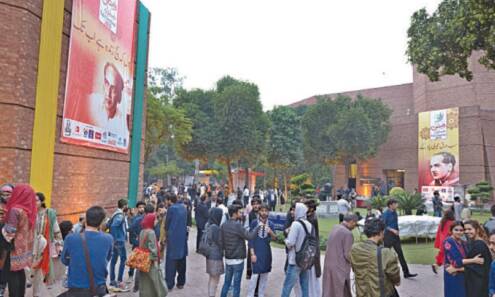 "Staying true to its roots, Faiz Festival is moving forward with the vision and mission of Faiz Ahmad Faiz," the late poet's daughter, Muneeba Hashmi, shared with the publication.
"We're trying to bring in a balance between the quality and the relevance with the performances this year. What we hope to achieve is that the performances and guests are following the current circumstances."
She Revealed The Panel
Muneeba Hashmi further revealed the panel list which also includes the legendary Indian writer Javed Akhtar. "The said panel will include poets and artists from India who are part of the delegation," she said while elaborating, "Rizwan Wali Muhammad, son of Habib Wali Muhammad, is coming to Pakistan from the US after 40 years.
She went on to add, "This year, a huge delegation from India is also attending the festival and we are thankful to the government of Pakistan for issuing them visas.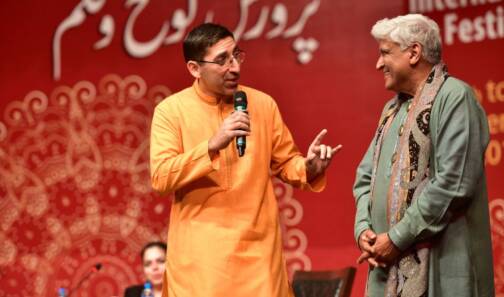 Renowned Indian lyricist and poet, Javed Akhtar will be at the forefront of the said delegation. During the festival, he will be launching his new book and will be a part of the mushaira as well."
He will present his father's and Faiz's works, including the songs he has composed in the US. From the UK, a delegation of qawwals from the family of Sabri gharana will be performing. Kathak dancer Farah Yasmeen Sheikh is also coming to the Faiz festival."
Faiz Festival 2023 will be the seventh installment of the event and will continue from February 17 to 19 at Alhamra Arts Council.
It's no surprise to see Indian writers attending Pakistani literature festivals, last year Naseerudin Shah made a surprising appearance at Karachi Literature Festival.
What do you think of the story? Tell us in the comments section below.