The Judicial Magistrate of Jacobabad has taken notice of Nawab Faisal Khan Mugheri's alleged murder. Faisal Khan Mugheri passed away on the 13th of September, due to unknown circumstances.
Initially, Faisal Khan Mugheri's family, which only comprises of 'step' relatives, stated that Faisal passed away after getting into a cardiac arrest.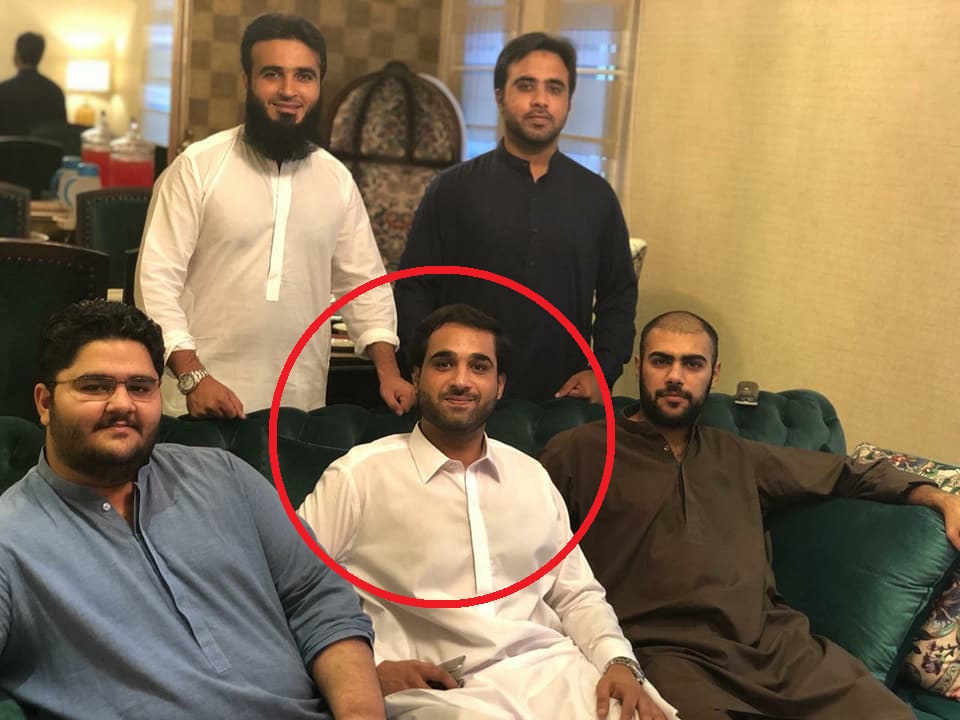 However, notables of Sindh and Faisal's close friends, including Sardarzada Zubair Khan Jakhrani and Nawab Jaffar Magsi, stated otherwise. Close friends of Faisal believe that he was murdered by members of his own family.
Haji Sher Khan Mugheri, Faisal's step brother, holds immense importance and power in Jacobabad. This incident, has already hurt the notables reputation in the area.
Faisal Mugheri's friends have been demanding #JusticeForFaisalMugheri – in a bid that the family agrees to Disinterment, Exhumation, and Postmortem of the deceased.
After Zubair Khan Jakhrani wrote to the local court and the IGP of Sindh, the District Sessions Judge and Magistrate, has written to the SHO of Airport Police Station Jacobabad.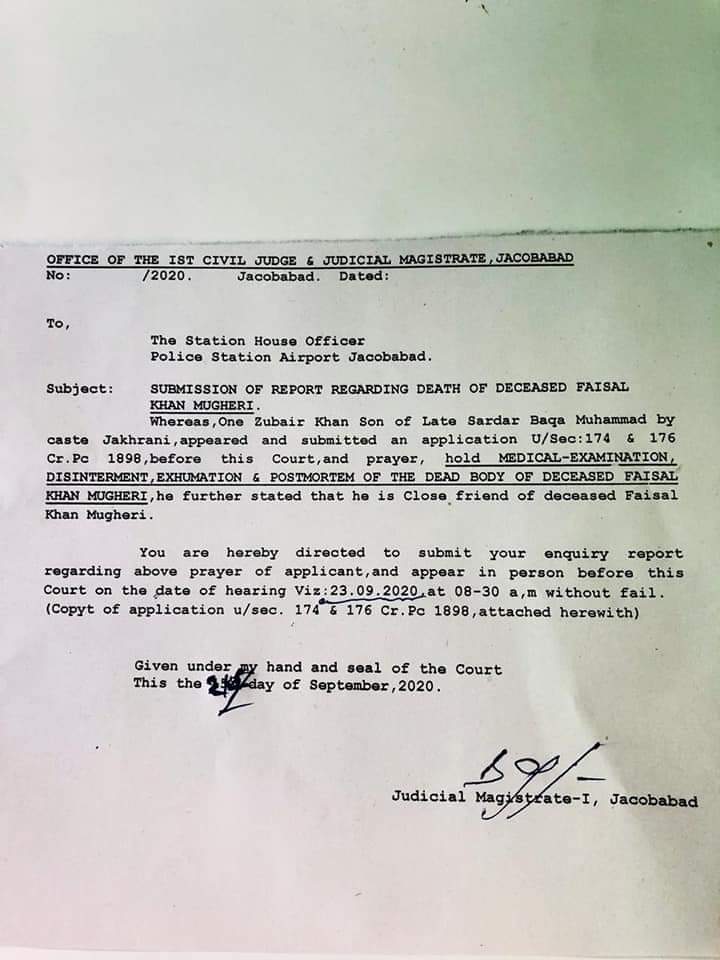 In the letter, the Judge states that Zubair Khan Jakhrani has filed a petition with the judge into investigating the cause of death of the deceased.
The letter reads: "One Zubair Khan son of Late Sardar Baqa Muhammad, by caste Jakhrani, appeared and submitted an application before this Court to hold Medical-Examination, Disinterment, Exhumation and Postmortem of the dead body of deceased Faisal Khan Mugheri. He further stated that he is a close friend of Faisal Khan Mugheri.
You are hereby directed to submit your inquiry report regarding above prayer of applicant and appear in person before this Court on 23-09-2020 without fail."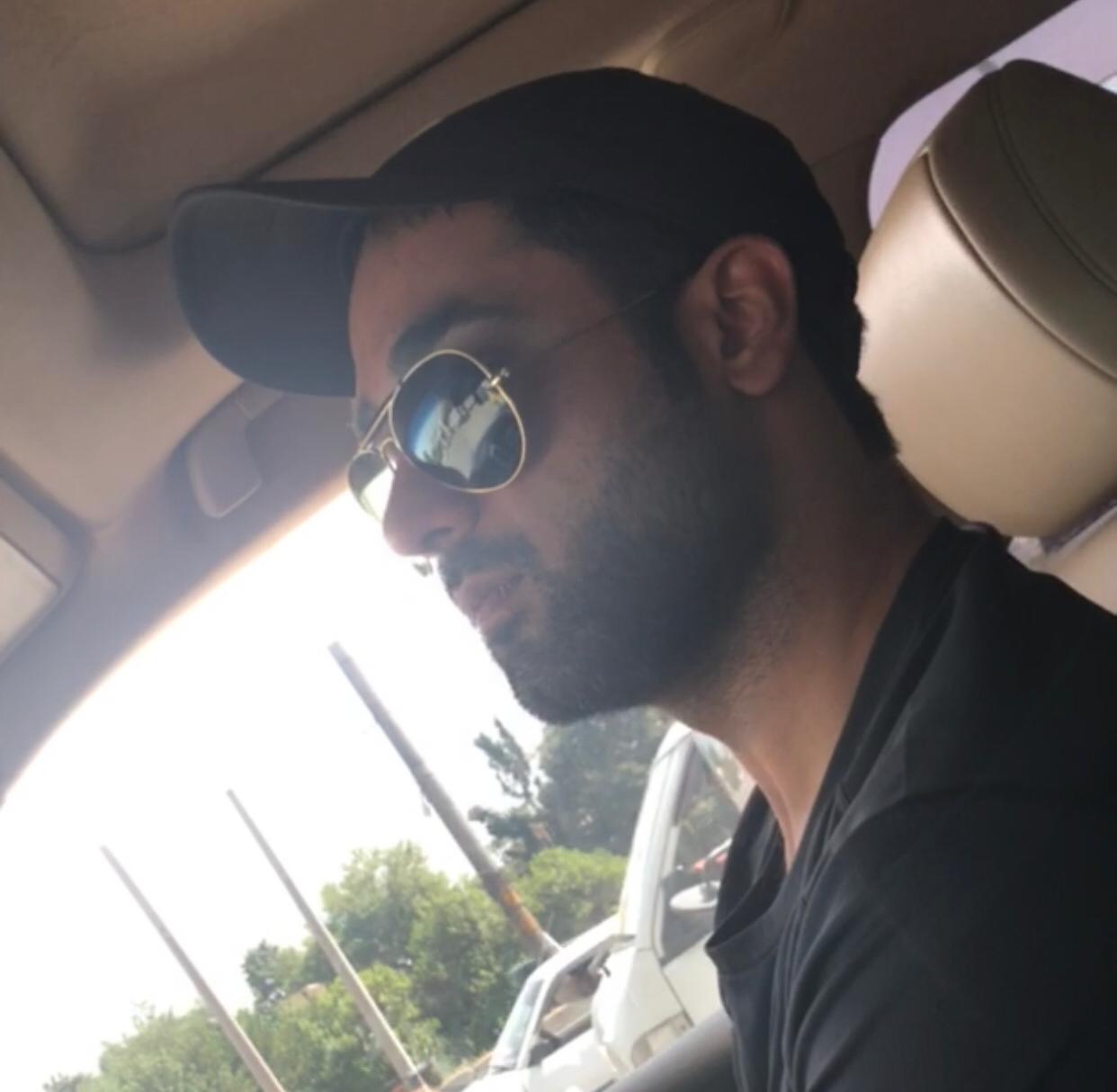 Social media has also started voicing for justice in the case. It is believed that Faisal Mugheri, a day before his death, came from Karachi to Jacobabad in his new Mercedes SLK.
Upon reaching Jacobabad, a side mirror of his car was broken, and people heard loud voices from inside the car. Later that night, Faisal Khan Mugheri was found dead inside his Jacobabad home.
Relevant authorities need to take action in this particular case and in either case, provide relief to the deceased's soul in case he was wrongfully killed. Faisal's loyal friends continue their fight for justice.
What do you think about this story? Let us know in the comments below.