If you have ever seen an episode of Jeeto Pakistan, you'd see how Fahad Mustafa is always on the roll – quick, jumpy and on his feet to make sure that the pace of the show is on the point. Jeeto Pakistan has been a hit TV game show for years – be it Ramadan, or be it throughout the year. With Fahad Mustafa being the face of the show, it has established itself as a brand already.
However, your fame and brilliance on TV just cannot justify or let you get away with rude behavior with someone, especially that one person who might be the same age as your child.
A Young Fan of Fahad Mustafa Went to his Show With a Drawing She Made of him
The child claimed to be a fan of Fahad Mustafa and told him that she made his drawing. As brought in attention by Anum Kausar on Facebook, Fahad Mustafa badly ridiculed the little girl's drawing and even told her not to draw ever again.
Here's what happened:
So today I got to watch this season's first episode of Ramadan transmission for like 10 minutes and in that time I was infuriated beyond anything.
I'm beyond disgusted with how Fahad Mustafa thought it is ok to insult, bully and degrade a child young enough to be his daughter.
This girl drew a sketch of Fahad Mustafa and personally I thought the doodle was super cute, but not him NO!
Not only he made fun of it again and again but also had the audacity to ask the child not to draw again!!!!
That's crushing someone's dreams, passion and art right there!!!! How could one artist do that to another is beyond me and that too on national tv!!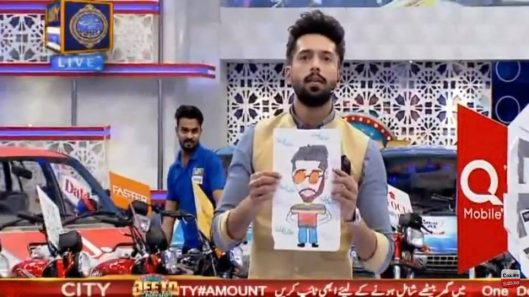 There's a reason why Pakistan has so fewer artists because hum unko ban nay say pehlay hi khatam krdetay hain.

We can all talk about suicide and depression and bullying but then celebrities like Fahad come on live tv and think it's alright to insult people and young children, well it's NOT!

To the girl who likes to draw, keep on doing that. You're amazing. Never let assholes like Fahad tell you to stop drawing or to stop following your dreams and passions. I hope this reaches you.
To Fahad, well shame on you!!

Also I got to know through tons of messages that he not only talks ill-mannerly for example "abay tu yaha aja" "chal ja ab" "uper aja yaha" for instances but also fat shame and body shame people. IT IS NEVER OK TO FAT SHAME ANYONE, EVER!!!! Idk how this bullshit is tolerated, if this was anywhere in the world there would have been a retraction from the Chanel the next day, as well as the host, would have definitely been fired.
#jeetopakistan #ramadantransmission #fahadmustafa
No surprises on how Fahad Mustafa HAS previously fat shamed people, as well as a number of viewers, can vouch for this as well. The man might have forgotten what he looked like when he entered the entertainment industry. But yeah, earning good money has its perks as well, right?
Anyway, while Fahad Mustafa still hasn't apologized to the little girl, the internet did his magic and did something remarkable. The post by Anum Kausar went viral and got this girl scholarship for Arts!
According to Souls Sisters, Here's What Happened:
"…Comic-Con PK happened to approach Anum for a scholarship, after the post and with the power of all-women social media groups, we managed to search out the identity of this young woman! It was so exciting to speak to her mother and let her know we were all rooting for her! If that wasn't amazing enough IBA also reached out to Soul Sisters Pakistan to give her a FULL scholarship in a summer program of her interests!"
Great to see how the power of social media is increasing this way. Appalled to see the behavior of Fahad Mustafa, ridiculing a child on live TV in front of thousands of people and thinking it was okay.