Seems like this month has become the month of trolling! No kidding! Ramadan beyond any doubt has kept us pretty entertained this time and so has Sahir Lodhi. LOL. Known for his beguiling personality and a great sense of humor, Fahad Mustafa recently appeared on 'Salam Zindagi' hosted by the veteran actor, Faisal Qureshi.
The Rapid Fire' round in his show has always been amusing! But, having Fahad this time around, made it even better for the audience! What you're about to see, will leave you in fits of laughter! So, in the 'Rapid Fire'round, Fahad was asked to name an actor for each phrase Faisal was going to tell him. Here's what Fahad had to respond with:
P.S. Don't say we didn't warn you. LOL! Here we go!
Sheeshay mein utaarnay wala?
"Sahir Lodhi"
Hai tou sasti copy. Yeah, I'd prefer 'sasti' copy and not 'China'.  Let's still appreciate his efforts!
Aankhon se shararti lagne wala?
Those eyes are everything now, aren't they?
Dil phenk?
"Sahir Lodhi"
Muft ka hai! le lo jee, le lo!!
Bas larkiyon se dosti aur larkon se dour?
"Sahir Lodhi"
Wasn't it larkon se dosti? But, nonetheless, we'll buy it 😛
Beghair lihaaz rakhay zubaan se teer barsaanay wala?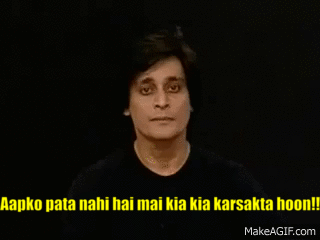 "Sahir Lodhi"
We like to call it "munh ki fire". Karna warna kuch nahi hai zindagi mein.
Mr. Lodhi sure has become the new buzz in town lately! And, he has also become a victim of trolling on and off. What goes around, comes around? Isn't it?  There! We thought the phrases asked, were pretty hilarious, and we didn't expect Fahad to actually name Sahir, that too at every phrase! Hope it was all in good means.
Did you guys have a good laugh? What do you think?  Let us know your thoughts in the comments!