Facebook has launched an Ebola fundraising campaign button for users to donate money to fight the epidemic in West Africa. Facebook's founder, Mark Zuckerberg, has already donated $25 million to the CDC for its efforts.
The button, now appearing at the top of the Facebook news feed for its 1.23 billion users, shows a blue hand clasping a red heart with the inscription: "[User name], You Can Help Stop Ebola." Underneath is written the statement, "Support organizations working in West Africa so they can stop the disease and save lives."
We welcome @Facebook's #EbolaResponse
efforts – American innovation helping global community!
http://t.co/nTQlPEUKyBpic.twitter.com/hNJhY0BDwM

— US Embassy Ghana (@USEmbassyGhana) November
6, 2014
Clicking to donate, a user can select one of three charities that can accept money globally to fight Ebola – the International Medical Corps, the International Federation of Red Cross and Red Crescent Societies, and Save the Children.
"We need to get Ebola under control in the near term so that it doesn't spread further and become a long term global health crisis that we end up fighting for decades at large scale, like HIV or polio," Zuckerberg wrote on his Facebook page last month.
Facebook created the button to make it easier for users to donate to charities to help battle the disease, hoping to replicate the success of past disaster campaign efforts. Previous disaster campaigns raised $486 million after Haiti's earthquake and $88 million for Typhoon Haiyan. The American Red Cross said only $3.7 million has come in for Ebola, lagging far behind other campaigns. The disease has already killed 5,000 people with over 13,000 confirmed cases.
As a result, Facebook is hoping that its donation button will increase the money going towards the Ebola response, reported the Associated Press.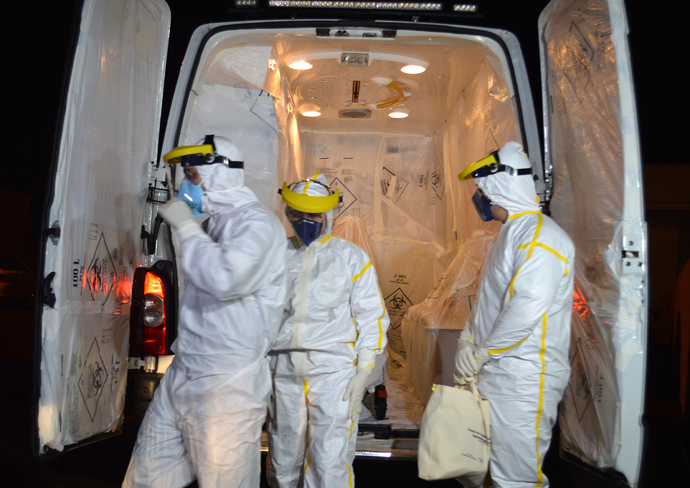 Whether or not it succeeds remains to be seen, but just recently it was revealed that Facebook can exert a surprising – and significant – amount of influence over its users. Three months before the 2012 election, for example, the company began influencing the content of news feeds with hard news stories rather than personal highlights from friends and acquaintances. According to Facebook, in a survey it did with users, those efforts caused an uptick in political awareness, and helped boost voter turnout by three percent.
Back on the Ebola front, Zuckerberg is also collaborating with the nonprofit NetHope to donate 100 satellite communication terminals to boost internet and phone services to virus-affected areas in Guinea, Liberia and Sierra Leone. That way, patients and health workers can keep in touch with their families.
"These units will provide connectivity in places where there is no coverage," Chris Weasler, Facebook's head of spectrum policy and connectivity planning, told the AP. He said Ebola units are being set up where the disease is, which is not necessarily near internet coverage.
Source : RT.com