We've all experienced the complete horror of losing our phone or NIC or something equally valuable to us, and have tried all means necessary to get it back!
Everyone goes through the frantic cycle whether it's going over all the places you last visited, checking the fridge a thousand times (because let's be honest. Your i Pod was there the last time you 'lost' it), calling everyone up one by one, and most definitely hearing from that one baraa who, after tsk-ing for five minutes, says something like, "Uff itne irresponsible ho. Chalo. Allah karey kay jaldi mil jaye beta". Yes, because that helps me SO. MUCH. BANO AUNTY.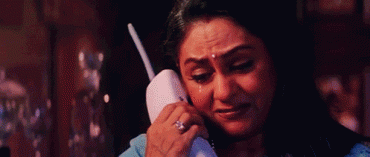 source: tumblr
The worry that we'd have to keep a funeral for your belonging, because there's no way of finding it, is very, very real. You're driven to desperation, and finally, losing all hope, because there's just no chance you could get it back.
But once again, technology manages to prove us wrong in the best way possible!
Facebook user Waqar Bukhari, posted on the local breaking news group, Halaat Updates, that he had found someones NIC at main I.I. Chundrigar Road in front of the car park entrance of Jubilee Insurance Building and National Bank Head Office.
He handed it over to the guards posted at the car park entrance of Jubilee Insurance, and proceeded to request if people could spread the word regarding the NIC on social media, so whoever lost the NIC, could reclaim it.
Waqar Bukhari posted a picture, blacking out important details and leaving the picture of the owner of the I.D card on.
Within 45 minutes of the original post, the CNIC was returned to the owner!

source: facebook
He posted a picture right after of himself and the owner of the CNIC, and it was clear he was more than happy to have got his I.D and met the person who made it happen!

source: facebook
The sheer speed and enormity of social media presence allowed someone to make the whereabouts of the document known, as well as find the person to whom it belonged. Whereas, if one were to go the the police, file a report, the paperwork alone would have taken such a long time that anyone could have taken the NIC, forged their identity and run away to Bali!
While we still all have to deal with the responsibility of losing our own things, and keep a record of our important documents and items, it's nice to know there are still good people in our local community willing to help out and make someone's day a whole lot better!