There are no real words to describe how much pain there is in losing someone. More than 30 families right now are grieving the loss of their loved ones who were present in the PIA Flight PK661. In fact, the whole nation mourns the loss of so many lives. Rescue workers reached the site late. Fortunately, there were people in a nearby village who reached the crash site first and attempted to rescue all of those who were screaming in pain inside the aircraft. An eyewitness shares what he experienced while he tried to rescue any passengers inside that plane.
Zahid Khan, a villager in a nearby village, was first to reach the crash site. He said:
"I could hear screams of survivors for help. They were faint but clearly audible from afar. Before we could reach the mangled plane, it burst into a fireball." He continued with: "The plane circled over our village at a menacingly low altitude before nose-diving into the hills of Gagan in the neighboring Baton village… Moments before the crash, the emergency exit of the plane opened and eight to nine passengers jumped off, but unfortunately, the plane fell on them." He added: "I was chasing the plane on my motorcycle and called my friends by cell phone when it went down," Zahid also said: "I was the first person to reach the site nearly 10 minutes after the crash. The fuselage was split into three parts and there was a fire in two parts. I could clearly hear cries of passengers for help."
He claimed that before anyone could do anything, the plane's fuel tank exploded and the whole aircraft burst into flames.
Zahid Khan is a constable and a villager living in Mujahth village. He is posted in District Police Office, Abbottabad. According to his words, he called upon his friends and nearby crowd to come out and help him. People brought pitchers of water, sand, and dirt to douse the flames. "More than 40 young men from the two villages received burn injuries while dousing the fire."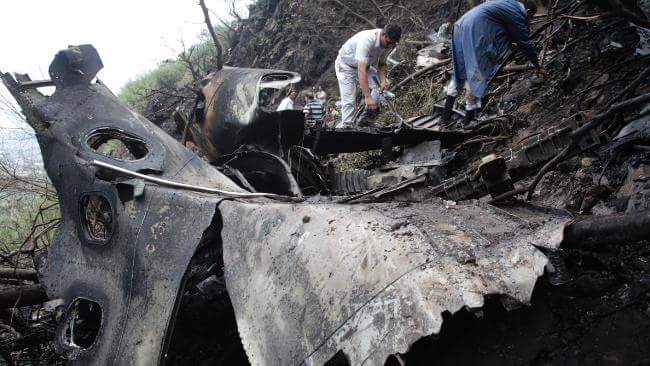 The villagers could only manage to put out the blaze a little too late as by the time rescue workers and police arrived, the bodies were completely charred and beyond recognition.
Zahid Khan (Eyewitness) said: "All the bodies were mutilated – and burned to a cinder. We collected them in pieces. Except for half the face of the pilot, there was nothing identifiable with the naked eye."
It was also him who discovered the presence of Junaid Jamshaid, Pakistani icon, inside the aircraft. He claimed to have found a wallet with a few cash and cards. There was a NIC card that confirmed Junaid Jamshed's presence.
Local people also claim that the airplane was circling their village at a very low height until it eventually crashed on the side of a mountain. Zahid Khan (Eyewitness) portrays the pilot as a hero by saying: "Had the aircraft crashed in the populated area, then the death toll would have been much higher."