Life can be so unpredictable. We know our time in this world is really short and no one knows just when their wheel of life stops spinning. Some time ago, we uncovered a tragic news of a boy who fell from the fourth floor of Centaurus Mall in Islamabad. The high profile mall that has been visited by so many people around the capital witnessed the tragedy that shook many people to the core.
The boy was Ammar and it has been confirmed that he passed away at Pakistan Institute of Medical Sciences in Islamabad. His funeral prayers were offered on Friday. This piece of information has been circulating around the news and it was provided by his own family. His family further comments on his death, stating that it was not suicide.
According to the deceased's family friend, the boy did not commit suicide
They further comment that the boy slipped and could not balance himself. His family has completely ruled out suicide from their verdict and calls it an accident.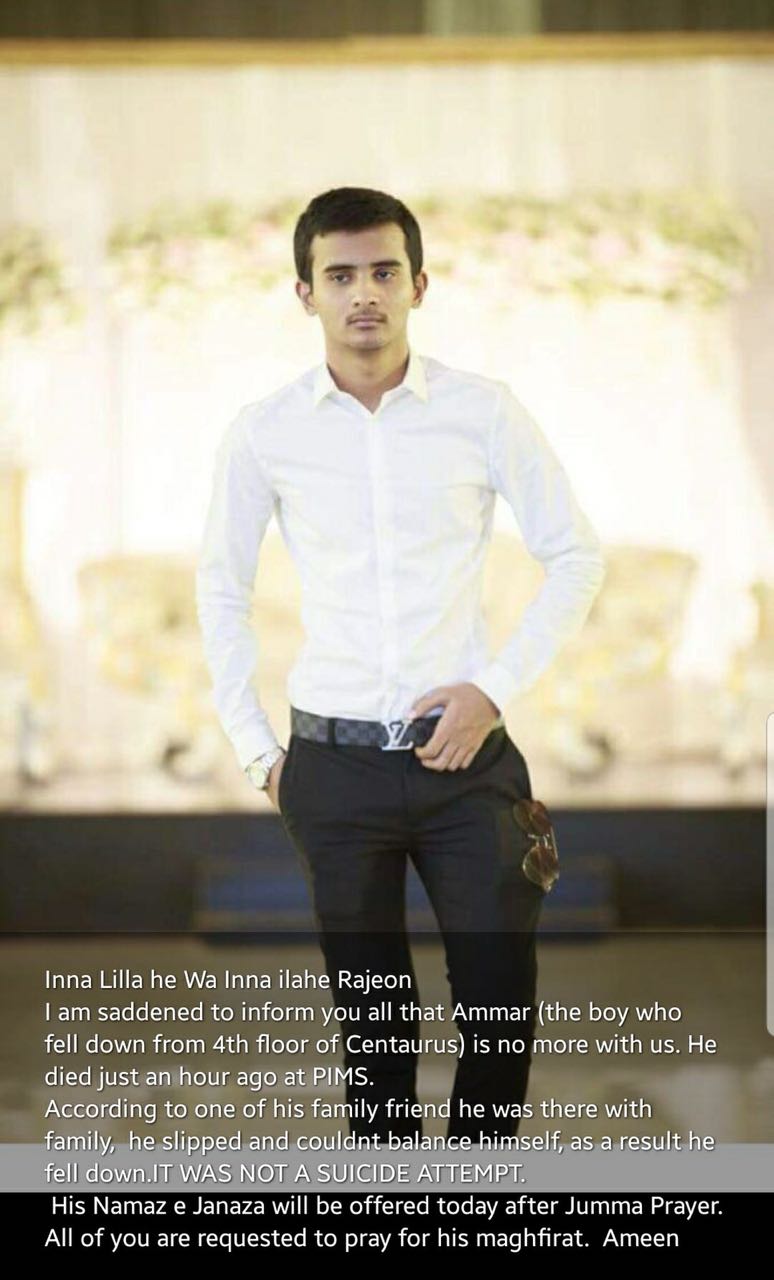 However, there has been a CCTV footage of the whole incident. It is contradictory to what the family has to comment. The CCTV footage clearly shows the boy in a deliberate attempt. It does not show how he slipped and fell as an accident, as what his family suggests. The footage is viral and being shared all over social media.
Note: graphic content; we strictly advise viewers who may be sensitive towards such content to not view the video.
CCTV footage of the boy who jumped from 3rd Floor of Centaurus. 31-5-2018 ?. Its a suicide?

Posted by Humans of Pindi on Friday, June 1, 2018
Perhaps, his family does not want to tell the truth on their part and are choosing to keep it a private information. We respect their sentiments and it must be a really hard time for them.
However, on a general note, suicide is serious. A large number of people all around the world continue to take their own lives and it continues to call for our serious attention to address this issue. Mental health awareness is a huge concern, and in a society like ours, mental health is a concept lingering in oblivion. People need to be educated about it and the people who suffer from it need the attention, care, and treatment.
So many things can be called into question. Who knows what troubled the boy? We need to get the gist of it and highlight the point that something was going on in his mind. He may not be well. He may be suffering from depression. Mental illness is real.
We sat with Sana Zehra on the subject once. If you want to grow awareness of mental illness, please have a look at the following video:
"Am I depressed?" Let's Talk with Sana Zehra

Posted by Parhlo on Thursday, November 17, 2016