MNA Ayesha Gulalai's recent actions have taken the Pakistani politics and the internet by storm. The politician left her Pakistan Tehreek e Insaaf after allegations against the party's chairman, Imran Khan. According to Gulalai, she was harassed by Khan in 2013 and mentioned how he used to send her "inappropriate" messages. She has also spilled a lot of negativity regarding the party after announcing her departure.
On the other hand, PTI members have stated that Gulalai wanted a ticket, and Khan denied it due to her poor attendance in the parliament. Gulalai, however, continued saying that the chairman and his party do not give equal opportunities to women workers and do not respect their work.
Gulalai's statements caused an internet frenzy where Pakistanis could control neither their support nor their hate for the MNA.
Stance of Many Pakistanis Last Night
Ayesha Gulalai claimed she got first text message of @ImranKhanPTI in 2013 why she spoke about this message in 2017?Investigation required

— Hamid Mir (@HamidMirPAK) August 1, 2017
Revealing Facts
Ayesha Gulalai faltered on her accusations, she has no leg to stand on as I have personally seen her working cordially with @ImranKhanPTI

— Fe'reeha Idrees@ abbtakk (@Fereeha) August 1, 2017
Many Pakistanis Do Not Believe Gulalai as she Failed to Give any Solid Reasoning
https://twitter.com/_AftabIqbal/status/892657553427005440
People Dragged Gulalai's Sister in this Matter, Squash Player Maria Toorpakai Wazir
https://twitter.com/SadiyaAzhar/status/892719107476525057
While Gulalai was bashed on the internet by Pakistanis, some extremists made nasty remarks. Regardless of what your stance is on this matter, one should never make such claims that can flare up others.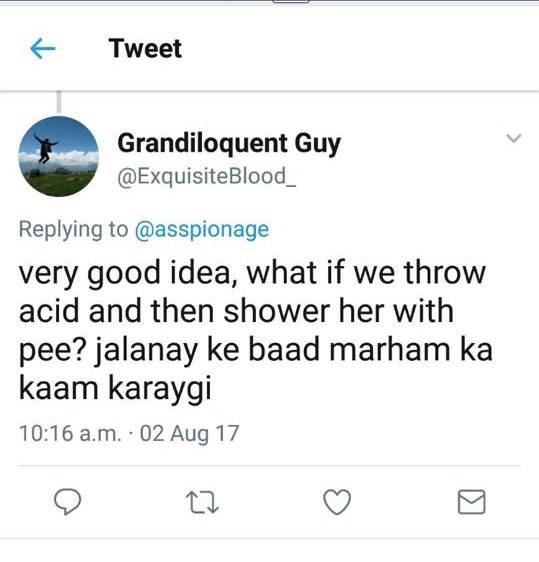 Have We Not Learned Anything from the Recent Mashal Khan Case?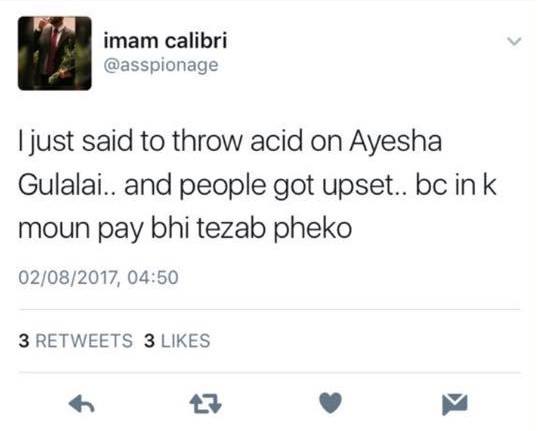 These Tweets are Indeed Extremely Appalling!
It Makes Sense Seeing How these People Reacted
This happens when women come out with harassment allegations against powerful men. pic.twitter.com/chUU8iE7bJ

— Nighat Dad (@nighatdad) August 2, 2017
The amount of abuse Ms. #AyeshaGulalai is receiving for voicing her concern, is the reason why countless Pakistani women never speak up.

— Snober Abbasi (@snobers) August 2, 2017
Regardless of what may the truth be, it is shameful to see how these Pakistanis think throwing acid on someone's face is okay. Whatever happens, we need to discard such extreme approach from our mindsets. She is the wife, mother, and daughter of someone. Most of all, she is a human and by your nasty, extreme remarks, you will cost someone their life!