Often, while traveling, we're rather choosy of how our experience should be. When we're flying especially, paying a decent amount of money, we expect the airline company to take extremely good care of the customers, providing us with an almost 'noble' experience.
Usually, in the world, that is exactly what happens, even if a single plane is traveling to three different destinations in a day, the experience remains noble. However, in Pakistan, perceptions differ from reality. We hope for a soothing experience, an easy travel, and a perfect landing to our destination.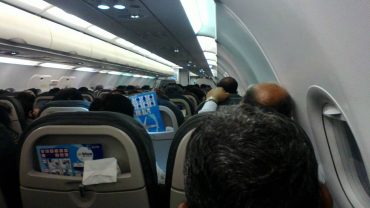 Recently, I was on a plane from Karachi to Lahore. The flight was PK-402 Air Blue. With all the harsh criticism of PIA, we thought it was best to travel with a different airline, so we tried out Air Blue. Unfortunately, the experience turned out to be worse than what we were used to with PIA.
On entering the plane and finding our seats, we prayed that there were no complications in our flight. The temperature in Karachi hitting almost 27 degrees outside, it was obvious that the management would turn the air-conditioning on soon. Almost 30 minutes passed and we took off for Lahore, sweating, without any ventilation or AC.
As we thought about slandering the management, another thought came to my mind – Why do we expect the airline company to provide us with the best experience, when our fellow passengers too, cannot follow proper protocols of traveling in an airplane? It was then that I began noticing my surrounding. There was hue and cry everywhere. Little children crying, screaming — women chattering, talking loudly, a few old men laughing like they were sitting in their drawing room…
The best of it all came, when the women seated near me, started discussing pregnancy. It wasn't an ordinary conversation. Apparently, these women who had just met started sharing tips on how to get pregnant… that too, 8000 ft above sea level. They could see their conversation certainly made me uncomfortable, but it went on… and on… 
And then it hit me. It's not the airline that is the problem. It's us. When we, the passengers stop following all protocols of traveling in an airplane, where we do not care about the people sat next to us, are so focused on making it an enjoyable experience for ourselves, why would the cabin crew or anyone else give us the experience we actually deserve?
Thus, I came to a conclusion, that if pregnancy tips can be shared 8000 ft above sea level in a loud volume for you to forcefully hear, then definitely, it is not necessary that the air-conditioning of the airplane needs to work as well.