A dancer filming an exercise routine in front of Myanmar's parliament has gained just global fame. Why? She accidentally captured the first moments of a dramatic coup in the background of her video.
In the extraordinary footage in the capital, the woman reported to be Khing Hnin Wai appears to continue her workout. Meanwhile, black SUVs drive up to a security checkpoint leading to the Myanmar assembly behind her.
The dancer does not appear to know what is happening behind her, according to a report by Guardian. She continues as the cars behind her come briefly to a standstill. As she moves spryly side to side, some men can be seen rushing to open the barricade and let the cars through.
At around 3am on Tuesday, Wai posted again to say that she had filmed many videos in the location before. She claimed the video was real. Wai said she had been filming dance videos outside the assembly for 11 months.
Myanmar military seizes power, detains Aung San Suu Kyi
Myanmar's military seized power on Monday in a coup against the democratically elected government of Nobel laureate Aung San Suu Kyi. Meanwhile, she was detained along with other leaders of her party in early morning raids.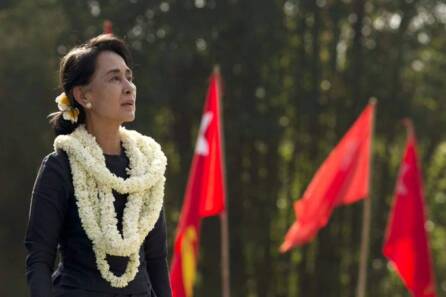 Western nations condemned the sudden turn of events, which derailed years of efforts to establish democracy in the poverty-stricken country and raised even more questions over the prospect of returning a million Rohingya refugees.
The army said it had responded to "election fraud", handing power to military chief General Min Aung Hlaing and imposing a state of emergency for a year in the country, also known as Burma, where neighboring China has a powerful influence.
Did you know Waqar Zaka and Dr. Amir Liauqat were once arrested in Myanmar when they tried to help Rohingya Muslims?
Also Read: Girl Becomes A DOG After Insulting Her Parents! Here's The Shocking Story
What do you think of this story? Let us know in the comments section below.