If you have ever studied in all-girls college, you will be aware of the fact how sometimes, the male employees have always done something that has made one feel exploited. From the photocopiers to the examiners, these incidents are quite common. Why no one raises awareness is due to "lack of evidence" and that would never make enough sense.
Similar to this is what happened to the girls of Lahore College Women University during their practical. Various students raised awareness on this incident. On 3rd July 2019, students of Psychology practical took it to social media and raised concerns on how the practical examiner physically harassed multiple students.
A 50-Year Old Guy Named Salim Who Works as An Examiner Harassed Girls Who Were Giving their Practical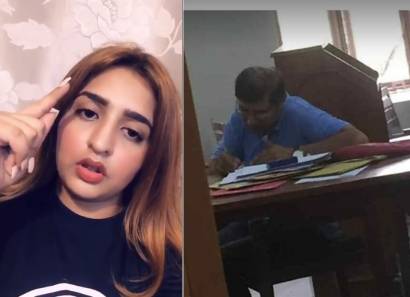 The news is making rounds on the internet when one of the victims of Salim named Ayesha came on social media. In a long video message shared on her Instagram, Ayesha explained the whole filth with archetypal courage. She explained that how a man appointed on invigilation the psychology practical crossed his moral humanity. It seemed that it is not the prestigious educational institution, rather a mall, restaurant and he is free to do anything.
While distributing question paper and sheets he intentionally touched a girl's modesty. While taking viva he asked for friendship and tried to give his contact number. Ayesha has named the person as SALIM, and he seems a grey-haired 55 years old. According to Ayesha, he threats them to be silent unless he would fail them, by putting zero in the viva.
In the End of the Video, You May Also See Screenshots Attached By Ayesha of these Girls Who Were a Victim of Salim
The Girls Reached Out to Waqar Zaka and the Host Also Made a Video On this Entire Fiasco
Let's hope that all of this keeps Ayesha and all the girls coming forward safe. On the other hand, swift actions needs to take place. And no, restricting girls from education is not the solution; holding people accountable for their actions is.