Have you ever imagined Bollywood Superstars taking the tasks of sweepers  to clean the dirty streets of India? No? Well, we didn't too. The prominent Bollywood Superstars came on streets with brooms in their hands to clean the streets as part of India's biggest ever cleanliness campaign known as 'Clean India' campaign. This campaign's purpose is to make India a cleaner and a better place to live by the year 2019.
The Bollywood Superstars were seen heading the campaign. It is said that Narendra Modi, Prime Minister of India, especially requested the too Bollywood actors and actresses to participate in the 'Clean India' campaign. The 'Clean India' campaign shows the clean and clear agenda of Prime Minsiter Narendra Modi of purging India of Unhygienic conditions, better environment, better health care facilities and ideal place to live one's life. Bollywood Superstars seem to realize the message of their Prime Minister and they were seen on dirties of roads with their sleeves up moving the brooms showing the love and care for their country. Here are few of pictures of Bollywood Superstars and few of their tweets about 'Clean India' campaign.
Bollywood Superstar Amitabh Bachchan
Big B is the emblem of Bollywood Industry and he was the first one to get his hands dirty for the campaign. Amitabh Bachchan was seen wearing track-suit and mask , followed by other citizens to clean the dirty and muddy road in Mumbai. Bollywood superstar also picked up the trash. Bollywood superstar also played role to promote the awareness of  the cause on social media forum Twitter.
T 1659 – The 'Swach Bharat Abhiyaan' .. personalised !! Let every one deserve to be involved .. pic.twitter.com/mh6Ry7s0TA

— Amitabh Bachchan (@SrBachchan) October 29, 2014
Bollywood Superstar Salman Khan 
Known for his Philanthropic work and getting Kick to work for orphans, Bollywood Superstar picked up broom, got himself in the dirt and contributed to campaign in Karjat.
I started with Karjat yesterday. Yeh Dekho photo's pic.twitter.com/qgStiMqeEr

— Salman Khan (@BeingSalmanKhan) October 22, 2014
Bollywood Superstar Hrithik Roshan
Hrithik Roshan, the leading man in Bang Bang also banged for the 'Clean India' campaign. Hrithik Roshan posted a picture and a tweet to raise awareness of the noble cause.
I pledge #CleanIndia campaign with students of @whistling_woods. Youth involvement shall lead to a cleaner India. pic.twitter.com/arsH4HPEPG

— Hrithik Roshan (@iHrithik) October 3, 2014
Bollywood Superstar Priyanka Chopra
The Desi Girl of Bollwood Priyanka Chopra also played her part in promoting the 'Clean India' campaign. Priyanka walked to the street and picked up the smudgy trash. Priyanka Chopra also tweeted about the campaign to garner the support from the youth.
There is no time like the present to begin the journey towards change. Recognise that we R doing this for ourselves #CleanIndiaCampaign

— PRIYANKA (@priyankachopra) October 2, 2014
@priyankachopra @PMOIndia go for it PC! remember this? pic.twitter.com/Olcv6RhSzp

— Priyanka Chopra FC (@PeeCeeManiac) October 2, 2014
Sachin Tendulkar
The little master came in the middle of the night to clean the street. Sachin Tendulkar also posted a video on his official Facebook page to promote the Clean India Campaign. Prime Minister Narendra Modi nominated him as an ambassador of Clean India movement. Sachin Tendulkar is one of the most popular personalities in India. His coming to forefront and leading the way to cleaner India left huge impact on the populace of the country. Well, it seems that after him retiring form the Cricket, it's time for him to play on the streets and defeat the unhygienic conditions prevalent in his country.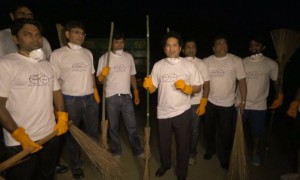 Bollywood Superstar Amir Khan
Bollywood Superstar Amir Khan also participated int he campaign. Bollywood star was acknowledged by Narendra Modi on Twitter for his work to spread awareness of the noble initiative.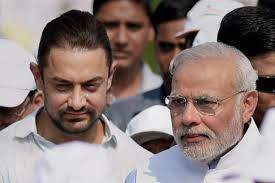 .@narendramodi Swachh Bharat is a visionary idea. Every Indian needs to be a part of this movement. Mumkin hai…

— Aamir Khan (@aamir_khan) October 6, 2014
Bollywood Superstar Dia Mirza
Bollywood Superstar Dia Mirza posted tweets frequently showing the enthusiasm for Clean India Campaign. The recently married actress seemed to support the noble cause for her country. She tweeted :
Will icons with broom in hand manage to stir our conscience and really #CleanUpIndia? Who is responsible for the filth on our streets?

— Dia Mirza (@deespeak) October 30, 2014
Many other Bollywood superstars conveyed their support for great initiative of 'Clean India'. They embodied the support by accepting Narendra Modi's invitation and came on streets to clean the trash. Many others did it voluntarily. Bollywood Superstars made use of Twitter and Facebook to convey the message to their fans and garner huge support for making their streets, schools, workplaces, and houses clean.