With having Ertugrul firecrackers to almost everything, Pakistanis are getting extremely obsessed with the show. Not only this, but stars like Esra Bilgic who is also the female lead in the drama; seems to share the same sentiments for her Pakistani fans.
In fact, the show and the cast both have been viral in the social media of Pakistan on a continuous basis. Not only this, Esra Bilgic is also receiving loads of fan mail and love; on her Instagram and Twitter. What is more exciting is how Esra Bilgic has teased us, more than often by expressing her interest in working in Pakistani production also.
However, you all will be amazed to learn that she just did. Esra is now officially a brand ambassador for a Pakistani mobile phone brand QMobile.
As this amazing queen has gone viral and getting loads of love and appreciation for her role. Pakistani advertising agencies and brands are battling their own wars in order to have the famous actress/model sign up as their brand ambassador. Finally, though the news is out! Esra is officially the brand ambassador for Pakistan's own smartphone brand company.
Pakistani Celebs Not Happy With Esra
However, where fans are all excited and waiting for the ad campaign, seems like many Pakistani celebrities are not too happy with the news. Some has expressed displeasure over Esra being the brand ambassador for the Pakistani brand rather than any Pakistani actor.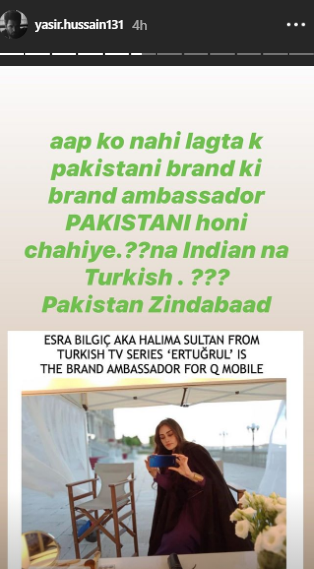 Aiman Khan and Minal Khan also agreed to Yasir's thoughts..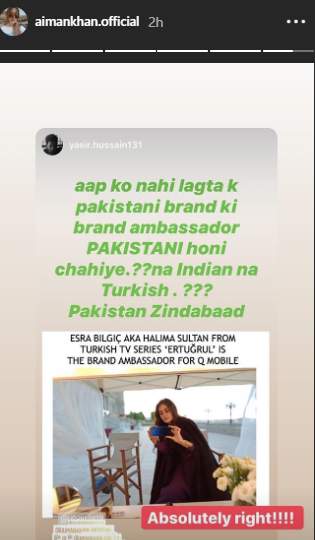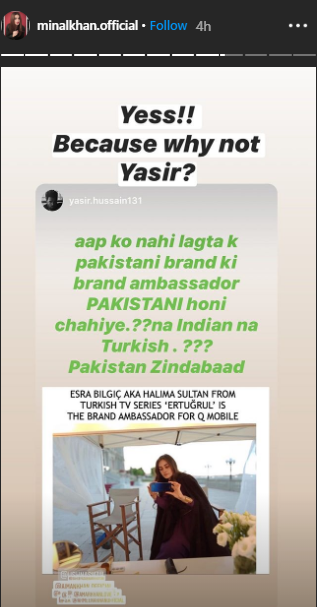 Q-mobile is one of the most commonly used brands in Pakistan and is widely popular for its out of the world marketing and clutter-breaking advertising. From having top-notch celebrities and viral stars; the brand never fails to impress its public.
By introducing Esra Bilgic as the face of mobile smartphone series, QMobile manages to, yet again, woo the public and win many hearts.
Earlier too, many Pakistani actors showed their resistance over airing Turkish drama series Ertugrul in Pakistan.
Will there be more Turkish celebrities coming to Pakistan?
In addition, the CEO and Chairman of QMobile might have hinted at something, which can leave us jumping with glee and literally on our toes.
"It has always been our vision to bring innovation in Pakistan through our products, technology, and advertising. During the current times, we hope that this project will be a pleasant surprise for the Pakistani audiences and a benchmark for more collaborations of Pakistani brands with global celebrities," he said.
Could it be? Would we be having more Turkish celebrities come to Pakistan as brand ambassadors? Surely, it is worth the wait. Let's just hope it happens real soon.
What do you think about the story? Tell us in the comment section below.