Taking on the role of Halime Sultan in Diliris: Ertugrul is quite taxing for Turkish actor Esra Bilgic. Thanks to Pakistani PM Imran Khan, the historical drama gained fame in Pakistan. However, local fans of the show have repeatedly criticized the actors for living lives beyond their characters.
Esra, who plays the role of Halime Sultan in the mega-hit Turkish serial, has amassed millions of her fans in Pakistan. She became a household name in Pakistan since the show aired on the state-owned channel PTV.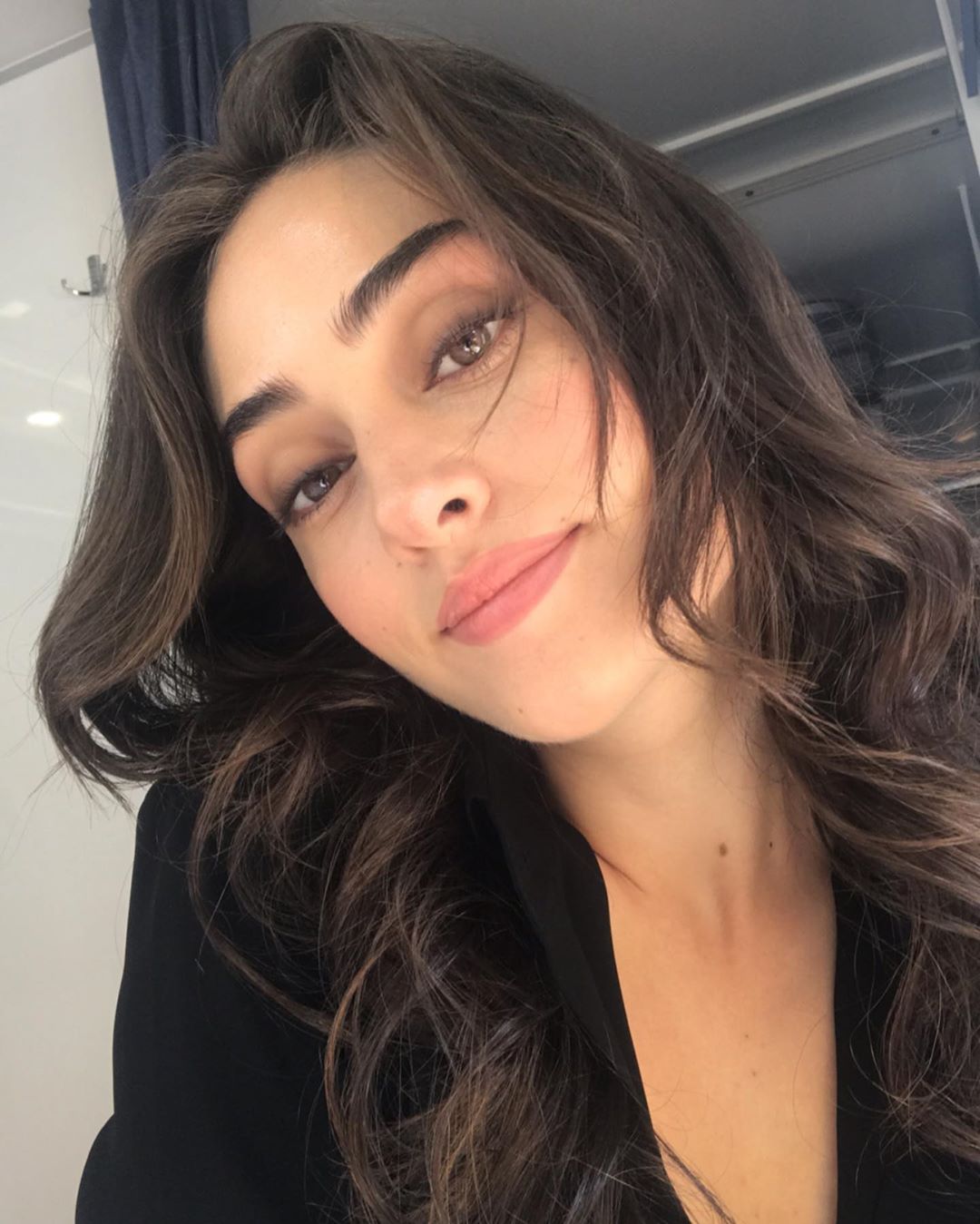 As the show is based on the life and times of the 13th-century, it took the nation by storm. Esra played the leading role of the wife of Ertugrul. It has been a while since the Turkish actor made it to our local headlines.
Desi trolls are focusing attention on Esra this week, following her appearance in Victoria's Secret advertisement. It would seem that they believe she is actually Halime. At this point, it is only becoming increasingly embarrassing.
The Turkish actor took to Instagram to promote Love Cloud, the new collection from the company's lingerie line.
Have a look at it:
Soon after she posted the ad, Pakistani fans infiltrated the comments section with unsolicited advice. Feeling cheated over the Turkish actor's choice of clothes, a user commented, "Shame on you! After Halima's character, you should be ashamed of this type of dress".
Unsolicited advice fills the comments section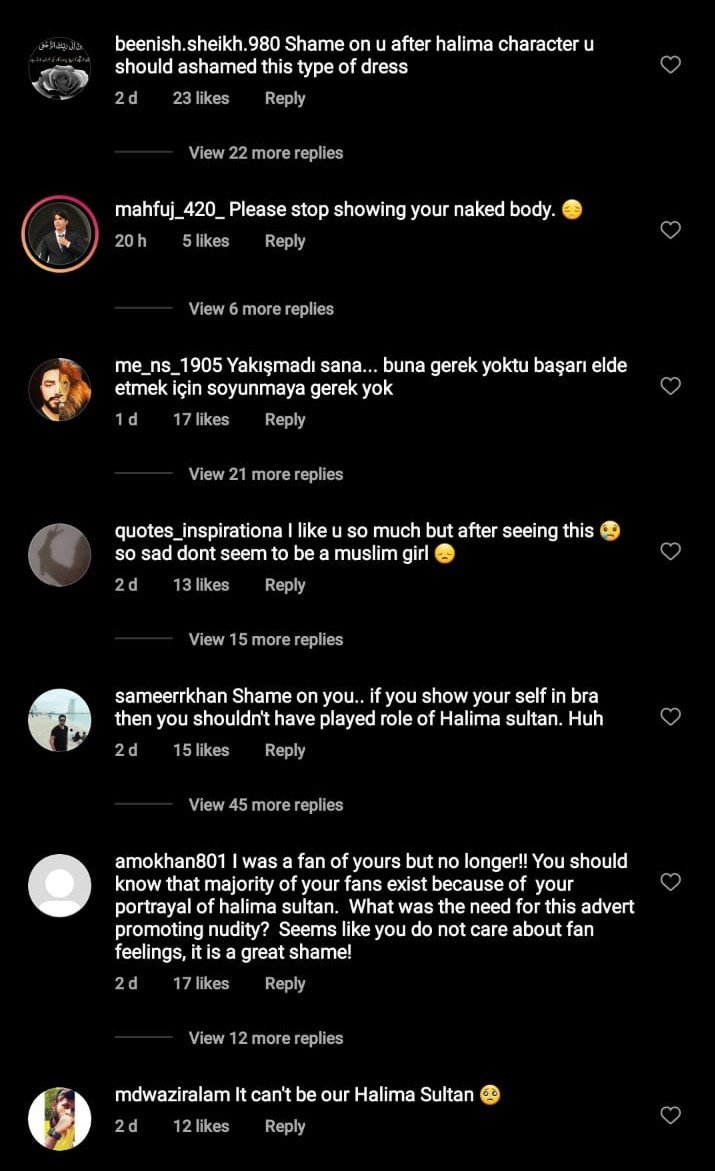 It became evident in the comments section how testing it was for Pakistani fans of the Turkish show. They lashed out at the actor and questioned her decision to play Halime if she wanted to "promote nudity" at a later date.
TV host and VJ, Anoushey Ashraf took to her Instagram story to point out the trolling on part of Pakistani men. "Why don't men just unfollow her?" she wrote. "Or just cover their eyes and only open them when they need to read, drive and watch TV?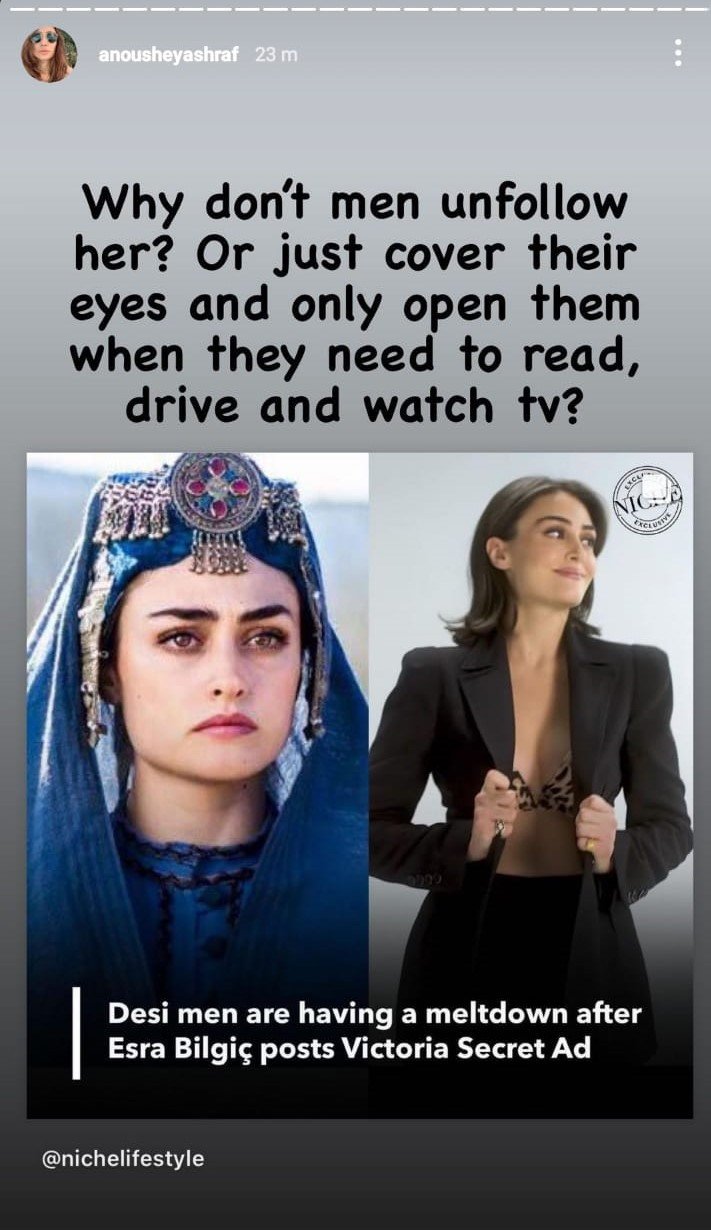 This is not the first time Bilgiç has had to face unwarranted criticism. Last year, after months of incessant moral policing on her personal photographs, ranging from comments about her dressing to how she must carry herself with dignity and respect owing to her on-screen persona, she gave a polite shut-up call to users shaming her.
"Let me give you a little advice: Don't follow me, thank you," she wrote. But oh well, it clearly looks like her Pakistani fans still have a lot to learn.
WATCH: Esra Bilgic Aka Halime Sultan Upsets Ertugrul By Becoming Peshawar Zalmi's Ambassador
What do you think of this story? Let us know in the comments section below.