Marriage goals, a term that has gained immense popularity with Pakistani millennials, discusses the bond between the husband and wife, who are to start their journey together.
Even though engineers in Pakistan are looked upon as 'unemployed', some prodigies go out of their way and create marvels that shun the country. In Karachi, a Pakistani engineer groom redefined the term marriage goals when he showcased his creation at his wedding.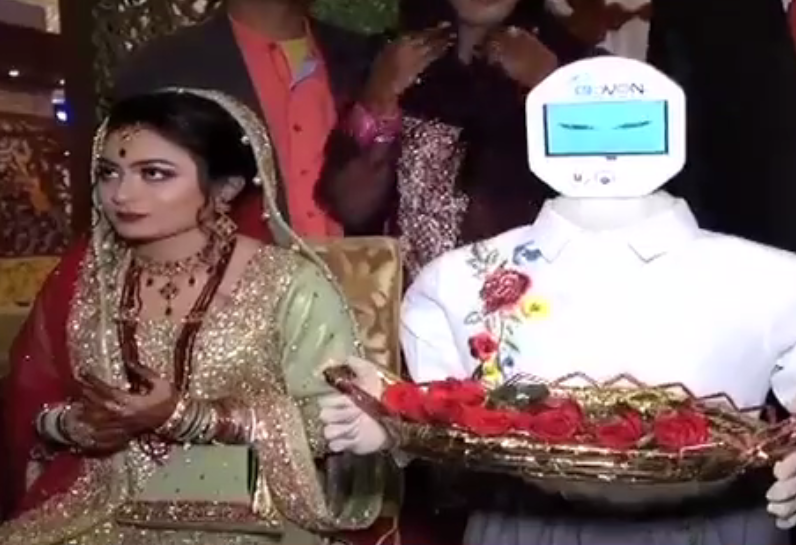 The engineer has designed a special 'maid' robot for his wife, which he gave as a gift to her on their big day. The robot stood at the marriage hall, welcoming guests to the wedding. The engineer groom said that the only reason to design this robot was to help his wife out with her daily chores.
The NED engineer looked extremely happy with his creation and so did his wife. He said that the reason he had designed a female maid robot is that Pakistani maids have the tendency to run away from work, something the robot he created will never do, which is abandoning his wife in tough times.
The engineer's Mrs. too seemed very proud and said that she hoped that the robot would actually help her with work. As per the robot's creator, the machine would help his wife with mopping, dusting and even grocery shopping. Guests at the wedding seemed amazed as well, as they took selfies and pictures with the robot.
One of the guests said that nobody was focusing on the couple, as all eyes were on the robot. The robot stands at 3.5 feet tall and was created in one year's time and all the parts used in the machine are said to be Pakistani.
This unique wedding was well entertaining for the guests and we wish all the happiness and joy to this blessed new couple. As for the robot, let's just hope it doesn't run out of battery!