Iqra Aziz and Yasir Hussain's chronicles continue on as they have become the most talked-about couple of Pakistan's entertainment industry. From their picturesque vacations together to a sizzling-hot photoshoot, these love birds don't seem to be slowing down. Their recent grand engagement at the Lux Style Awards became the highlight of the entire evening taking the internet by storm.
Their journey together has been witnessed by the entire country garnering much criticism. Considering our awaam would be at anyone's throat over the smallest of matter. In their case, their PDA at the LSA where Yasir hugged and kissed Iqra repeatedly was met with severe hate from the moral brigade. Not only that, several remarked upon the proposal as "staged" and "scripted", however, Iqra clapped back with an Instagram post but on a sweeter note.
While the entire buzz died down over the days and we didn't see much of them in the news, either together or separately (excluding the hot post-engagement photoshoot), Iqra's sister unknowingly spilled the tea on their engagement that is now being speculated to have taken place way back in February.
Sidra Aziz Posted A Picture Of Iqra Aziz Sharing A Heartfelt Message On Her Being Engaged That Sorta Backfired!
This picture shows a happy couple in the midst of a private ceremony that according to the post above has been cleared to be their official engagement event. However, Iqra posted a picture of herself in the same dress and hairdo back in February. This has everyone pulling a classic Sherlock or that would be too classy for Pakistanis at this point; becoming "Phoppos" who don't know how to mind their own business would be an apt description.
Everyone wants Iqra to come clean with the real date!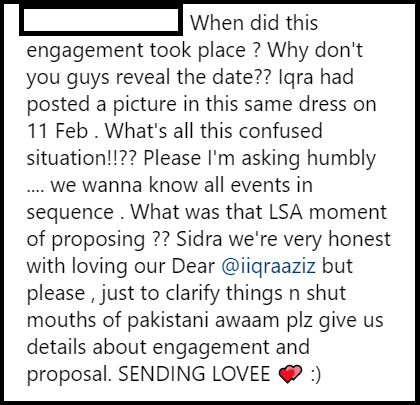 Coming full-circle are we? LSA being a drama then and a drama now!

Yasir is currently busy with a play where he has to stay clean shaved and everyone was quick to catch on to this fact that turns the table on this couple solidifying everyone's doubts of them faking their proposal.

Iqra's sister has definitely placed Iqra and Yasir in a tough spot. If the grand LSA proposal did turn out to be a complete sham, that would really hurt their credibilities as actors, individuals, influencers and last but not the least, as much-loved celebrities of Pakistan.
Do you think it is just a coincidence? Let us know in the comment section below!