The world has witnessed a number of incidents in which many people escaped death. In Mumbai, an incident of this sort took place at the Vasai Road Railway Station. One elderly woman survived after slipping into the gap between a moving train and the platform.
The incident took place on Saturday as the passenger tried to board the moving train. The 71-year-old woman, traveling by train from Bhavnagar to Hyderabad with her husband, reportedly got out of the train to get tea on the platform.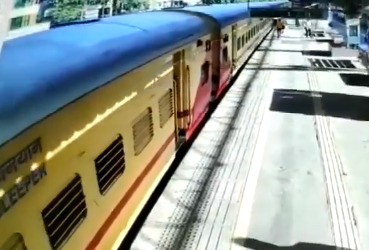 When the train started moving, however, the couple got up and ran toward it to catch it. Unfortunately, the elderly woman fell into the gap between the platform and the running train after slipping.
The Railways Commissioner of Police in Mumbai Quaiser Khalid has shared a video of this incident to remind commuters and travelers how reckless commuting can be fatal. The 71-year-old woman at Vasai Road railway station was rescued by personnel of the Railway Protection Force (RPF) after she fell into the gap between the platform and the moving train.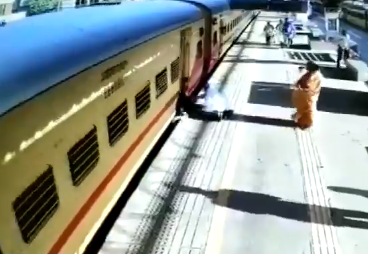 The RPF officials will be awarded for the brave act, Khalid informed. The video shows the alert constable (who was nearby when the incident occurred) and other passengers rushing to help the woman and pulling her back immediately on the platform.
Though the woman was fortunate to survive, she was injured and is being treated in a Vasai hospital for multiple fractures.
Here is the CCTV footage of the incident
What a miracle!
In a similar turn of events earlier, a 70-year-old man came under a train and survived. A video came to the surface showing some men from the railway administration trying to get the elderly man out from under the train. Surprisingly, the elderly man was seen coming out alive and well.
The man fell under the train while passing through the railway track. More so, he got stuck under the train. However, if the train driver had not applied the emergency brake at that moment, the 70-year-old would have fallen under the train and died.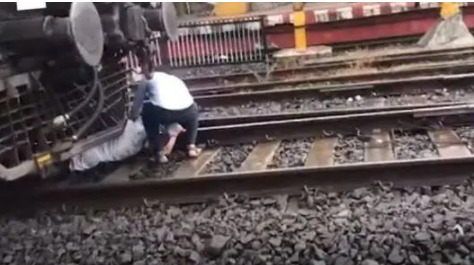 As the old man survived, the video of him went viral on social media. There was a sense of surprise among everyone that the old man was able to escape death.
Speaking of escaping death, another terrifying moment was caught on camera previously. It showed two women while taking a ride on the swing over Sulak Canyon, on the Caspian Sea, when one of its chains snapped. They fell off the swing seat but survived.
Story Courtesy: Times Of India
What do you think of this story? Let us know in the comments section below.