WARNING! Some readers may find the following content disturbing. Reader discretion is advised.
Violence against domestic workers seems to know no bounds in the country. Two kids, apparently from influential backgrounds, have been caught on camera recently beating their servant's children in front of the elder members of the family. The video is making rounds on social media.
"Kids belonging to influential Chaudhry family are hitting their servant's children," reads the caption on a video posted on Twitter. As seen in the video, the unfortunate incident took place in front of the elder members of the family, who did nothing but watch the abuse and did not bother to intervene.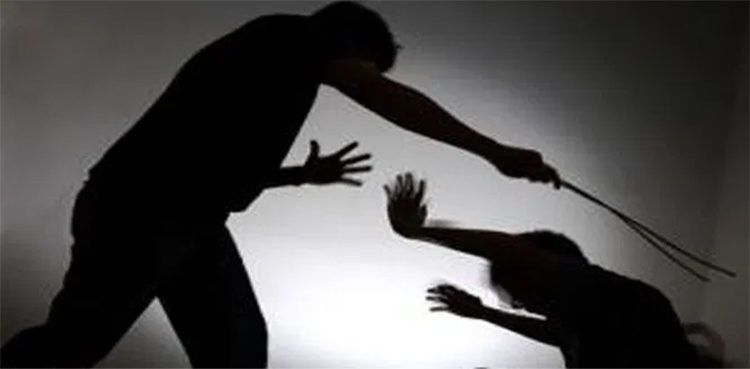 In the video, one teenager kicks a servant sitting on the floor. He then slaps the victim and kicks him with his shoe on the head. Later, he moves on to smack another servant. Another young man then joins him and also slaps the servant.
Here is the video:
WARNING! Some viewers may find the following video disturbing. Viewer discretion is advised.
What an utter shame.
The video was watched by many people after it was posted on the micro-blogging website. As soon as the video was posted, the official Punjab Police Twitter account replied to the tweet and shared a picture of two people arrested.
"Gujranwala police have registered a case of child abuse and arrested two accused involved in the incident while the other accused are on interim bail by a respected court. Inspector General Punjab holds a zero-tolerance policy against the torture and harassment of children," wrote the Punjab police.
Although there are no official statistics, it is estimated that more than 250,000 children work in homes across Pakistan as domestic workers. While domestic help is needed, usually only children are employed as they are 'cheaper' and 'easier to deal with'.
The abuse of children who work as domestic laborers is, however, under-reported. While poverty forces families to send their children out to work, children are often trafficked from rural areas of Sindh and Punjab and brought to cities to work. They have no one to watch over them and are vulnerable to violence.
Such cases are quite common across the country. In the most recent case of violence against domestic workers, a minor maid was brutally tortured and starved by her employers for accidentally breaking some crockery in Karachi.
A 13-year-old maid was previously abused and tortured by her employer in Lahore. Prior to that, an 8-year-old maid was beaten to death for accidentally setting free expensive parrots.
What do you think of this story? Let us know in the comments section below.