We were aware of how sexual harassment, physical abuse, and rape continue to exist in religious institutes throughout Pakistan. But in a recent incident, something bizarre came to the fore. An elderly man was caught doing lewd acts with a teenage boy in a Mazar in Lahore.
The elderly man with a young boy was caught red-handed engaging in obscene acts. According to the details, a video is going viral on social media in which that old man can be seen apologizing to the man who caught him and recorded the video.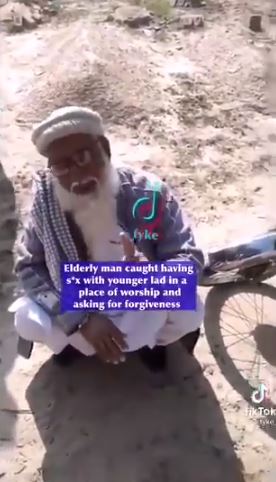 He can also be seen apologizing to all the people who have gathered outside the Mazar. It is said the old man was caught doing immoral acts inside the Mazar with a young boy. Soon, the people present there started making videos.
The offender begged the video maker not to do his recording. He can be heard saying, "forgive us once and we will not do it again." According to the man who witnessed the incident, the accused was praying inside the court when he found both of them committing immoral acts.
As the video made rounds on social media, there was a strong reaction from the users. Some of them believe that such acts should not be advertised on social media since such videos don't create a good impression in society. Meanwhile, others think that such people should surely be exposed.
Here is the shocking video!
Downright appalling! It seems as though the boy finds nothing wrong with what was happening.
Meanwhile, child sexual abuse cases have shockingly been growing expeditiously in Pakistan. Every other day a new child abuse case comes to the forefront. Especially with the emergence of the COVID-19 pandemic, a subsequent surge is seen in child abuse cases. Since the past year, we have been bombarded with tragic and horrendous news of such cases.
It is beyond anyone to even comprehend what such cruel creatures gain out of torturing children. Earlier, traders and people from different walks of life have taken to the streets demanding the arrest and public hanging of the accused in another sexual assault case of a minor. To our dismay, our nation has miserably failed to protect our children from unpleasant incidents.
Several clerics are known to be sexual predators of children. Not so long ago, an Imam of Jamia Mosque Lahore had been sexually abusing children for the last 15 years.
What do you think of this story? Let us know in the comments section below.