Ehd-e-Wafa has definitely developed into a rich storyline since its pilot. Rest assured, the majority of Pakistanis are guilty of underestimating the show. But like everything, Ehd-e-Wafa too grew on us and now we are glued to our screens whenever a new episode releases. Not to mention, the popularity of the show has crossed the borders of Pakistan and is widely watched and loved by the Indian audience, as well.
DG ISPR to make a special appearance in Ehd-e-Wafa?
Now, Pakistanis have another demand for the ISPR-produced hit drama, Ehd-e-Wafa. According to Instant_Lollywood's picture, it seems DG ISPR, Major General Asif Ghafoor to make a guest appearance in the drama, is on the table or at least within the minds of many.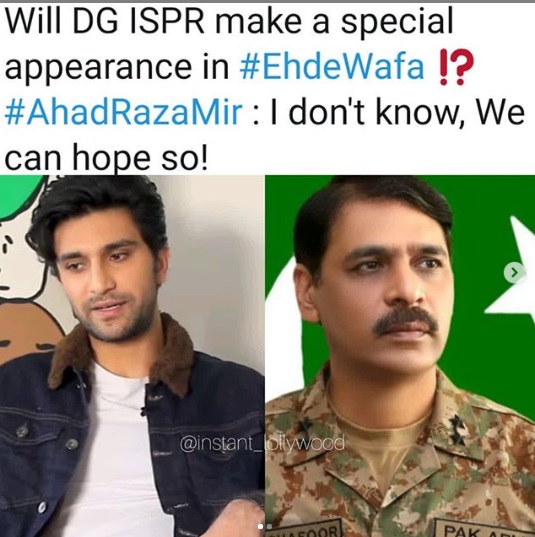 In addition, DG ISPR Major General Asif Ghafoor's dog Zoro made his TV debut on Ehd-e-Wafa. Zoro became an instant sensation and Pakistanis couldn't stop adoring the good-looking dog.
Parhlo asked and people responded.
64% of the people are in favor. Also, this is an ongoing poll. So stay tuned on our Instagram to check the final verdict.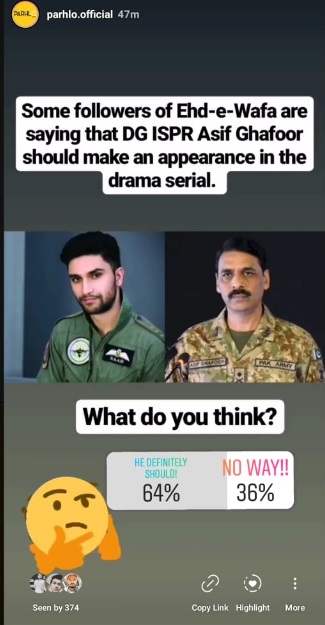 Here's Zoro being cute.
Well done Zoro!
First winning appearance. pic.twitter.com/HdqYUp8FD2

— Asif Ghafoor (@peaceforchange) February 18, 2018
Will the revered Asif Ghafoor grant the wishes of many Pakistanis and appear on the screens, showcasing his acting skills is the big hot question. One thing the Major General has mastered, is the art of trolling Indians with his savage yet factual responses; becoming youth's favorite. However, will he master the performing-act as well, is something surprisingly many Pakistanis await to see.
Ehd-e-Wafa's story is maturing wonderfully. Recently, two supporting characters of Gulzar and Shariq's sister Ghazala won the hearts through their character and beauty, respectively.
Our Sikh guests even have all episodes downloaded in their phones.
Ehd-e-Wafa is a big hit in India too. I met a family at Kartarpur who was a big fan of our dramas. I was pleasantly shocked when they said Ehd-e-Wafa is their favourite. Sardar g even had all its episodes downloaded in his phone.
Complete video link: https://t.co/r4Q5RKwbm3 pic.twitter.com/DPcPgS3UBa

— Tehseen Bajwa (@TBajwa7) November 30, 2019
Coming to its recent episodes; boy, they sure have had their intense moments. Shariq's sister finally got more screentime and after displaying her seasoned acting skills, she became the national crush of Pakistani men. But more importantly, the story-twist that she brought in the recent episode made everyone chant in unison 'Do not judge a book by its cover', online.
While watching this scene I was thinking "We should never judge someone too quickly" 😔😔💔#Ehd_e_wafa #EhdEWafa pic.twitter.com/RYG5qiaHvI

— Zohaib |Nimo ka 🎂❤️| (@iamzohaib_) December 1, 2019
All in all, the drama series is more than just the stories of these men. More so, in essence, it showcases the proud glimpses of the Pakistan Army and the ground on which so many fearless jawans walked and marched on. A show that once garnered nothing but cynicism and doubt because of the age of the male leads, is now a favorite.
So do you want to see Asif Ghafoor in Ehd-e-Wafa? Let us know in the comment section below!