Child rape, molestation, harassment, or any sort of abuse cannot be used as a joke in ANY manner. Those who try to twist these horrific incidents into their sarcasm or 'dark humor' appropriations cannot and should not be justified, especially you are known to be good with words.
Newsweek Pakistan has established itself as one of the most reliable and most read magazines in Pakistan.
The Editor of the Magazine is the Well-Known Fasih Ahmed
Before joining the newsmagazine as the editor, Ahmed has also written for The Wall Street Journal. He won the New York Press Club award for the Newsweek International's coverage on the assassination of Benazir Bhutto.
You Must Be Wondering Why Would People Wish to Boycott a Man Who is So Well-Known and Well-Reputed, Right?
Here's what Fasih Ahmed:
In a dark, twisted and certainly in an inhumane manner, Fasih Ahmed tweeted about Zainab and child rape cases in general and called them "art".
https://twitter.com/therealfasih/status/955788565371392006
He Then Started Justifying and Explaining What he Meant in Tweets that Were Straightforward, Without any "Dark Humour"
Child sexual abuse has always happened, is happening, and will always continue. Two days of outrage on Twitter and participating in a 10-person vigil may make you feel so noble but that's all just about you, not those who've been victimized

— fasih (@therealfasih) January 23, 2018
Here's More
You know uncles, servants, teachers, cousins, random shopkeepers hurt boys and girls. Did you report them? Did you have the balls to step out of your denial? This is the cause du jour. Default mode denial is just around the corner. Zainab is not a watershed moment

— fasih (@therealfasih) January 23, 2018
Fasih Ahmed Tried to Defend the Backlash by Tweeting on the Hate-Tweets himself and God, It was Awful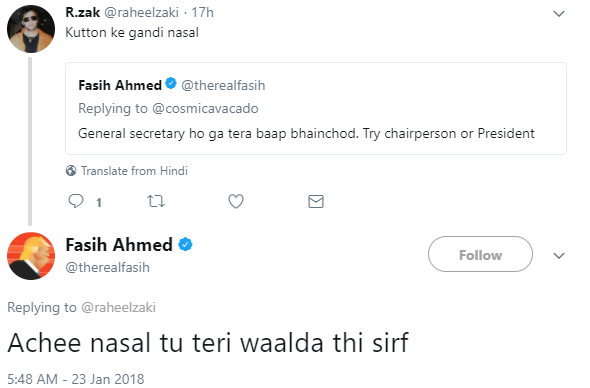 And the Only Way to See Someone's Sexuality is By Seeing their Rape Count?

He Then Made Rape Being All About Looks and The Man was Just Losing Everything!
https://twitter.com/therealfasih/status/955793861896437760
People From All Over the World were Demanding the Termination of Fasih Ahmed from the Newsweek
@Newsweek – Does this guy really work for you? If so, please terminate his employment immediately.

— Patronus (@Patronus_2017) January 23, 2018
Hey, @Newsweek. You need to address this ASAP. And maybe get all your employees and affiliates @SecureMySocial so this doesn't happen again. #socialmedia #offensive #tweet

— Joseph Steinberg (@JosephSteinberg) January 24, 2018
But the Man, As Utterly Disgusting as he Sounded, Wasn't Embarrassed at all
https://twitter.com/therealfasih/status/955860476998639617
How is making jokes regarding a child rape victim any form of amusement, one may ask?
Additionally, justify it by making poor jokes such as "rape is subjective" because you are being raped by a good-looking man or an ugly man, does it make your poor form of judgment correct, Mr. Fasih?