Walking a mile with your romantic partner could be great but that gets more amazing if it includes traveling. Exploring the beautiful seashores, metropolitan cities and seeing how much more has been there in the world with your soulmate. This could all be a dream turn into reality and that's exactly what happened for this Pakistani couple. Mornings can be lazy for many but for these two, it was the best sunset that they had ever witnessed!
Meet Hamnah and Shamikh – The Adventurous Couple! <3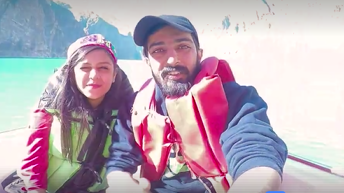 Moments after opening their eyes to the new day, the zestful duo decided to pack their bags and go on a journey of exploring the aesthetic places of Pakistan. A majority might plan this soon after their wedding by travelling abroad but these two had a different plan of taking a deep breath while looking at the captivating valleys and mountains of Hunza. This heaven on earth is underestimated by many of its dark past that this place has to go through but now, its back to being beautiful and attractive!
THE STUNNING COUPLE AT A BEAUTIFUL PLACE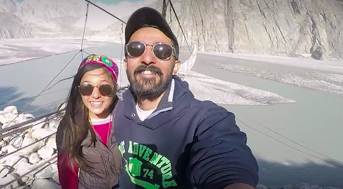 Shamikh Abrar (the husband) taking advantage of his spot on skills in videography and photography captured everything in a vlog and to add the flavor of affection they named it "The Journey of Love". The vlog artistically has everything in it from their hilarious PDA moments till their overloaded clothes for being safe from cold. One thing that remained constant throughout their vlog is their excitement for being prepared for more fun that was coming their way with each day and place.
THE JOURNEY OF LOVE FROM KARACHI TO HUNZA – So ADORABLE!!!
2 days after my marriage i woke up with this urge of traveling to the northern areas of Pakistan. I woke my wife up told her the plan and she was in for it. We bought the tickets and some warm clothes (as being a karachite we didn't have any) packed our bags and took off.Everything after that was beyond imagination and we call it 'The Journey of Love'.#TheJourneyOfLove #Goals #CoupleGoals #KarachiToHunza #HoneymoonTrip

Gepostet von Shamikh Abrar am Montag, 29. Januar 2018
Their journey might have convinced many to be packing their bags now to experience the same scenery with their loved one. Or else, it would have made many drop their plan of traveling abroad and start their adventure of exploring Pakistan today.
For all the single people out there, don't curse yourself for not being mingled till now and pack your bags as well to travel with your imaginary soulmates. If you liked this article then like, share and comment down below to give us your feedback.
Read Also: Remember The Girl Who Went On Her Honeymoon Alone? Well, Her Husband Finally Traveled With Her