Pakistani society never disappoints in reducing the bright, talented and hard-working women of this country that have been progressing and changing the decades-old narrative of them being only as good as their performance as the perfect wife or bahu.
Unfortunately, even to this day, a woman's ability to have a successful and happy marriage is based on domestic skills like tailoring, sewing, cooking, and cleaning. But according to this latest training course offered to women, you need beauty and mehendi courses on top of the already mentioned abilities in order to have a good marriage.
This 'Dulhan Course' is being offered to train women with the 'necessary' skills in order to have a happy home.
Running a house does not equate to a smooth marriage with happy couples. Also, it is not only a woman's responsibility to build a happy marriage. This sacred institution is run by both the husband and the wife.
It's the understanding, love, respect, harmony and the ability to forgive and forget what makes the journey with your spouse smooth; where both grow as individuals and partners. These are the qualities required from both to keep their relationship going strong and as far as these 'courses' are concerned, it's again not just a woman's job to handle the house and manage the finances.
So many women who have worked hard in curating a successful career for themselves, are not only talented but possess the emotional intelligence and understanding needed to really build a happy home after marriage are weighed on the scale of these insignificant skills to be 'eligible' for someone's son.
Several shared their insights on what REALLY requires from both man and a woman to have a satisfying marriage!
Qualities that truly matter cannot be learned by enrolling into certain courses but depends on the individual's maturity level.

Those dysfunctional marriages don't have a bunch of domestic chores to blame.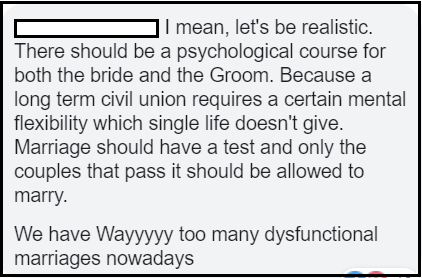 Exactly! The younger generation understands the actual requirements needed for a happy marriage and no way near it involves a well-managed-house.

Recently, a rishta aunty by the name Mrs. Khan made headlines for her outdated and downright misogynistic ideals of how a married girl should behave and now these courses for women goes to show the level we place young aspiring and talented women at and it is disappointing.
What are your thoughts on this? Let us know in the comments below!