Vlogger Saad Ur Rehman, also known on YouTube as Ducky Bhai, has tied the knot in an engagement plus nikah ceremony with Aroob Jatoi.
"Alhamdulillah got engaged/nikahofied to the love of my life Aroob Jatoi," the YouTuber captioned his post on Instagram. Featured against a background of fairy lights and roses, the glammed-up couple was seated side-by-side in the photo.
Have a look at it:
Similarly, taking to Instagram, Jatoi posted a photo of the ring exchange. "Alhamdulillah," she captioned the post.
Fans were quick to welcome their "Ducky Bhabhi" in the comment section.
When you vlog together, you celebrate life's milestones together. Zaid Ali T, Shahveer Jafry, and Ukhano were among the vloggers who received an invite to Ducky Bhai's engagement party and showed up with their wives to join in their friend's happy day.
"Engagement Mubarak Ducky!" Ali T captioned his post. It included a photo of him holding a 'grieving' Ducky and a second one with their smiling faces.
Having close friends around for special moments not only makes them meaningful but also gets you cute and candid pictures to look back on fondly. Shahveer Jafry tagged Ducky and added the text, "So happy for you man!"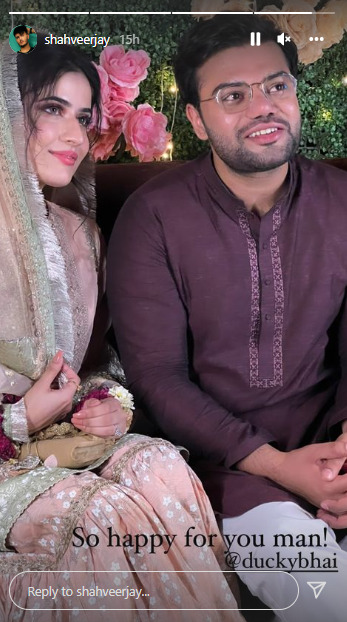 What's a party without a fun group photo? Ukhano posted a video of Ducky surrounded by his friends, looking crestfallen to "welcome" him "to the club" of married men.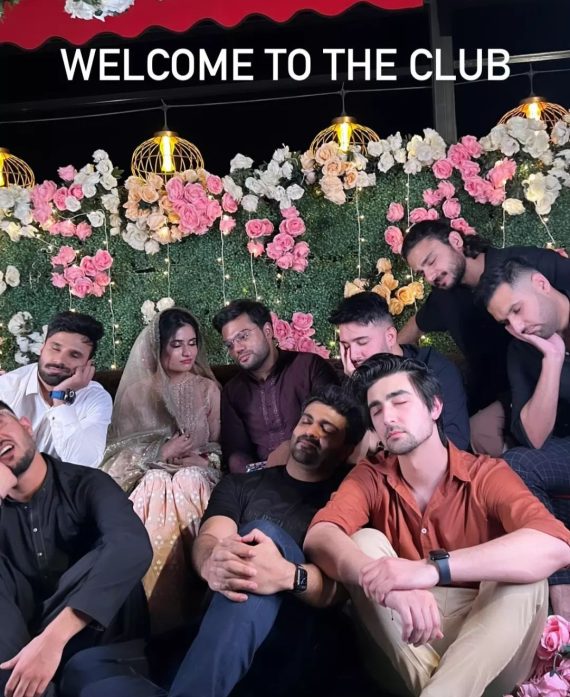 Being a YouTuber means showing the highlights of your life to fans; therefore, there was no way a newly nikahfied vlogger could forget about documenting his experience of buying the engagement rings. Ducky Bhai a vlog a day before the event. He also revealed that it will be an engagement and nikah ceremony in one.
Check out the vlog:
We extend our heartiest congratulations to the couple and wish them a happy marriage.
Ducky is a popular vlogger with over three million subscribers on his YouTube page. He is also known for his gaming channel, Ducky Extra, which has over a million subscribers. The vlogger lands himself into controversy from time to time — such as his Twitter argument with a woman who draped a Pakistani flag around her dog's neck in August 2020 — but stays a favorite amongst his fans.
One other vlogger who was earlier married was Shahveer Jafry, who lately spilled the beans on finding his wife in his Instagram DMs and falling in love instantly.
What do you think of this story? Let us know in the comments section below.