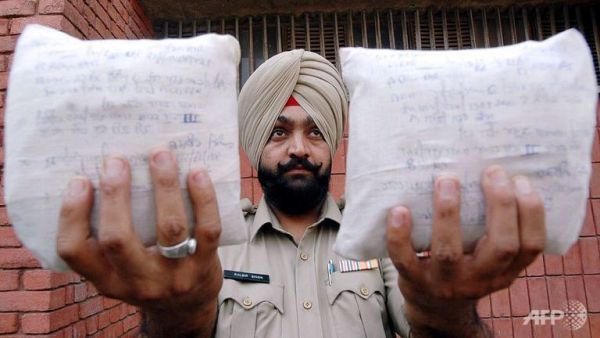 Source: India Times
A study conducted by "All India Institute of Medical Sciences" AIIMS has found that opioids worth Rs 7,500 crore are consumed in Punjab every year. Out of these, the most procurement share belongs to Heroin which contributes to a massive Rs 6,500 crore of the total share.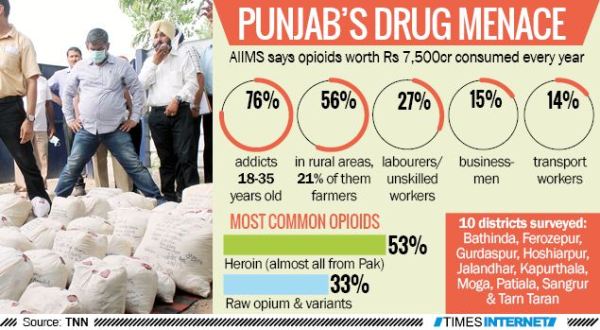 The study also concluded that almost all the drugs that come into Punjab (India) are pumped in the province through the Pakistani border. Although the drugs may not be manufactured in Pakistan, the main gateway of it entering India is through Pakistan. It is also reported that this activity is funded by terrorist groups backed by ISIS that are operating in Pakistan.
Data reveals that Indian Punjab's opiod dependents are 4 times more than the international average.
It is allegedly implied that the drug smugglers are not only being used to push jihadis into India, they are also trying to create an army of heroin addicts in Punjab. The research shows that 0.84% (about 2.3 lac) of Punjab's population is dependent on opioid.
More than Indian Rs. 20 crore is spent daily on drugs in Punjab
The study conducted by NDDTC and Society for Promotion of Youth and Masses suggest that  around 2.3 lac citizens are opioid-dependent in Punjab and about 8.6 lac are noted to be opioid users. Heroin-dependents are the highest at 1,23,414.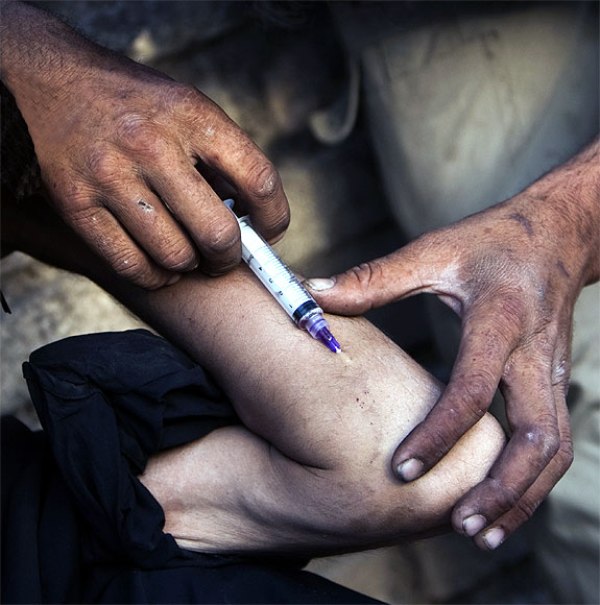 Source: rediff
The drugs are also leading to HIV
A research was conducted during February and April 2015. Data was collected from 3,620 opioid dependents from 10 districts. It was found that among all the men aged between 18 to 35 years, four in 100 are opioid dependent, while 15 in 100 were probably opioid users.
"We must also note that this survey estimates a much higher number of injecting drug users in Punjab (around 75,000) as compared to the existing estimate (under 20,000). Thus, there is a clear threat of an explosive epidemic of HIV among injecting drug users in Punjab."  – Dr Atul Ambekar (lead investigator).
Drug consumption is becoming a real concern in India. The past data reveals that the problem is escalating at a rapid pace.
On this topic, Dr Atul Ambekar commented: "Our data shows that 80% of opioid-dependent people in Punjab have tried to quit taking drugs but only 35% have received help. This may indicate either inadequate availability of services or reluctance / low acceptance among the people to access available services."
Yes it is True! It's time to ask ourselves is Pakistan turning into the Cuba of the subcontinent. Are we at that stage in our nations history where border control and illegal activities have absolutely no bounds.
The article was first published on IndiaTimes
Also See: