Prime Minister Imran Khan on Friday once again appealed to the Hazara community to bury those killed in the attack in Balochistan's Mach area as they asked him to visit Quetta, he called on them refraining to "blackmail the PM".
PM was speaking at the launching ceremony of the Special Technology Zones Authority in Islamabad. He said the government had assured the protesters that they will be compensated.
"We have accepted all of their demands. [But] one of their demands is that the dead will be buried when the premier visits. I have sent them a message that when all of your demands have been accepted […] you don't blackmail the prime minister of any country like this."
"Anyone will blackmail the prime minister then," he said. "This blackmail has also been ongoing for two-and-a-half years."
PM Imran said the Hazara protesters have been informed that he will visit Quetta once they bury those slain in the attack, they should not blackmail him.
"I am using this platform to say that if you bury them today, I will go to Quetta today to meet the families of the deceased."
PM shocks Pakistanis again with his 'blackmailing' statement
Protests over the killing of Hazara spread in Pakistan
Protests over the killing of 11 Hazara coal miners by Islamic State militants have spread to other cities, including Karachi.
Police said on Thursday there were sit-ins in at least 19 locations in the sprawling southern metropolis. Flights were delayed because access to the airport had been affected.
Hundreds of Hazara have been killed in Pakistan over the last decade in attacks by militant groups and by IS militants. Attacks have included bombings in schools and crowded markets and brazen ambushes of buses along Pakistani roads.
The protesters have asked PM to visit Quetta. Demonstrators are holding a five-day-long vigil alongside coffins carrying the victims' bodies, blocking a major highway.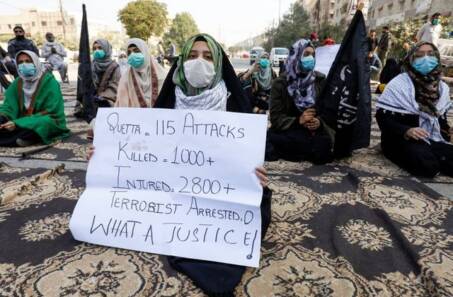 Demands also include the dissolution of the provincial government there. They want a serious effort by Islamabad to find and punish the culprits.
It is strange that PM has time to entertains the Ertugrul's founding team in Islamabad but not to visit the mourning Hazara protesters.
What do you think of this story? Let us know in the comments section below.