Donald Trump keeps on surprising you; just when you think you've had enough entertainment from him, he pulls another rabbit out of the hat. After the suicide blast in Lahore shook Pakistan, and people across the globe expressed their grief, Trump used it as a golden opportunity to establish himself as a credible candidate for the US Presidency, and it wasn't by helping.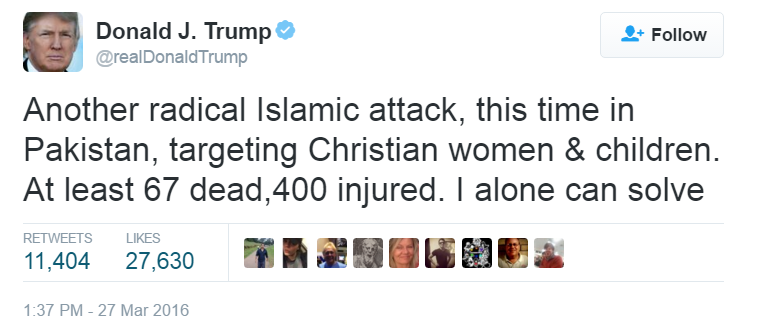 Source: twitter.com
He alone can solve, ladies and gentlemen. You read that right. Donald Trump probably has arsenals of bigotry and hate speech with which he aims to bring down 'radical Islamic terrorism'.
In an interview with CNN host Anderson Cooper, Trump has fired a new missile (no pun intended). With its nuclear weaponry, Pakistan, according to Mr. Trump, is a "very very vital problem" for the United States.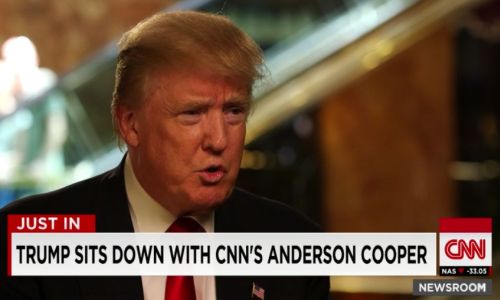 Source: 
www.bizpacreview.com
That's right. Pakistan, as soon as it's done battling the various elements of terrorism it's facing right now, might just decide to bomb America or the rest of the world. That's exactly why we developed nuclear energy.
Trump further added that it is imperative that USA "get better hold" of the situation as soon as possible. We're USA's kid gone wild, with a dangerous toy in our hands the implications of which we are unaware of, and so dear daddy must do something to control the happenings.
When put under the spot for his tweet over the Lahore blast, Trump was finally able to muster the most appropriate reaction he could; that it was "absolutely a horrible story". But the Donald Trump inside of him emerged just in time as he added, once again, that he "alone", can solve this problem.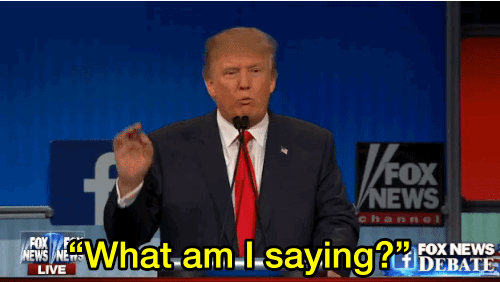 His interview also suggested that some major foreign policy alterations are in order for the rest of the world; he believes that USA is "better off" not militarily supporting the countries that it traditionally has been supporting. That means Saudi Arab and Japan, among many won't receive military help from USA; he also suggested it's time Japan got their own nuclear weaponry to defend themselves.
Given the US's budget, that's a fair idea. Unless you want a nuclear war to break out, of course.
To end the interview, Trump said this: "The only global warming I'm worried about is nuclear global warming". He's right. Global temperatures are rising, species are dying, glaciers are melting, instances of flooding will multiply, but we'd rather not die of a nuclear explosion, right?