President of the United States of America, Donald J. Trump expresses his gratitude for Pakistan. I repeat, Donald Trump thanks, Pakistan! The latest political drama comes all the way from the White House after POTUS tweeted a strong statement regarding our country's cooperation with the U.S.
If you have been paying attention, then you must know that Pakistan army just helped the release of long-held (up to 5 years) American hostages. In appreciation of this remarkable gesture by Pakistan, President Trump tweeted an important statement that has stormed the headlines all around the world.
Here is tweeted where Donald Trump appreciates Pakistan and its leaders
Starting to develop a much better relationship with Pakistan and its leaders. I want to thank them for their cooperation on many fronts.

— Donald J. Trump (@realDonaldTrump) October 14, 2017
BA DUMM TUSSS.
You can expect the meltdown on social media right then.
Here's how the world reacts to that tweet by Trump
BEAUTIFUL. JUST BEAUTIFUL!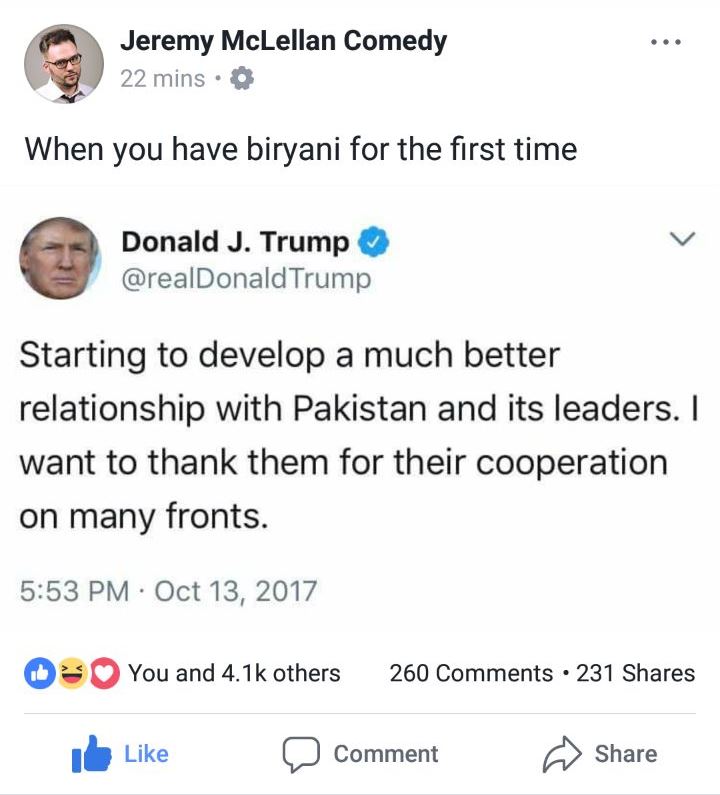 Summed up really well
Did you hear that?
Donald Trump just thanked Pakistan. But the problem is no body takes him seriously.

— Dr Saqlain Shah (@DrSaqlainSh) October 14, 2017
Oh God
https://twitter.com/Krassenstein/status/919003551778660352
Somewhere in the Middle East
I don't know shud we be happy or worried that US president Donald Trump is praising our country..I mean does he even know where Pakistan is?

— Fakhr-e-Alam (@falamb3) October 14, 2017
What. A. Question.
Come on. Don't you have anything better to do than tweet 10 times a day? We have so many issues right now!

— Ed Krassenstein (@EdKrassen) October 14, 2017
Aray, sir, aaaap, yahaan?
You'll never ever start a good relationship with #Pakistan.Your govt declared those Pakistanis"Terrorist" who raised voice against terrorism

— Aamir Liaquat Husain (@AamirLiaquat) October 14, 2017
Trump tower in Bahria Town, Karachi. You read it here first.
Did they grant you licenses for some new Trump properties there?

— Perez (@ThePerezHilton) October 14, 2017
HAAHAHAHAHAHA
https://twitter.com/defencepk/status/919205807056662528
Next to Hawaii!
Do you even know where Pakistan is? Do you think they are a part of the United States?

— Brian Krassenstein (@krassenstein) October 14, 2017
Well, President Trump can be highly unpredictable. How long before he actually changes his statement and tweets the opposite? If you are a part of Twitter, then you must know that Twitter is incomplete without Donald Trump's tweets buzzing all over your newsfeed.
But hey, such a statement was not really expected from the likes of Donald Trump. What do you think?