Although we are familiar with many forms of expressing love, we have never heard of anyone drinking blood to express their love. At least not until recently when Megan Fox claimed that she and fiancé Machine Gun Kelly consume each other's blood.
On Tuesday, Fox told Glamour UK that their engagement went viral for their unique Instagram post about it as well as the engagement ring. The two announced their engagement in January and made a rather shocking revelation.
"I said yes… And then we drank each other's blood," read the caption of the proposal video shared by the star. However, most people thought she was joking until recently when Fox confirmed she meant that they actually drank each other's blood.
Fox confirmed that she and Kelly drink each other's blood as part of a ritual. She even calls him her "bloody Valentine" — the title of his song for which she starred in the music video.
"Yeah. So, I guess to drink each other's blood might mislead people or people are imagining us with goblets and we are like Game of Thrones, drinking each other's blood," Fox told the publication. "It is just a few drops, but yes, we do consume each other's blood on occasion for ritual purposes only."
Blood drinking ritual
She went on to explain and said that certain occasions include celebrations for the new moon or full moon. "And so, when I do it, it is a passage or it is used for a reason and it is controlled where it is like, 'Let's shed a few drops of blood and each drink it'." said The Jennifer's Body star.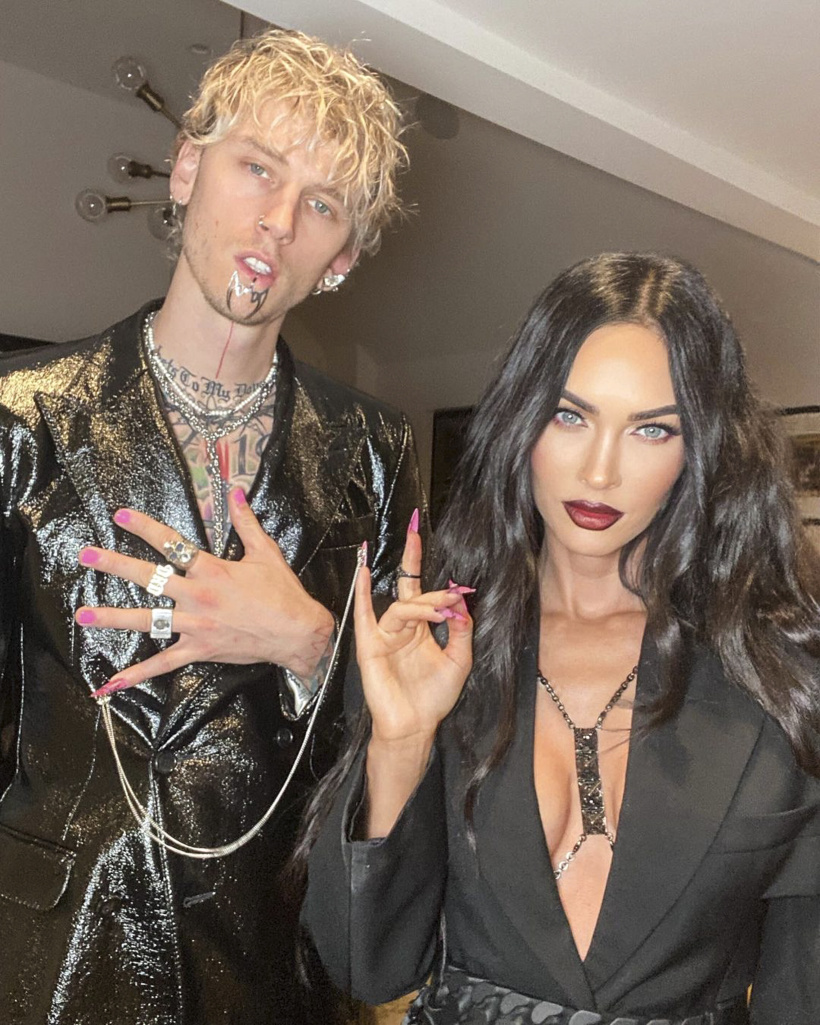 "He is much more haphazard and hectic and chaotic, where he is willing to just cut his chest open with broken glass and be like, 'Take my soul'," she added. The actor later shared that she does not in fact take MGK's soul. "It does not happen. Let me tell you. Maybe not exactly like that, but a version of that has happened many times," Fox said.
While she may have gained "ownership" of her fiancé's soul, the Till Death actor believes she may have had a hand in Kelly's "creation" through her "childhood longing".
"He is literally the exact physical type that I have been manifesting since I was four. I am also four years older than him. So, I think I made him. My thoughts and intentions grew him into the person that he is, who knows what he would have looked like or been like if it was not for me."
'Painful' engagement ring
Kelly popped the question on Jan 11 this year. He also took to Instagram and shared a video clip of the ring and wrote that he had specially designed it with Stephen Webster for her as emerald happens to be her birthstone and diamond happens to be his.
The ring became a hot topic a few months ago as it has two magnetic bands of thorns that drew together the two massive rocks. Kelly said later that the actor would probably hurt herself if she tried to remove the ring due to the placement of the thorns on the ring.
Read More: 'Engaged To Your Mom' – Jonah Hill Hilariously Responds To Engagement Rumors
What do you think of this story? Let us know in the comments section below.