The third wave of COVID-19 rings alarm bells as it proves to be more lethal and contagious. Lahore Commissioner retired Capt Muhammad Usman warned that those found without masks at a public place will be sent behind bars. Meanwhile, the officials hired to distribute masks to the public rather appear to be distributing the germs.
In addition to this, Pakistan is passing through the peak time of the third wave of coronavirus. It is spreading very fast in Punjab. It has been decided in principle to ensure the implementation of standard operating procedures (SOPs) to curb COVID-19 spread.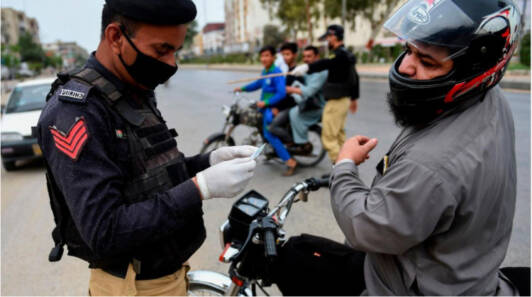 Talking to a local media outlet, he said that the order enforces on everyone. Including those present in front of their houses or in the streets without masks.
He said the violators would immediately be taken into custody by police teams that would patrol the entire city. Moreover, as per reports, the authority claims to take immediate action against the violators of SOPs. Meanwhile, more than 400 FIRs have been filed against face-mask violators in Lahore. And, dozens have been taken into custody.
The assistant commissioner of Jhelum's Pind Dadan Khan city came up with a rare punishment for mask violators. More so, he made them stand in the scorching sun for over half an hour.
Ridiculously, those distributing masks to the public appear to be violating the SOPs themselves.
Do you spot anything wrong in this picture?
Ironic how a person who is supposed to be preventing people from transmitting COVID-19 seems to be tone-deaf to the SOPs himself. Do you see his hands on the inside of the mask? Meanwhile, the picture shows him touching the guy's face while putting it on his face. Do you see any gloves on his hands? Well, we surely don't!
Pakistanis bash the PTI minister for utter ignorance
It is no rocket science that germs can spread to anyone or anything you touch. Sadly, ignorance is a curse on our people.
Earlier, a city administration team headed by the commissioner distributed masks among the people at various spots in Lahore. Moreover, they also asked them to wear masks outdoors, failing which they would be taken to task.
Wondering how long it takes to develop full immunity after the COVID-19 vaccine? Find out! Meanwhile, please ensure to watch out for the 7 new symptoms for COVID-19.
What do you think of this story? Let us know in the comments section below.