An imbecile man doesn't leave a chance at making unsolicited advancements towards an innocent girl. He sees a girl pleading for financial support on Facebook and goes shamelessly harassing her on the forum. Horrible! It is as if the streets have now limited their "opportunities" they will use online forums to quench their disturbing sexual needs. We have seen many instances when a disgusting man harassed a needy girl and now this needs to stop!
Coronavirus, financial turmoil, and then Harassment
Far be it for me to imagine a world free of harassers, rapists, and catcallers. Corona has affected many of us. To some financially, and to some emotionally. But who would expect a person divorcing his morality at the chance of harassing a woman publically on an online platform? It disgusts us to our deepest core but wouldn't budge the filthy harasser back to his morality. Some cases are just hopeless and there is no turning back.
What led to the inappropriate gesture?
A woman on a forum expressed her financial difficulties. She spoke about it in the forum with the intent to get some ration for her family who was unable to make both ends meet during the difficult times of Coronavirus. Also mentioned that due to the current situation, her father was unable to make enough for the month and is sitting home unemployed. She also added that she has no food at home and would appreciate help from a man who could send ration to her residence.
The innocent plea for ration screams of the helplessness the household was suffering from. No one could feel anything but remorse, sympathy, and regret for the girl. But somewhere way above the concealed emotions of sympathy, this horrible man started publically harassing her. Asking her for her "friendship" in exchange of food. And we all know what "friendship" means, and what ''food'' could he bring to a girl's family.
The incident left everyone ashamed
Seeing the man shamelessly going on with his action, the people started reacting. From the point of reporting him to publically ridiculing him, the women's action forums made sure that this horrible man was not a part of any other group. Thus, informed everyone the folly of the disgustful.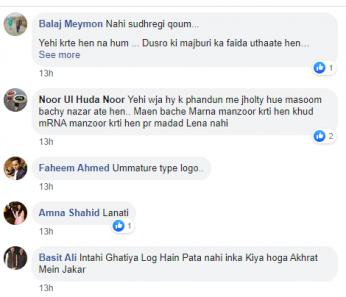 The realization is even horrible
Now, as you go through the comments, you see people throwing comments that state the hopelessness for a better environment. For women, it has become so difficult to mark their presence on an online platform in fear of receiving unsolicited pictures, comments, and remarks. This has happened many, many times before. Much like the case was in this incident where people expressed the loss of hope in a country like Pakistan where men are roaming around, claiming their toxic masculinity without a speck of shame in their hearts.
How will this ever improve?
The only way this could improve is if no woman is discouraged to speak up, participate, and act freely in the environment. And at the same time, if such schmucks could be called out, held accountable to their outrageous behavior can we expect a better, more safe tomorrow.
We sincerely the girl found some credible leads and managed to get food.
Let us know what you think of the story in the comments below.