In case you are late to the party, the Indian Twittersphere chose singer-actor Diljit Dosanjh as their GOAT (greatest of all time) on Thursday after the actor chose to fire shots one after another aimed at Bollywood actor Kangana Ranaut in pure Punjabi.
Ranaut no longer surprises her with her loud and misinformed opinions. The Queen actor every now and then ends up in an embarrassing position. And well, she managed to do so once again. Mind you, such things do not go unnoticed.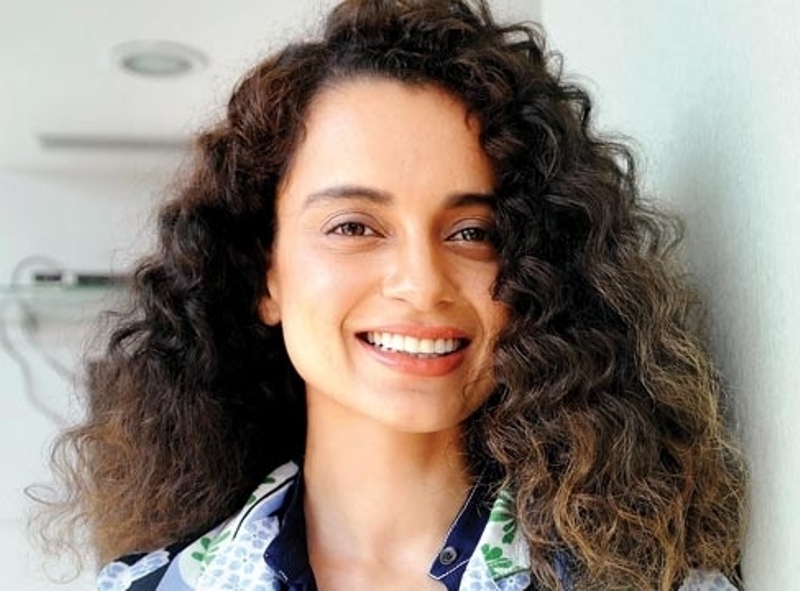 With the farmer's protests currently taking place in India, the Fashion actor indulged herself in an ugly spat on social media, with actor and singer Dosanjh. Ranaut, known for her unbeatable bigotry, came under fire as she passed a derogatory comment on the aged mother of a farmer at the protest. More so, falsely claiming the woman had joined the protest for Rs100.
The war of words among the two began on Wednesday when Dosanjh hit out at Ranaut for misidentifying an elderly Sikh woman from the farmers' protest as Bilkis Bano of Shaheen Bagh. According to her, this woman featured in Time Magazine for being the most powerful Indian.
Here, take a look at her fallacious tweet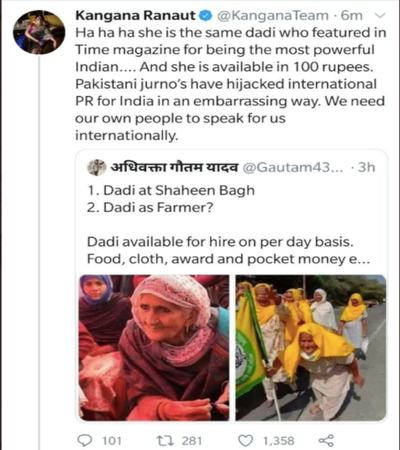 As soon as Dosanjh pointed out that the two women were in fact, not the same, Ranaut was quick to remove her jibber jabbered tweet. He also shared a video of the elderly lady in question, revealing that she was Mahinder Kaur.
The 82-year-old Bilkis Bano, popularly known as Shaheen Bagh dadi, was previously part of the farmers' protest against the three-farm bills. Misidentified by Ranaut now was 73-year-old Mohinder Kaur, who shut down all claims of being hired for any political gain.
However, the information did not sit right with Ranaut. Even after deleting her tweet, the Queen actress did not refrain from hitting back at the Udta Punjab actor.
Kangana Ranaut called Diljit Dosanjh 'Karan Johar's pet'
And, then began the nasty spat!
While giving her ay taste of her own medicine, Dosanjh lashed at her. He questioned if she too was a puppet of everyone she made movies with. In addition to this, he called the bigot actress a manipulative hate-monger. And we say, RIGHTFULLY SO!
Well, she asked for it…
As the verbal fight took a nastier turn, Dosanjh went on to remind her that the country was not hers alone. And if anything, she should be speaking of unifying the nation instead of dividing it.
"You have no other work that spitting nonsense 24 hours. What sort of nationalism teaches you to insult the country's elders?" he questioned her.
"Our mothers who live in our heart, you say they are on hire for Rs100. I know all your ploy. India is not yours alone. Promoting political agenda the whole time. Punjabis have sacrificed the most and now you're abusing our mothers. Don't worry we will not let you forget," he said.
Ranaut, of course, ended up speechless and expressed her distaste at the protest, saying she was personally bothered by the violence.
Udta Punjab actor has the last word…
"It is a peaceful protest.. everyone stands with the farmers. Everyone please note, people like Kangana are trying to destabilize the movement, divert attention and politicize it. This woman works to divert attention from real issues. Punjabis know your truth."
The actor then completely dismissed her.
"Go do your politics and wag your tail.. we want nothing to do with you. Go learn some manners before attacking our mothers and sisters. I seek prosperity and peace for everyone and know how to give it back if someone attacks," he signed out.
Are you team Dosanjh or Ranaut? We say Dosanjh! Earlier in a rivalry between Ranaut and Pakistani actor Feroze Khan, Khan also won hearts after shutting down the bigot Ranaut like a boss.
What do you think of this story? Let us know in the comments section below.