Pakistan Muslime League Nawaz (PML-N) Vice President, Maryam Nawaz Sharif, never fails to garner attention with her unmatchable sense of fashion and incredible outfits. It is no secret that the PML-N leader always makes sure to look her best when appearing in public, and did the same when attending a recent wedding.
While attending the wedding of PML-N MNA Sania Ashiq lately, Maryam Nawaz effortlessly turned heads with her minimal yet stunning look. The politician stole the show as she arrived at the wedding venue dressed in a monochrome outfit, and posed with the bride for pictures.
Take a look at the video:
Maryam chose a crimson outfit, pairing it with a berry pout and her favorite matching Manolo Blahniks. For hair, she opted for her signature bun and completed her look with some heirloom jewelry.
As the pictures of the ceremony surfaced on social media, several other party members were also spotted including MPA Hina Pervaiz Butt and Azma Bokhari.
Some clicks from the wedding:
Many social media users were quick to throw in their two cents stating that Maryam tried to steal the thunder of a bride yet again. Although many commended her amazing looks, others took a jibe at her constant attempt to compete with brides.
Netizens believe she attempted to upstage the bride: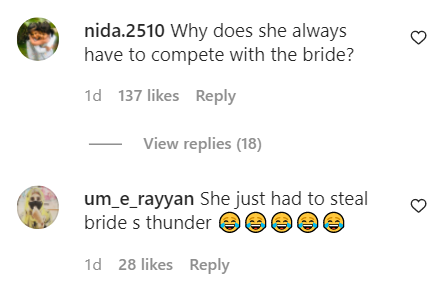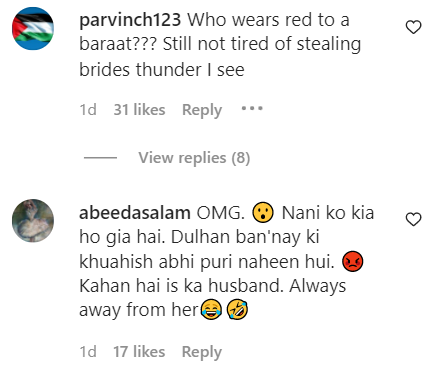 "She always has to give a hard to brides," said one user.

"When a friend of the bride dresses like a bride herself," chimed in another.

Remember when Junaid Safdar's wedding festivities were underway and the internet was of the opinion that his mother was trying to steal the bride's thunder? Well, the mother of the groom definitely stole the show at her son's wedding.
As pictures of Maryam all decked out in an elegant bridal outfit and a romantic side-swept hairstyle made the rounds on social media, users did not have much nice to say. Many accused her of stealing the bride's thunder.
Several took aim at the beauty secret of the politician: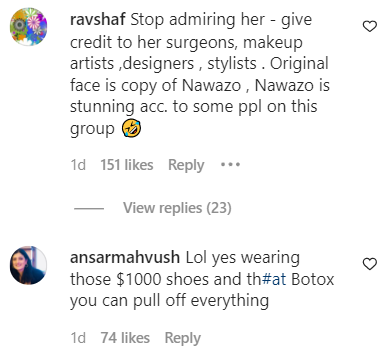 It goes without saying that women are allowed to dress as vibrantly as they want. While the PML-N leader looks visibly groomed and benefits from cosmetic procedures look fresh and youthful, the stylists do the rest of the job.
It is believed that she gets the same £1500 facials in London regularly that Kate Middleton and Victoria Beckham get. Supposedly supported by Botox, fillers, and a lot of surgery, microdermabrasion, and whatnot. No wonder her skin is so flawless even at this age.
Not that anything is wrong with it, but has she used our tax money for her cosmetic surgeries? Pakistanis believe so.
What do you think of this story? Let us know in the comments section below.