Peculiar reports of Lahore Police officers torturing a young man began circulating on Thursday afternoon, claiming that they pulled off his fingernails using pliers. However, the reality turned out to be rather contradictory.
In the Internet age, abusing social media to spread lies and misinformation is a global problem. Lots of things you read online especially in your social media feeds may appear to be true, often is not. For instance, you must have come across disturbing reports of Lahore Policemen torturing a man lately. How authentic is it?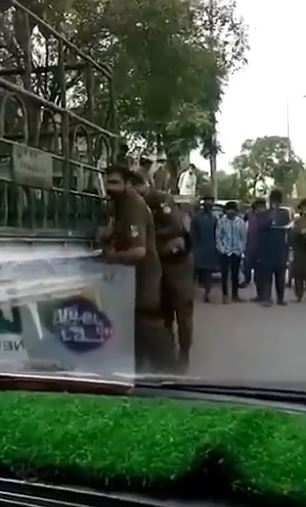 Taking to Twitter, a user shared a video in which the Lahore Police officers could be seen handling a man aggressively. "Lahore Police officers caught pulling off fingernails of a young man with pliers. These are the police reforms that were claimed?" he wrote, tagging the premier, CM of Punjab, and many others.
Soon, the tweet garnered massive backlash for the Lahore Police. However, as the false information came to the notice of the Punjab Police, they debunked all the fake reports circulating on social media. The official Twitter handle of Punjab Police clarified that the man in the video has more than 50 cases of robbery, burglary, drug, theft, and other serious crimes registered against him in different police stations.
"In this video, the policemen are trying to take a blade from the accused. Drugs have also been recovered from the accused," the Punjab Police conducted the false claims.
Here is the accused: Safe and sound
Besides this, it also came to the limelight that one of the police officers even got injured while recovering a blade from him forcefully. Hence, these police officers were not pulling off the man's fingernails with a plier. In fact, they were using the plier to take away the blade from him.
The Internet has enabled a new way to consume information and news with little to no regulation. Many people now get news from social media. Moreover, it can often be difficult to tell whether claims are credible or not. Information overload and a general lack of understanding about how the Internet works by people have also contributed to an increase in fake news or hoax stories. Social media sites can play a big part in increasing the reach of these types of stories.
In this case, instead of lauding the police officers for detaining a criminal, the readers were orchestrated to criticize them. It only stirred hatred towards them.
Presumably, instances of their misuse of power often overshadow their heroic actions. Previously, Lahore Police made siblings do sit-ups and asked the girl to remove her sweater for a body search.
What do you think of this story? Let us know in the comments section below.