Shortly, after the recent release of iPhone 6, Alexander Amosu introduced two premium editions. The iconic cellular device never lacked glory, but with the Gold and Diamond versions, iPhone has taken 'flashiness' to a whole new level.
It took the craftsmen 2 months to build the frames for the phone. One of the models by Amosu is platted up with 24-karat Yellow and Rose Gold, the other one is bedazzled with diamonds.
The Gold version of iPhone 6 is labeled as 'Amosu 24ct Gold iPhone 6' and can be pre-ordered for GBP 2,399 (PKR. 4,00,452/- Approximately). The luxurious versions of iPhone 6 can also be pre-ordered on the official website of Alexander Amosu. The designer has also provided the customers with an option to get their names engraved at the back of the device.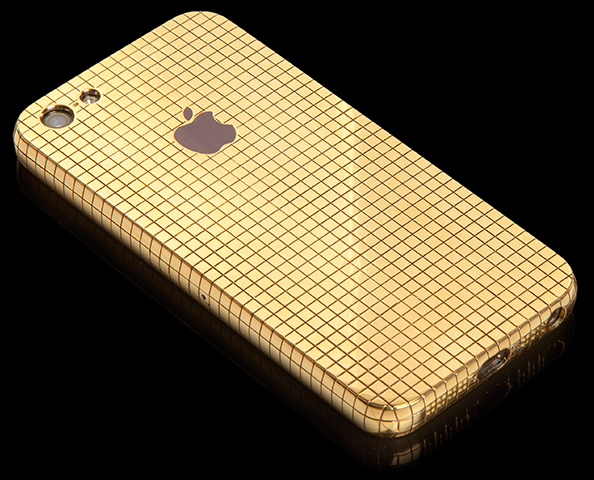 The designer, Amosu has priced the Diamond version of iPhone, also known as 'Amosu Call of Diamond iPhone 6' at GBP 1.7 million (PKR. 283.77 billion, approximately). 6127 small sized diamonds are placed on all the (four) sides of the phone. Similarly, Apple's patent logo was created from a 51.29 carat diamond. It is one of the most expensive diamond cuts, but it is perfect for the phone.
The designer, Amosu has not yet announced any high priced, premium versions of iPhone 6 Plus. However, Falcon (another brand) has taken the lead and has offered a number of diamond studded options for iPhone 6 Plus devices, on its website.
Dissimilar to the 'Amosu Call of Diamond iPhone 6', the Falcon's designer iPhone 6 Plus places just one big diamond on the back of the device. The diamond is affixed between the Apple logo and the 'iPhone' engraving. Based on the metal and material used, the devices are offered in three different categories, Platinum, 24K Gold and Rose Gold.