Disclaimer*: The articles shared under 'Your Voice' section are sent to us by contributors and we neither confirm nor deny the authenticity of any facts stated below. Parhlo will not be liable for any false, inaccurate, inappropriate or incomplete information presented on the website. Read our disclaimer.
Things do not happen until they happen. We had been talking about visiting Dhaka ever since we came to America in 1974. Several times we made the plan, and the plan got squeezed out in favor of some more attractive propositions or unfavorable political climate in Dhaka. At last, it did happen when we boarded the Bangladesh Biman at Bangkok Airport on January 07, 2015. We had planned to visit Dhaka as part of our sojourn into the Far East, which included visits to Singapore, Jakarta and Bali (Indonesia), Manila (Philippines), Bangkok (Thailand), Kuala Lumpur (Malaysia), Brunei, and Hong Kong. We could write stories about each one of the cities, but we could not wait to talk about Dhaka first.
Boarding the Bangladesh Biman at Bangkok airport for Dhaka appeared to be a dream come true. As the plane took off the airport and headed towards Dhaka, my memory started rolling back in time, and as Dhaka airport approached nearer, my memory kept wandering even farther into the past. I remembered the town I grew up and went to school. The town where I went to college, and finally the University of Dhaka located in the capital city of Dhaka where I spent four of my formative years at Fazlul Haque Muslim Hall, the Hall of Residence. I remembered the gate guard by the name Hadi.  All resident students were supposed to be in before 11 PM – an official cutoff time for the residents. Hadi would turn his eyes the other way if we were entering the gate at late hours. I remembered the House Tutor and the Provost as well. I was a student of Fazlul Haque Muslim Hall attending Dhaka University. This was the system then – the students had to belong to a Hall of Residence. I could recall the Curzon Hall, housing the Physics Department and the lush green lawn in front of the building, and the botanical garden not too far away. The imposing structure of the High Court used to be across the street from Curzon Hall. These were the iconic buildings in those days very familiar to us. I was wondering if these buildings were still as fascinating and charming as they were in those days. My dream was broken by the jolt that I felt when the plane touched the ground at Shah Jalal Airport runway.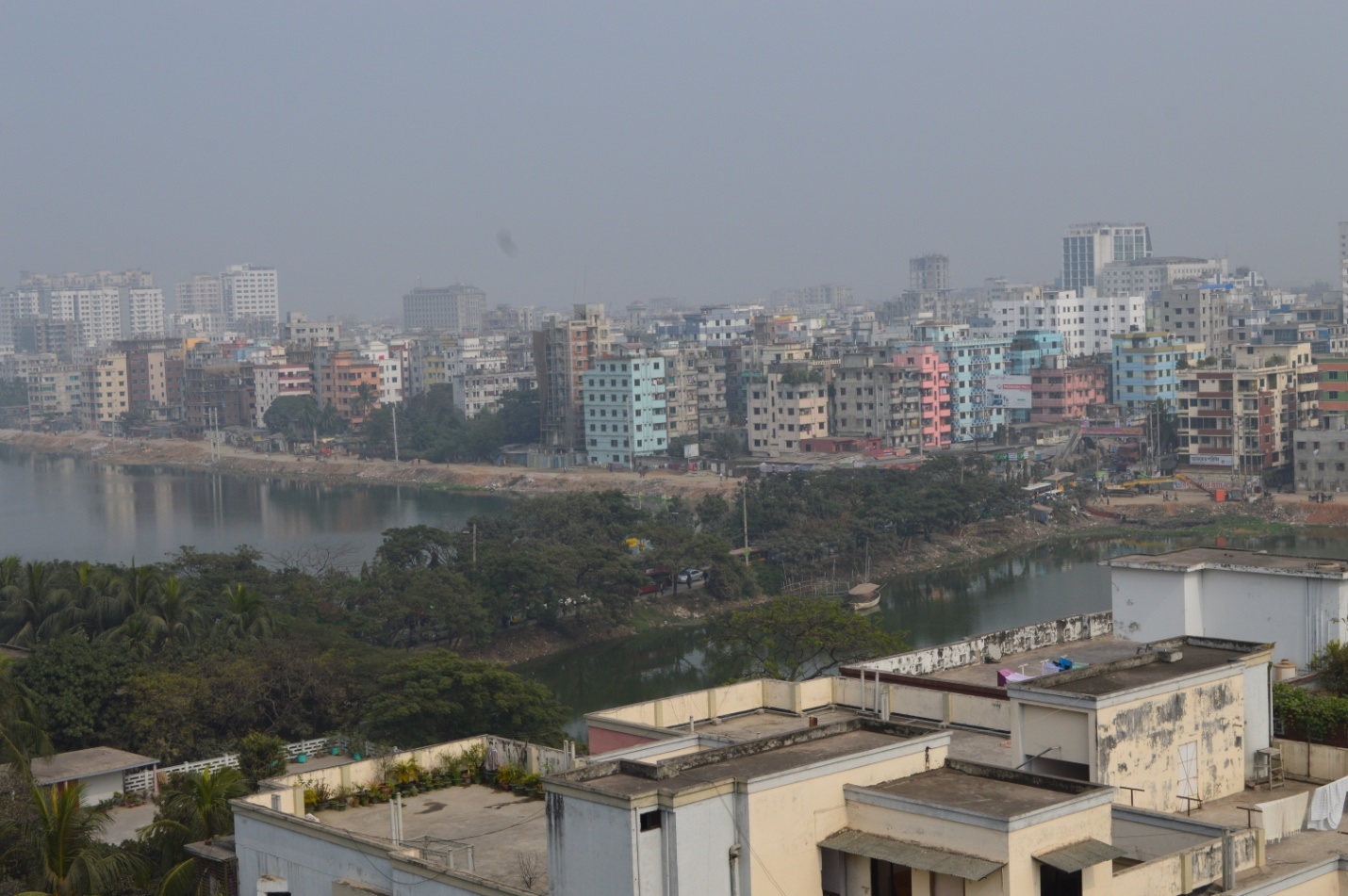 Skyline of Dhaka City
The People: What an incredible welcome!  As we came out of the airplane and went through the immigration into the lobby, we were greeted by several of our relatives and friends. I met some of them for the very first time in my life. We were immediately whisked away to the VIP lounge. For a moment I wondered if it was real! We gave our baggage tags to someone, to collect our luggage. After a few minutes someone announced let us go. As we were leaving the VIP lounge I noticed the presence of other dignitaries in the room whom I did not know obviously.
We met the family members of our aunts and uncle – sons and daughters all married and happily settled in their lives. Many of them had their own children. Since we were meeting many of them for the first time in forty two years, we needed introduction. We were accorded incredibly warm welcome, no matter where we went. Each day we had dinner engagement with different relatives. It was wonderful to see that all the relatives were invited at each place. As a result we got to meet our relatives several times during our short stay. We were treated with gourmet dinner and mouth watering desserts specific to Bangladesh. In short, it was a red carpet treatment all around – almost surreal.
Apart from our relatives, we were invited by our professional colleagues for dinner. We had a blast reminiscing old days together at the University of Dhaka. It was unfortunate to find out that time had taken toll of some of our colleagues, and they had migrated to a better world.
We found people in the banks, shops, and bazaars and other places extremely courteous and polite. One sales girl thinking that we were new in town and did not know much Bengali asked us if she could talk in Urdu/Hindi. With a smile, we said that it will not be necessary and that we could speak the language.  Little did she know that we had grown up in this town and that we were no stranger to the language, the people and their customs. We may have grown rustic somewhat, but that is all!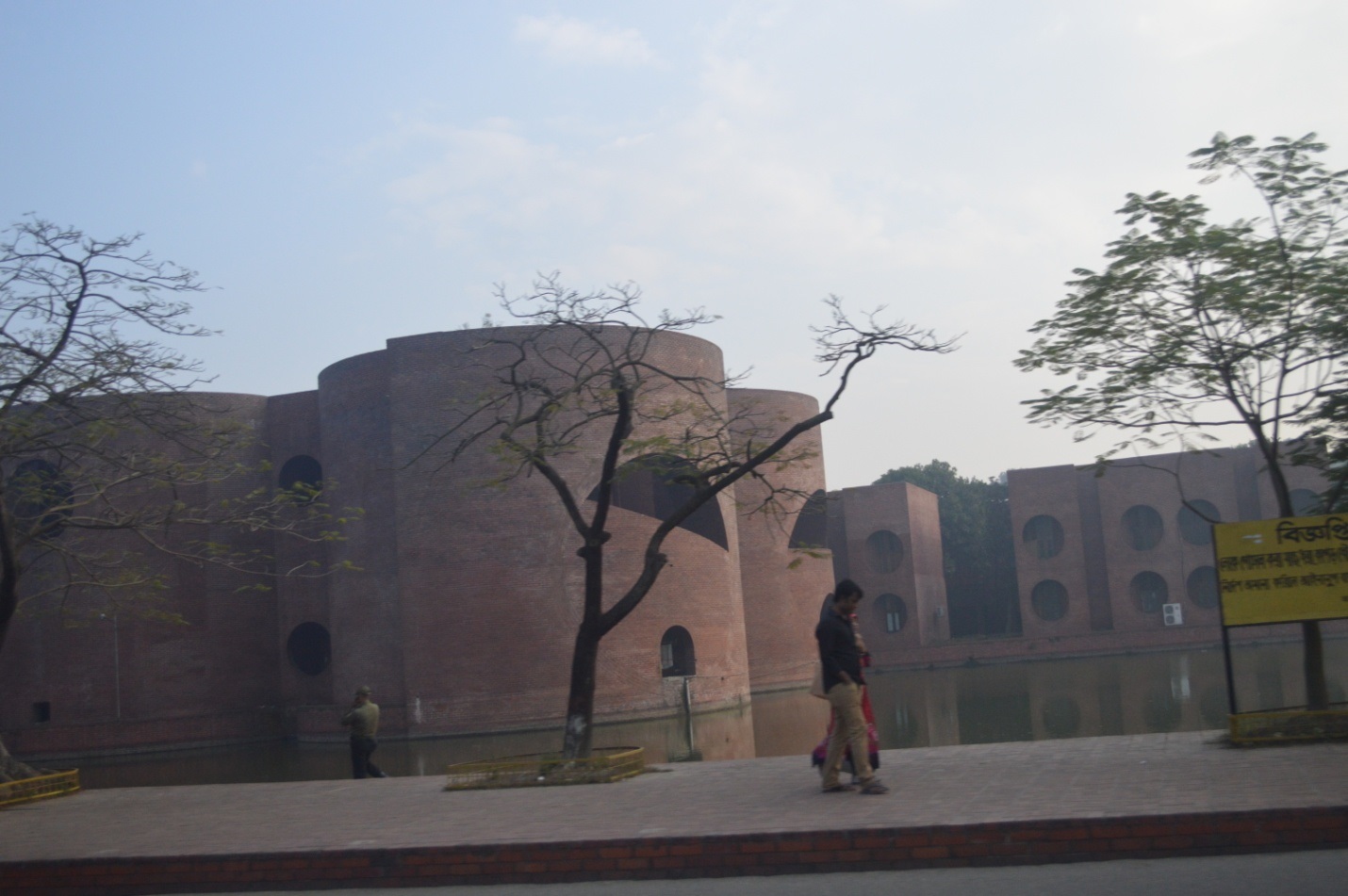 Building Complex at the Second Capital built during Ayub Khan's regime during the sixties.
The Places: Dhaka in the past forty years had grown out of proportion. With a population of over 15 million, and over 11,500 people per square mile, Dhaka is the most densely populated city of the world. Influx of people from rural areas in search of jobs has resulted in the overgrowth. Traffic was a mess because of too many people walking on the street, too many cycle rickshaws, auto rickshaws and too many cars. It took time to go anywhere.  It used to be a wonderfully peaceful town with a population of only one million or so, and plenty of Krishnochura trees with its pretty flowers.
The old suburbs such as Mohammadpur, Gulshan, Banani, Pallabi and Mirpure were all overcrowded.  The suburbs like Gulshan and Banani largely had single family bungalows on big lots. But now it is hard to find a lot without a high rise – mostly 8 to 10 stories high. The house where my marriage was solemnized in 1968 was demolished and replaced with an 8 story high apartment complex. The building was still under construction. The bungalow next door where Justice Amin Ahmad used to live was being torn apart; boring was in progress to collect soil samples in order to determine its engineering properties. This was the story of most of the old and quiet neighborhoods of Dhaka. New residential areas have been developed over the years as well.  One such upscale neighborhood was Baridhara where most of foreign embassies were located. Another new development was Bashundhara; new lakes such as the magnificent Hati Jheel had been dug. It will need a lot of lighting and decoration to make it attractive and worthy of becoming a tourist spot.
Old iconic buildings such as the Curzon Hall, the High Court, the Medical College, the building complex of the Second Capital established during General Ayub Khan's regime, as well as the Baitul Mukarram, the most elegant mosque near Bangobandhu Avenue (formerly Jinnah Avenue) had stood the vagaries of time. The leisurely and posh Jinnah Avenue, renamed as Bangobandhu Avenue, was overcrowded with auto mobiles and auto rickshaws. The famous Chinese restaurant of the time, in fact the very first Chinese restaurant opened in Dhaka, Chow Chin Chow was no longer there, nor the Gulistan Cinema, nor the elegant Casbah Coffee House. The Casbah Coffee House, even after going bankrupt, used to charge the same price for a pot of tea as it did in its hey days. They maintained the same quality of tea though, and the faithful of Casbah, mostly political activists and intellectuals, would still be patronizing this place, sipping a cup of tea at dimly lit tables. The Rex Kabab House as well as the Baby Ice Cream was no longer there. It was hard to discern the tiny tobacco shop by the name of Stadium View that stood in a corner- this shop served as our hangout for many, many years. I still remember its owner Refaqat Khan, and his younger brother Reyasat Khan , we used to lovingly call him Khan Saheb. He was extremely gracious and hospitable and easy going fellow. All these people and places disappeared over time.  Shakespeare was so right in his observation that 'Old order changeth yielding place to new'.
We attempted to venture into old Dhaka to see the English Road, the famous Nawabpur Road, and Sadar Ghat located at Burhi Ganga. To ease the flow of traffic, Nawabpur Road was turned into one way Road,  going from Sadar Ghat towards Bangobandhu Avenue. We had to use another road to go to English Road and Sadar Ghat. By the time we reached English Road it was dusk time. We stopped by the house where .my wife' s family resided for a number of years before they moved to an upscale neighborhood Dhanmondi. We found the house pretty much in the same condition as it was 42 years ago. The shops on the ground floor were still there although the shutters were pulled down. We wanted to move on to Sadar Ghat but suddenly we heard a big blast .which sapped our will to make the trip to Sadar Ghat.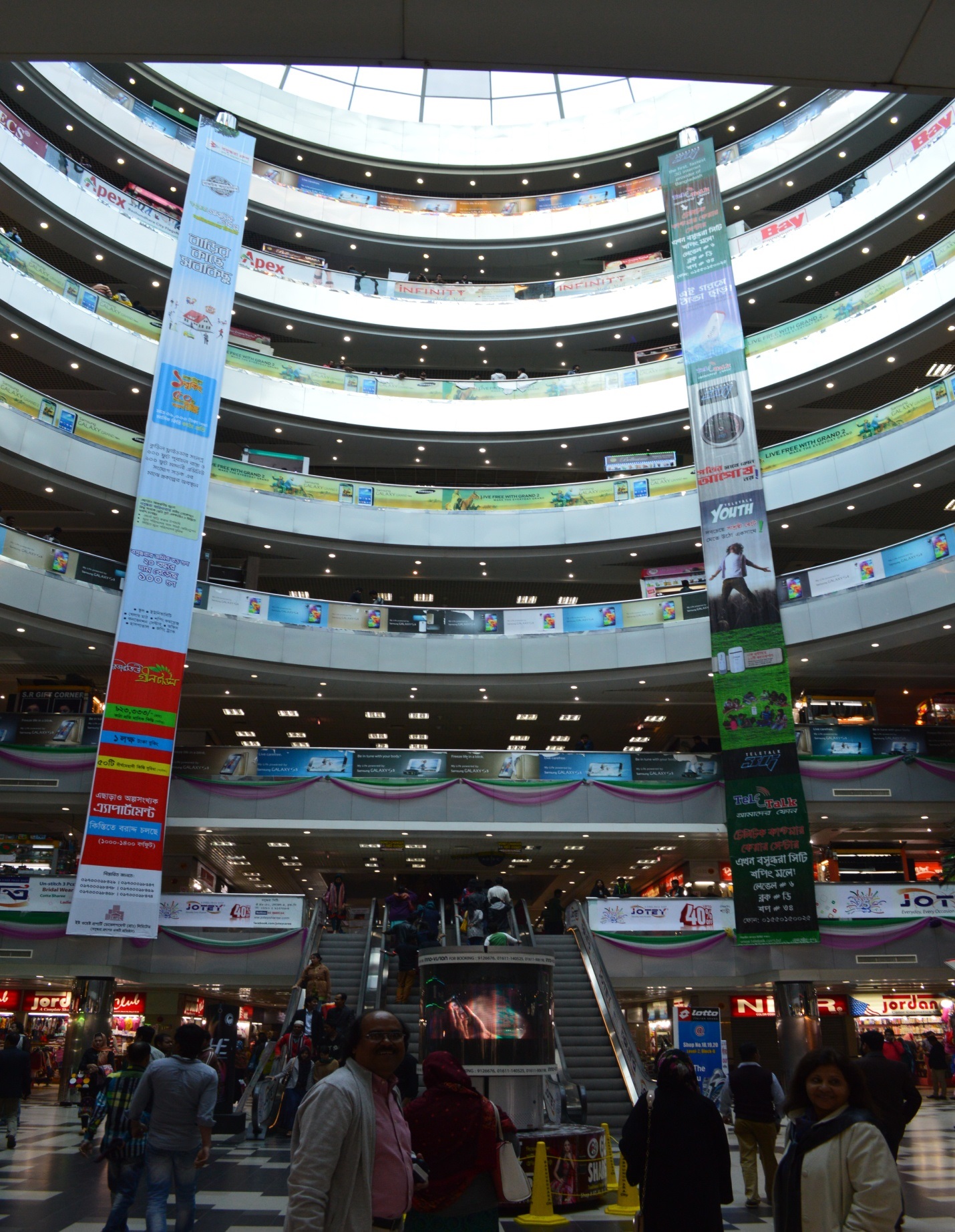 Inside view of the Shopping Mall, Dhaka.
Development: Over the past forty or so year's landscape of Dhaka has changed from a slow moving, and laid back city to a major, overly crowded and fast moving metropolis. It is full of life and humming with activities. Building construction is everywhere- they are still using bamboo poles for scaffolding though. Extensive construction work compounded by emissions from a large number of vehicles was responsible for pollution of the atmosphere which remained hazy all the time. A new modern airport named Shah Jalal Airport was constructed several miles to the north of the city. There were several over passes and bridges in the city, and many interconnecting road system had been constructed.. As a result Infrastructure has greatly improved.. Major cities such as Rajshahi, Sylhet, Chittagong and Pabna are now accessible by road. Several tourist resort areas have been developed such as in Sylhet, Cox's Bazaar and Rajshahi. Many new hotels like Westin, Radisson and Four Points by Sheraton have been added to the city, A new Sheraton is under construction. The iconic Pan Pacific Sonargaon Hotel boasts to have hosted dignitaries like President Jimmy Carter (USA), President Hugo Chavez (Venezuela), Senator. Hillary Clinton (USA) and others. Several large and modern shopping malls and departmental stores can be seen in the city where one could buy the famous Rajshahi Silk, Dhaka Kattan, pink pearls and Burmese jade. Above all, Dhaka is one of the largest hubs of garment industry in the world. Probably, this industry generates the most foreign exchange earnings.
A large number of universities and colleges have sprung up since independence. Dhaka College and the University of Dhaka were among the earliest educational institutions. The standard of education in public universities such as the University of Dhaka has gone down over the years because of constant strife between the politically charged groups of students. I was advised not to visit the campus which I so intensely wanted to do. May be next time, if there would be one!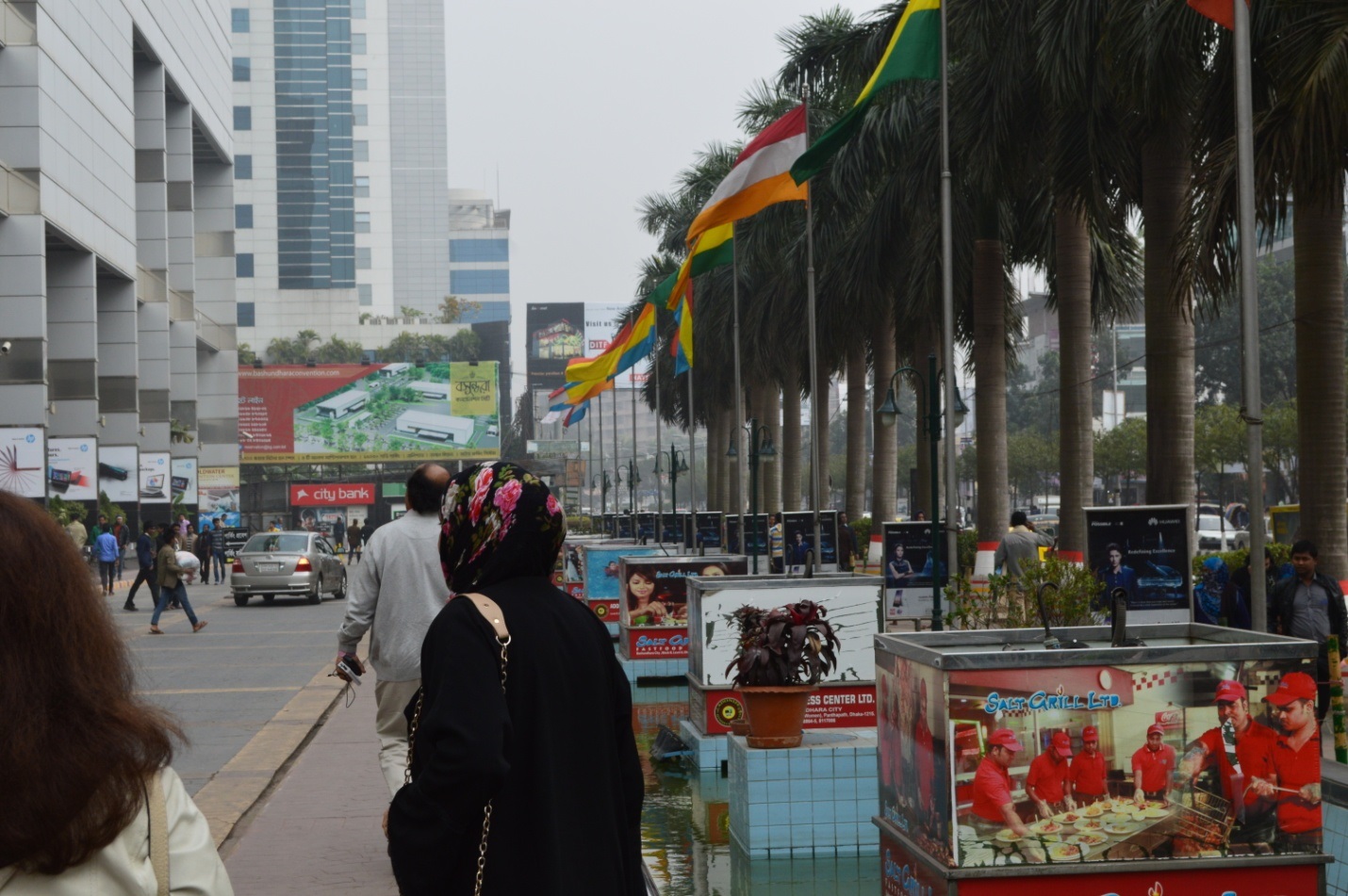 Business District in Dhaka. The building on the immediate left is an upscale shopping Mall.
Governance: Bangladesh like many other developing nations has not yet learnt to play by the rules and the language of reason. Political bickering, strikes, blockade and street hooliganism appear to be the tools of politics, rather than dialogue, negotiation and accommodation. One time I overheard people commenting that as long as these two Bhadro Mohila (respected ladies), referring to Ms. Sheik Hasina and  Ms. Khalda Zia,  the two bitter political rivals,  were alive, there was no hope of salvation for the country.  It is pretty much the same as it used to be before independence. Probably it will take more than minus two formula to improve the political situation in the country.
Syed Neaz and Tanveer Ahmad live in Houston. Texas.