A Pakistani man who has been employed at the Great Masjid Al-Haram in Makkah for almost four decades called his job a "great honor". In spite of his visits to Pakistan every two years, he said his "heart and mind" remained at Masjid Al-Haram, the Great Mosque that surrounds the Kaaba.
Ahmed Khan, 62, moved from the small town of Mandi Bahauddin in central Punjab to Karachi in 1982, seeking better economic prospects. He was hired by a company responsible for the sanitation work at the Great Mosque. Khan began working at the holy sanctuary at the age of 24.
His first promotion came in 1992 when he was elevated to the position of foreman. His next promotion was in 1998 when he became a supervisor.
"I am always near the Haram, and this is a great honor that only a person with a special relationship with Allah can have," Khan told Arab News in an interview from Makkah. "I am grateful to Him for choosing me for this blessing and keeping me here for four decades."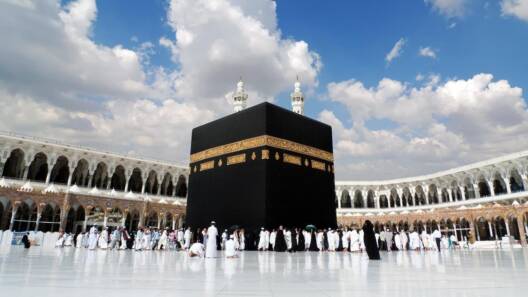 Khan explained he had never imagined that he would spend his entire life in Makkah, despite his commitment and devotion to the job. As a matter of fact, he always assured his parents he would return soon. However, he became more deeply involved in what he believes is an "act of worship".
The 67-year-old employed Pakistani has two sons, one of whom works in the electrical department at the Great Masjid Al-Haram. His other son and a daughter reside in Pakistan.
Nothing can convince him to leave the holy city
Khan said even the highest paying employment offers could not persuade him to leave the holy city, saying that he rejected all offers because of his devotion to the Kaaba. "I will never leave this job until my company is willing to retain me," said Khan.
During his life in the sacred city, Khan said he had seen the Kaaba through many stages, including its restoration under King Fahd bin Abdul Aziz, which he described as the "most important and beautiful stage" of his life.
"Love, harmony, happiness, tolerance, mercy, and peace can be found in every corner of the Grand Mosque," he said. "When I got married in 1989, I could only live in Pakistan for two months. Now I visit the country every two years for nearly 45 days, but my heart and mind remain in Masjid Al-Haram."
Watch his interview:
To have the privilege of working at the Great Mosque in Makkah is indeed an honor.
By the way, did you know that Muezzin Sheikh Ali Ahmed Mulla is considered the 'Bilal' of the Grand Mosque for the past 40 years?
Story Courtesy: Arab News
Read More: SubhanAllah! A Pigeon Displays The Act Of Sujood In Mataaf Area Around Kaaba
What do you think of this story? Let us know in the comments section below.