Traditional 10 kilos wedding attires are not only impractical during COVID-19 but also cost an arm and a leg, especially given that often, the bride wears it just the one time. However, this desi girl has changed bridal fashion for good by ditching a heavy lehenga for a stunning pale-blue vintage pantsuit for her wedding. And the Internet seems to agree with her!
With her choice of wedding attire, Sanjana Rishi delivered a bold fashion statement. It makes us wonder whether more brides should ditch traditional clothing in favor of the power suit. Because, why not?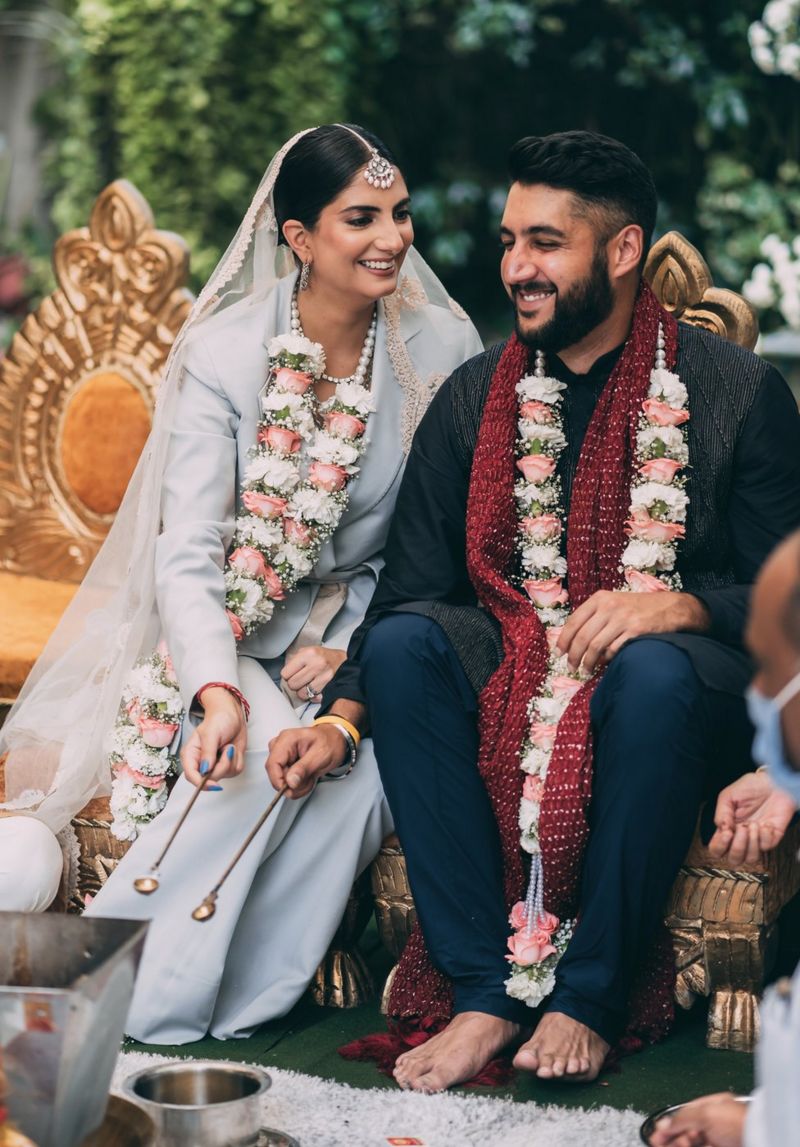 An Indian-American entrepreneur, Sanjana, 29, married Delhi businessman Dhruv Mahajan, 33, on 20 September in Delhi. She had worked as a corporate lawyer in the US before returning to India last year and the couple was living together for close to a year.
They had planned a wedding in September in the US and a second traditional Indian wedding in Delhi in November. However, then came the COVID-19 pandemic and their plans "got completely derailed".
Sanjana's outfit turned out to be highly unusual for India, where brides usually dress up in silk saris or elaborate lehengas. Moreover, we all know, throughout the subcontinent, the preferred color is red. And many are embroidered with expensive gold or silver thread.
"I've never come across an Indian bride dressed like this," says Nupur Mehta, former editor of a bridal magazine, in an interview with the BBC News. "Brides usually like to wear Indian attire along with the traditional jewelry from their mothers and grandmothers. This was something very new. And she really stood out."
Let's take a look at the bewitching pictures of the bride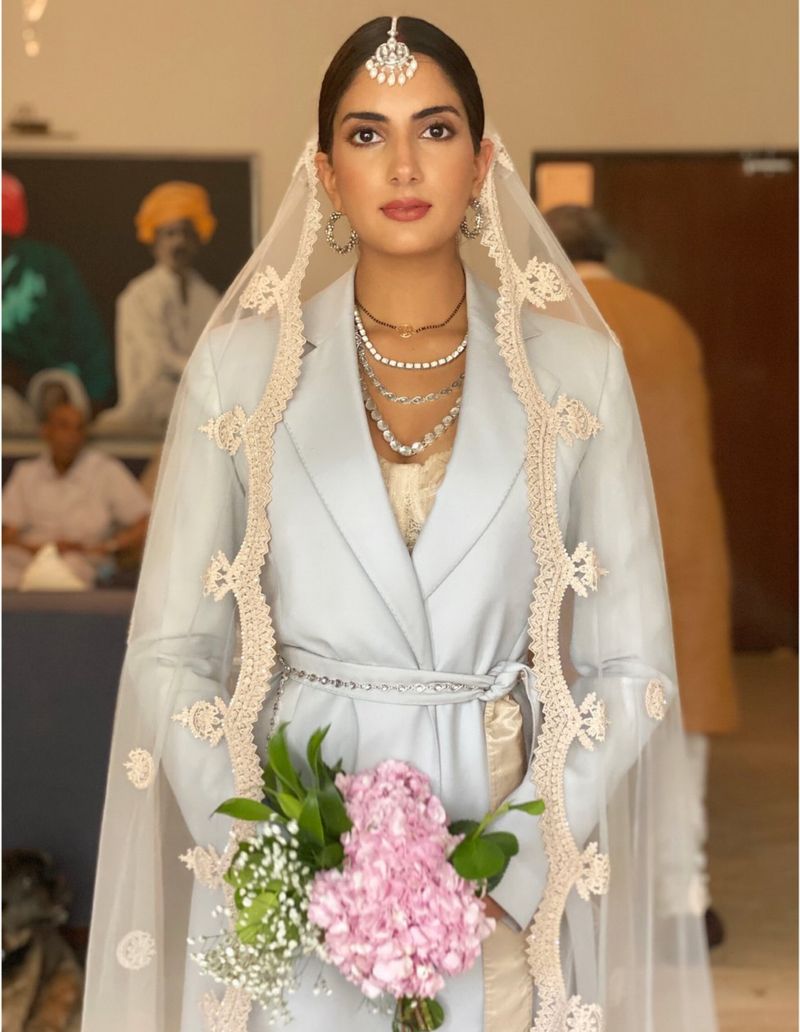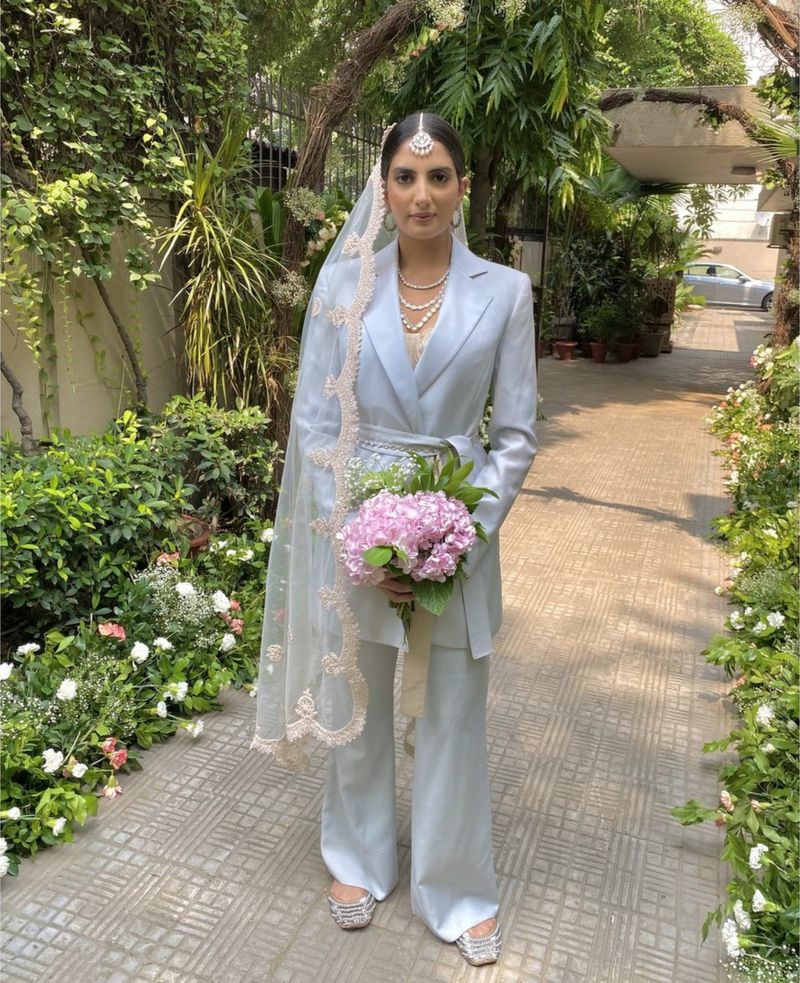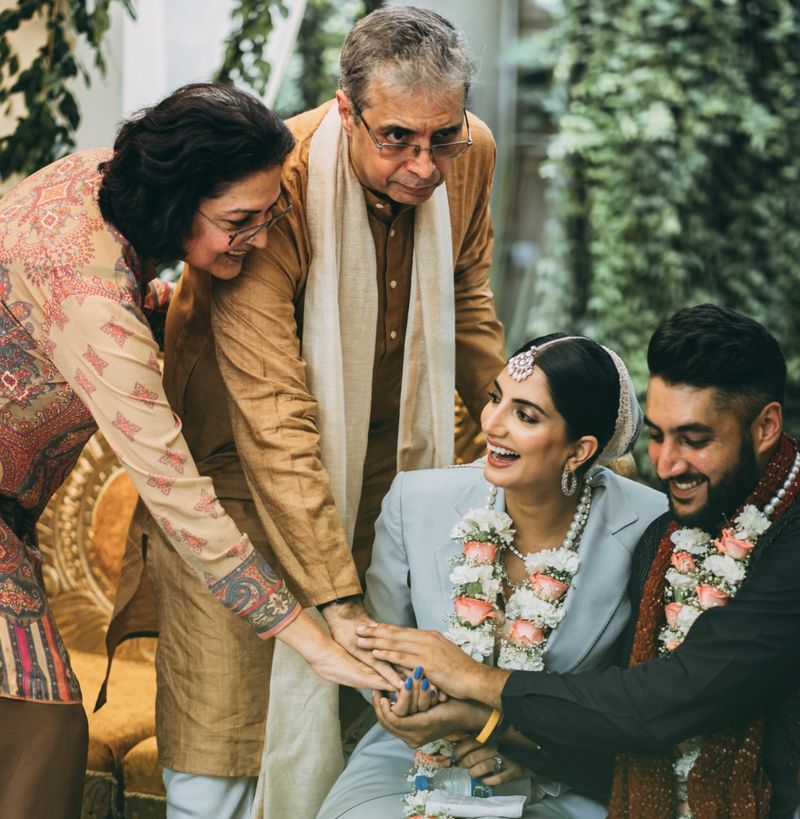 Sanjana revealed to the BBC that the moment she thought of getting married, she knew exactly what her outfit was going to be. "I knew I was going to wear a pantsuit, and I knew exactly which one," she confessed.
In addition to this, she shared that she had seen the suit in a boutique in Italy a long time ago. "It was a pre-loved vintage suit, made in the 1990s by Italian designer Gianfranco Ferré. I was surprised and delighted to know that it was still available when I decided to get married."
While working as a corporate lawyer in the US, suits were her choice of clothing because all the "strong modern women I idolized" wore them too. "I have always thought that there is something very powerful about a woman in a pantsuit. I loved them and I wore them all the time."
Seemingly, it also made sense, The girl says, since the wedding was a small intimate affair, attended by only 11 people including the bride, the groom and the priest, so why not wear a bridal pantsuit.
Sanjana's fiancé had no idea about it
Dhruv, her fiancé shares that he had not anticipated his fiancée turning up in a pantsuit. "Until I saw her, I had no idea what she'd be wearing, but it really didn't matter because I knew that whatever Sanj wore, she'd rock it," he said.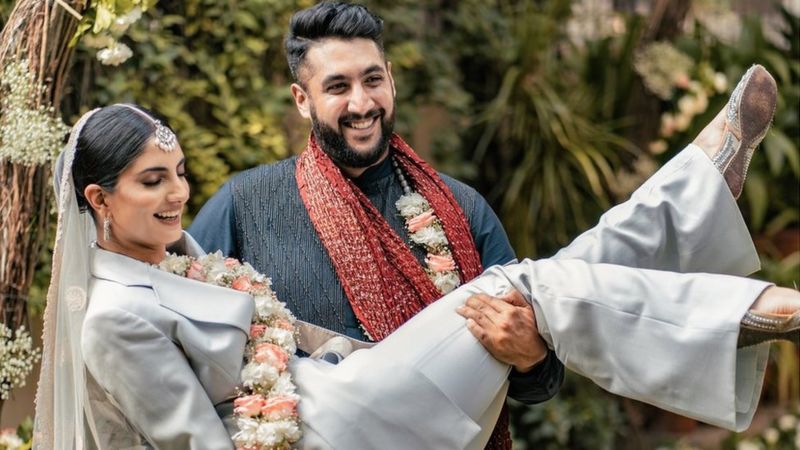 In fact, he says when he first saw her, "I didn't even notice at first that she was wearing trousers, all I noticed was how stunning she looked. She looked angelic, absolutely gorgeous".
"I can go on with more adjectives," he laughs. As expected, Sanjana's wedding outfit created a stir on social media.
On your big day, it is important that you feel like the best version of yourself. Even if it requires breaking the stereotypes about brides, go for it. Because happy brides are the prettiest brides!
Story Courtesy: BBC News
What do you think of this story? Let us know in the comments section below.