Can you imagine a Ramadan without having the best food? It is a sweet tradition in our culture that we flock to restaurants to enjoy amazing Sehri and Iftar meals. We have some of the best places offering some great meals. Think of fasting in this cruel weather and then treating yourself to an exotic meal, the temptation is irresistible. For every foodie, there are certain priorities. The quality of any meal is hands on the top, whereas, the cost, it also remains a strong subject of concern.
What if I tell you, you can enjoy an amazing Ramadan deal at a restaurant for an unbelievably low price?
In the past, it only sounded like a dream. Just as the price of every commodity in Ramadan tends to sky-rocket, you would never expect a delicious meal at an unbelievably exotic restaurant to be any cheap. But that's all past because, in future, you are absolutely getting this wish come true!
I discovered a restaurant when I was walking towards my car in Phase VI, DHA. The facelift of the restaurant across me read, "Dëshirë." I immediately started thinking that it was a new chain opened in the locality of Khayban-e-Shujaat. I had a friend in the car who saw me closely noticing the restaurant. She mentioned that she once visited here earlier in March and based on her experience, this one is totally changing the game of Asian Fusion cuisine. We wanted to check out what was going on for Ramadan. As you know, there are some amazing Ramadan deals you really can't miss, so we thought we'd check what was cooking here. Turns out, it was the best decision we made!
We found out that Dëshirë was running an amazing Ramadan – a 4-course meal that comes at such a nice price. Hearing that, I actually made up my mind to come here the very next day.
So, let's start with what the 4-course meal actually offers…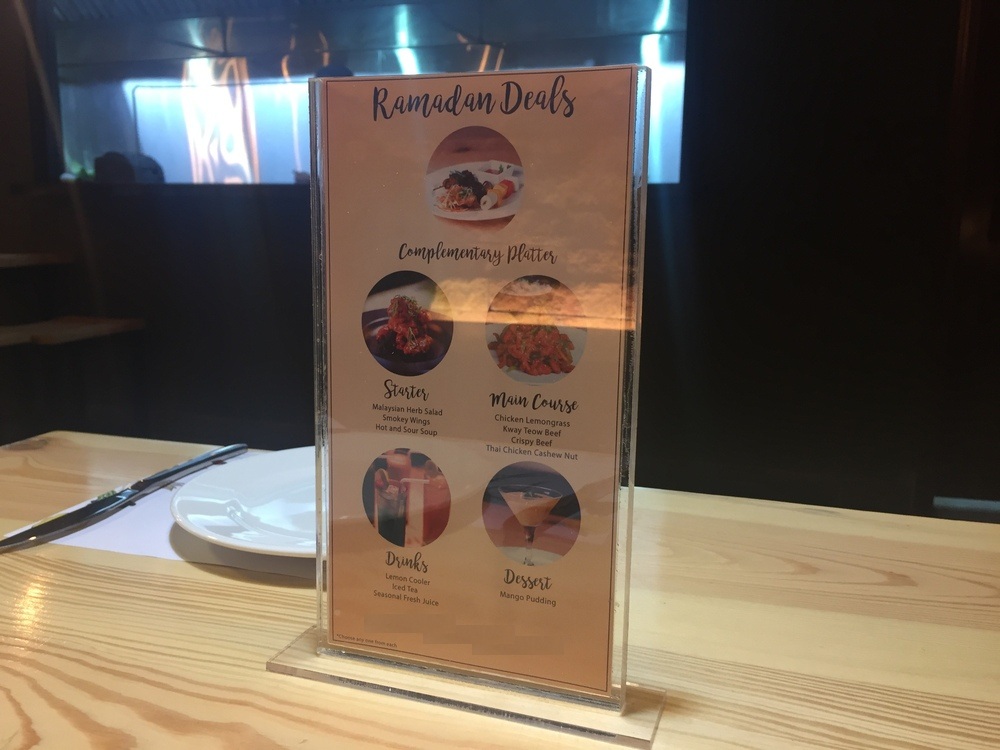 1. Starter: You have a choice between Malaysian Herb Salad, Smoky wings and Hot & Sour soup. You can have one option from this range of starters and they are pretty great to warm you up for the main course.
2. Main course: Here you can have one from Thai Chicken Cashew Nut, Kway Teow Beef (my favorite), Crispy Beef and Chicken Lemongrass. Trust me, you won't stop licking your fingers.  Just as it entered my mouth the outburst of juices made me simply unleashed the foodie in myself.
I forgot what dining etiquettes were because the flavors were so overwhelming that I came to admit that I have eaten nothing like Dëshirë's Ramadan deal main course. Do not mean to do a comparison here, but the beef was absolutely as good as the best of the best available at other restaurants. Just that the price at which it comes makes me prefer Dëshirë over any.
3. Drinks: It's always great to wash it down with the right drink. You can simply choose from Iced tea, Season Fresh Juice, and Lemon Cooler. Sitting there with your tummy full and as every sip just washes your throat, it's a great pleasure man!
4. Dessert: You have a Mango pudding that's a perfect way to end the meal course.
While having my main course, I admitted that the taste was very elite and fabulous. Each flavor was distinctive and it collectively made every bite a luxury in your mouth, You know the kind of stuff you'd expect from Gordon Ramsay to prepare. Turns out, this restaurant has such a professional chef that knows his game. I found out that the chefs at Dëshirë are from The Noodle House and trained by the Jumeirah group. Incredible, man…
THE BEST PART? The Platter was on the house!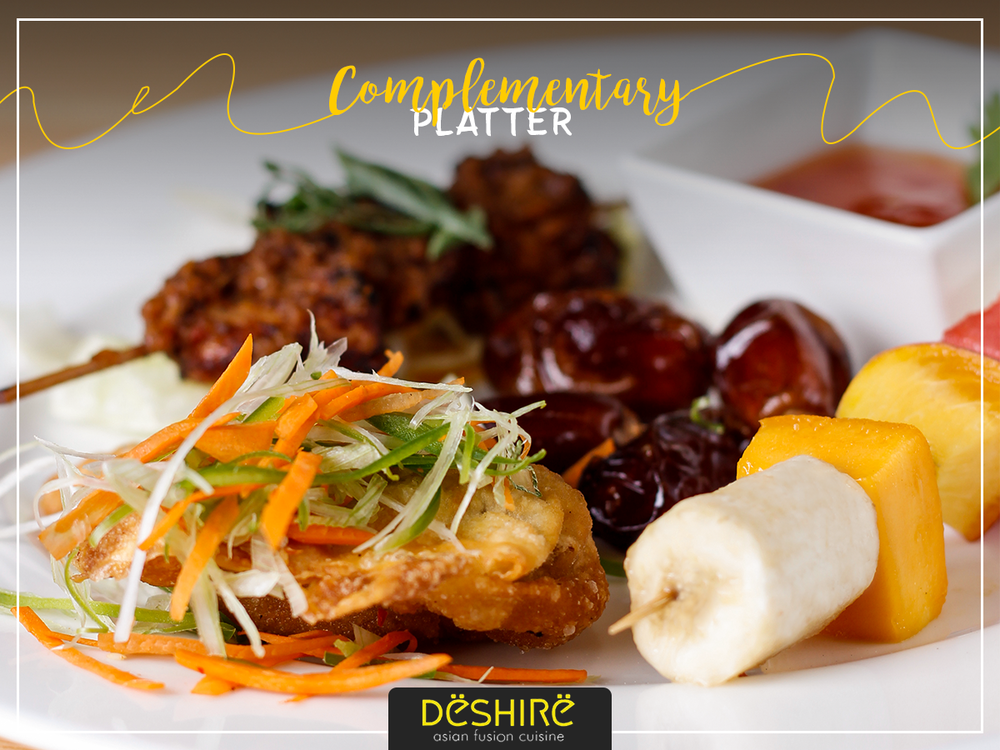 Really, they are offering a complimentary Platter. When I heard that first, my motivation to eat was beyond anything. Imagine knowing that the Platter of your exotic meal is complimentary!
In addition, the ambiance was remarkable. When you sit there and see your meal coming at you from far away, everything kinds of prep you up to enjoy it as much. The restaurant ambiance is very soothing. The staff is very cooperative and are always on the look to provide you the best customer service. Only the ambiance really sets the mood for you to eat and when you know you're eating the best deal in town, it is kind of a rare pleasure.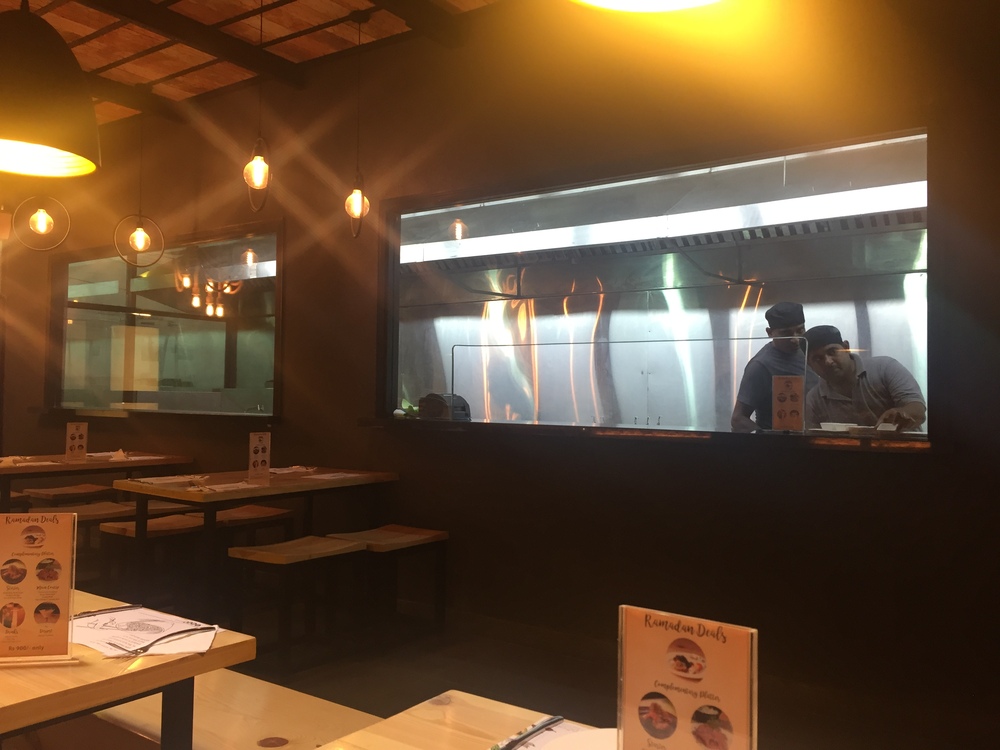 And the price is…
Just Rs. 900! YES, GUYS, THIS IS NOT A DREAM!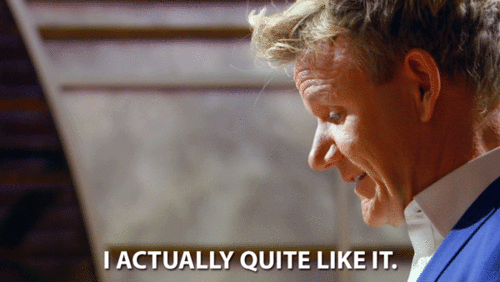 I have simply become a huge fan of Dëshirë. As a customer, I have never felt so valued at any restaurant in town. They simply know what a real foodie wants and they charge a fair price for it. Apart from this amazing Ramadan deal, you can also try Teriyaki Beef and Chicken Katsu Curry – signature dishes at Dëshirë. I cannot wait to come back here again.
So, guys, this is your chance to tantalize your taste buds because you cannot wait for more the amazing deal to satisfy your cravings.