The authorities began the demolition of the St Joseph's church in Karachi on Tuesday as part of a drive against encroachment, which civil society calls illegal.
The Karachi Bachao Tehreek is a group that has been promoting a campaign against evictions in the city and also organizing the opposition to the demolition of the church in Karachi.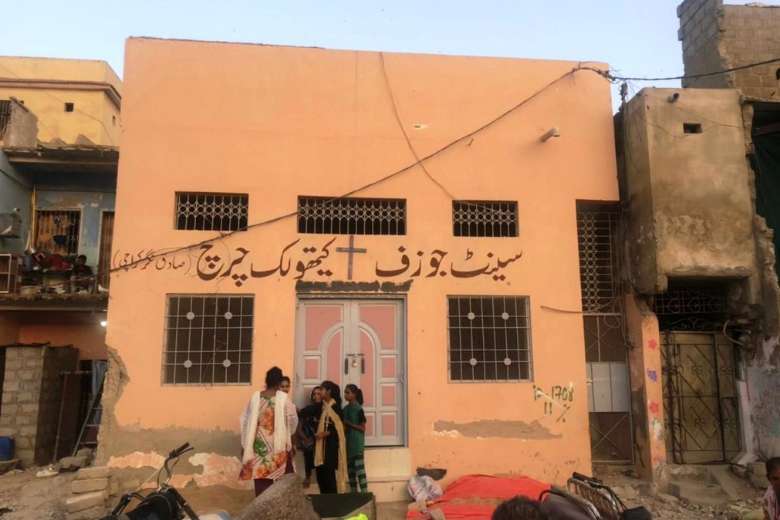 Taking to Twitter, it thanked its supporters for stopping the demolition. It did warn residents, however, that their homes would be demolished once social media stopped covering the issue.
As it appears, the prediction of the tweet came true. A group of activists tweeted pictures of the demolition taking place Tuesday midday, calling on their supporters to show up for the protest.
Following an order by the Supreme Court, the demolitions in Gujjar and Orangi nullah took place. Although a stay order was in place, the homes were still demolished despite a petition from organizations claiming that they had been leased to residents by the then government.
However, the Supreme Court dismissed the petition. It reportedly said that the land could not be leased. In addition to this, the court ordered authorities to continue demolition. Destroying the church also raises questions about how the government treats its minorities.
Also, the demolitions highlight another issue: who is allowed to demolish and who is allowed to regularize their properties. Attorney Salahuddin Ahmed, president of the Sindh High Court Bar Association, spoke with this as the gist of his speech on August 21 about why Bahria Town developers did not have to abide by rules.
Video of demolition surfaces on social media
Clearly, the government's move to promote interfaith harmony has failed. The government should take action on the recent atrocity.
It may be recalled that earlier this month, a mob stormed a Hindu temple in Bhong town of Punjab's Rahim Yar Khan district. They damaged the idols and burned down the temple's main door in the attack. A number of video clips emerged on social media, showing dozens of men armed with sticks. As they shouted slogans in the temple, they were seen smashing the idols into pieces.
In a similar incident last year, charged crowd led by local clerics set a Hindu temple on fire in the Karak district of Khyber-Pakhtunkhwa (K-P). Reportedly, the Hindu community had obtained permission from the administration to extend the construction of the temple.
However, the intolerant local cleric infused the crowd with a fiery speech. After feeding off, the crowd stormed into the temple and set it ablaze, and razed it to the ground. Videos of the destruction of the temple circulated on social media.
Story Courtesy: Aaj TV
What do you think of this story? Let us know in the comments section below.