After consuming sinful amounts of delicious foods this Ramzan and Eid, it is only fair that we explore healthy alternatives recipes to ensure our next food-coma and foodie cravings are worth every calorie!
Each one of these recipes is a desi-household staple and is incredibly easy to make.
Your new alternative to deep-fried samosas
Samosa Wrap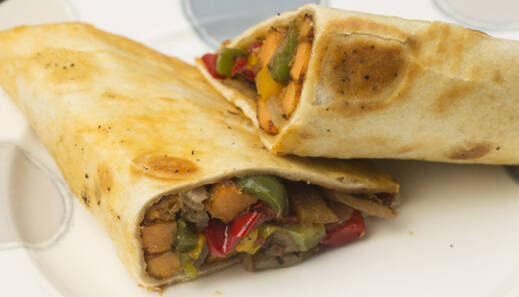 Ingredients
6 large Potatoes
2 tsp Salt
2 tbsp Kalonji Canola Oil
1 large Onion diced
2.5 tsp Ground Coriander
1.5 tsp Ground Cumin
1.5 tsp Red Chilli Powder
1 tsp Ground Turmeric
1 cup Petit Pois Peas
Handful Coriander finely chopped
3 Green Chillies finely chopped
1 Lemon juice only
1 tbsp Butter
6 Wraps
Method
Peel and chop potatoes into 1/4 inch cubes. Place in a pot of cold water with 1 tsp Salt. Bring to a boil and then simmer over medium-high heat for 15 – 20 minutes until tender. Drain in a colander before roughly mashing and setting aside.
Heat the kalonji canola oil in a large pan. Add onion and cook for 5 minutes until translucent. Add the ground coriander and ground cumin and cook for a further 5 minutes over low heat.
Stir in the turmeric, remaining salt, and red chili powder. Fry for another minute over low heat.
Now add the mashed potatoes, and mix thoroughly before adding the peas. Cook for 2 minutes before adding coriander and green chilies. Continue to cook for 2 minutes before removing from the heat and stirring in the lemon. Check to season and add more salt if needed.
Spread 3 – 4 spoonsful of the filling over one half of a tortilla and fold it in half. Repeat with the remaining filling and tortillas.
Heat oil in a pan over medium heat and add the butter. Cook the wraps one by one until browned (2 to 3 minutes per side). Keep an eye on them and adjust heat as needed.
Transfer to a plate and cut in halves or quarters.
Serve with chutney and sauces of your choice.
Alternative fillings can be whatever you like. Some good ones are:
Lamb keema
Chicken, Cheese, and Jalapenos
Mixed Vegetables
Shredded Chicken
Beef
The list of alternative recipes to your foodie cravings is endless and you really can use whatever you like.
Your alternative to potato pakoras
Okra and Cauliflower Pakoras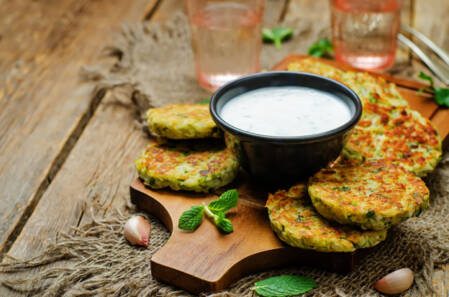 Ingredients
Kalonji Canola oil, to fry
300g small okra, trimmed, halved lengthwise
500g cauliflower, boiled and mashed
Mint yogurt, to serve
Tamarind chutney, to serve
Batter
200g (1 1/3 cups) chickpea flour
50g (1/3 cup) rice flour
1 teaspoon ground cumin
1/4 teaspoon bicarbonate of soda
1/4 teaspoon ground turmeric
1/4 teaspoon chili powder
1 1/2 teaspoons ajowan seeds
Method
For the batter, process all ingredients, 1 teaspoon sea salt and 375ml (1 1/2 cups) cold water in a food processor to a smooth batter. Transfer to a bowl, cover, and stand at room temperature for 15 minutes or up to 4 hours.
Boil the cauliflower for 10 minutes, season, give it a rough mash, and set aside
Chop up the okra, season, and fry in small batches lightly until the outer shell is slightly crispy.
Add the lightly fried okra to the cauliflower mash and make small patties
Heat a pan with one tablespoon of kalonji canola oil to 180°C. Dip each patty on both sides in the batter and deep fry in small batches for 1-2 minutes until golden. Drain on paper towels. Serve hot with chutneys.
Your alternative to deep-fried jalebis
Apple and peanut butter nachos
Ingredients
32 thin slices of apples
1/4 cup of peanut butter (melted in the microwave)
1/4 cup chocolate chips (melted)
Handful chocolate chips
Handful walnuts/any other or fruits you prefer
Method
Cut up thin slices of sweet red/granny smith apples
Melt the peanut butter and chocolate chips separately
Drizzle the melted peanut butter and chocolate syrup on the sliced apples
Toss a handful of chocolate chips and nuts on top for décor
Devour!
Your alternative to carb-heavy kheer
Quinoa Kheer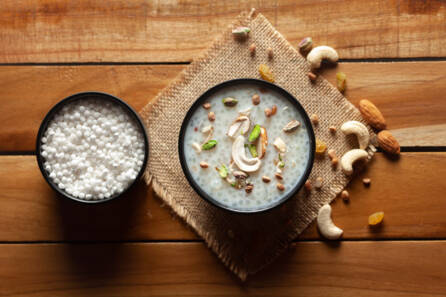 Ingredients
Quinoa
Milk
Cardamom
Sugar
Slivered almonds
Kalonji Canola Oil
Strawberries – optional
Method
There are two ways to cook the kheer:
To cook on the stovetop, add cooked quinoa to the kalonji canola oil. Add milk and let boil until it thickens. Then add sugar, cardamom, and slivered almonds.
For cooking in the pressure cooker, you will add all ingredients to the pot. Cover and cook until the 1st whistle. Then, wait one minute longer before opening.
Your alternative to cold drinks and soft drinks
Sparking Water Lemonade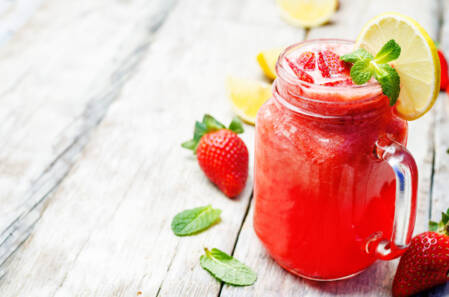 Ingredients
1/3 cup extra-fine granulated sugar
1 pound strawberries, hulled
3/4 cup freshly squeezed lemon juice
4 cups sparkling water
Method
To make the simple syrup, combine sugar and 1/2 cup water in a medium saucepan over medium heat, stirring until sugar is dissolved, about 2-3 minutes; let cool.
Add strawberries to the bowl of a food processor and process until smooth, about 1-2 minutes; strain through a cheesecloth or fine sieve.
In a large pitcher, whisk together strawberry puree, lemon juice, and simple syrup. Place in the refrigerator until chilled
Serve over ice and sparkling water
Go try these alternative recipes to your foodie cravings and let us know how you like it.
READ MORE: Here Are 5 Ways To Get Rid Of Binge Eating!
What do you think of the story? Tell us in the comments section below.